Ranking The Best Ghostface Killah Albums
How can you not love Ghostface Killah? While those Silk Sonic boys keep playing with our emotions and refuse to share a release date for their impending album, Ghost just decides to remix their single.
And yep, it's pretty great
It's yet another win for an MC who has spent nearly three decades at the top of his game.
Back in 1993 when we were first introduced to the Wu-Tang Clan, most assumed Method Man's impeccable delivery would make him the group's breakout star. Or maybe ODB's manic personality would put him on top. Later, based on the strength of their debuts, I thought GZA or Raekwon would be Wu's flagbearer.
We were wrong. That title goes to the Ghostface Killah.
Ghostface, Tony Starks, GFK, Pretty Toney, The Wallaby Champ, Ghostdini, Starky Love – call him whatever you like, just be sure to call him a hip hop icon. He's one of the most consistent artists in the history of rap, knocking out diverse, quality albums with ease.
I originally ranked Ghostface's discography many, many moons ago so I figured it was time for a refresher. Join me as I not only update his solo efforts, but I'm ALSO adding all his many collaborative projects too, creating one Mighty Healthy collection. Enjoy.
20. Ghostface Killahs (2019)
Soul In Stereo rating: 3.5 stars out of 5
Edd said: Ghost's most recent album is easily his most uneventful but hey, there's really no such thing as a BAD Ghostface project, so there are still a few wins to be found. Ghostface Killahs is a very abbreviated listen – just over a half hour – which means there can't be much room for error. Unfortunately, those missteps mostly happen on the second half, with tracks that aim to be homages to earlier hits but come off like the cheap versions you order from Wish. Not everything hits the mark but overall, it's a fun yet inconsistent listen.
Forgotten favorites: "Conditioning," "Me Denny and Darryl," "Party Over Here"
19. Twelve Reasons to Die II (2015)
Soul In Stereo rating: 3.5 stars out of 5
Edd said: Like any good cheesy B-movie, we deserved a sequel to Ghost and Adrian Younge's original collabo – one that is even more over-the-top than the last. That's what is delivered here: shootouts, sorcery, sex and savagery from the Steven Spielberg of the streets.  Ghostface's imagination is otherworldly as he weaves yet another compelling narrative. But, like so many other follow-up films, this one suffers from sequel-itis. Due to the structure of the plot, Ghostface's presence isn't really felt until the second half of the album – before that, this feels more like a Raekwon mixtape. And, like its predecessor, the songs don't really work as stand-alone tracks. They lose a lot of impact when they're not played in sequence. That said, Twelve Reasons to Die II is still a creative triumph and proof that making great albums isn't so different from making great film.
Forgotten favorites:  "King of New York," "Blackout," "Let the Record Spin"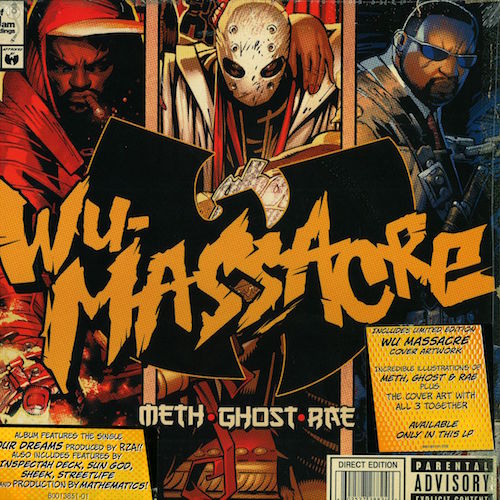 18. Wu-Massacre (2010)
Soul In Stereo rating: 3.5 stars out of 5
Edd said: Remember that time Method Man, Raekwon and Ghostface Killah dropped an album? Honestly, it wouldn't surprise me if you didn't. What seemed like a sure-fire East Coast classic wound up a respectable but kinda unremarkable project. There's fire to be found no doubt – when they're focused, they're an unstoppable trio – but the album's relatively short runtime and surprising lack of tracks that feature all three members make Wu-Massacre feel very rushed and unfocused. It's a decent project if you look at it through the lens of one of those old Datpiff mixtapes, but a mild disappointment overall.
Forgotten favorites: "Gunshowers," "Miranda," "Our Dreams"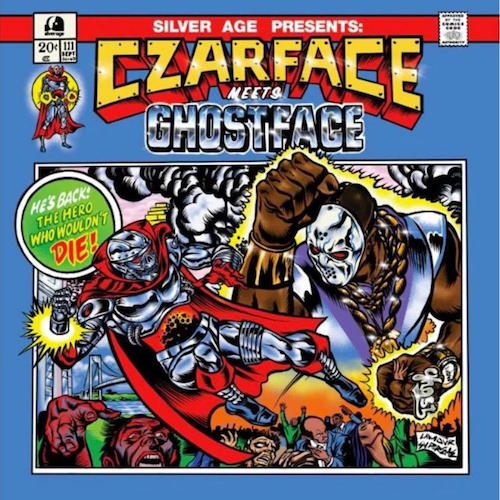 17. Czarface Meets Ghostface  (2019)
Soul in Stereo rating: 4 stars out of 5
Edd said: Just months before the Marvel Cinematic Universe hit us with their Endgame, hip-hop's own superheroes and villains went toe-to-toe. Czarface Meets Ghostface links industry vets Inspectah Deck, 7L & Esoteric and Ghostface Killah for a lyrical showcase, filled with comic references and incredibly visual bars. It's a real treat for boom-bap fans and comic enthusiasts alike.
Forgotten favorites: "Morning Ritual," "Super Soldier Serum," "Listen to the Color"
16. The Lost Tapes (2018)
Soul in Stereo rating: 4 stars out of 5
Edd said: If it ain't broke, why fix it? That's long been the battle cry of the Ghostface Killah, who for the better part of 25 years has consistently delivered the speaker-rattling wordplay that revolutionized hip-hop in the mid 90s. And while his peers try to keep up with the teens, GFK sticks to his same gritty script. And that's why we love him. Producer/blogger extraordinaire Big Ghost puts in work behind the boards, giving Ghost a mix of his classic sounds with a few curveballs thrown in. And Pretty Toney himself continues to prove that his intensity is unmatched in the booth.
Forgotten favorites: "Buckingham Palace," "Constant Struggle," "I Think I Saw a Ghost"
15. Sour Soul (2015)
Soul in Stereo rating: 4 stars out of 5
Edd said: Give Ghost props for never being afraid to evolve. Sour Soul teams Ghostface with BadBadNotGood, a Toronto band that blends jazz and hip hop. The partnership produces a different sound from Ghost's 36 Chambers heyday — the jazzy opener "Mono" is more Robert Glasper than RZA — but it remains a perfect fit. The live instrumentation is a great setting for Ghost's infamous barbs. Like many of his collabo projects, it's relatively brief, but that works in its favor.
Forgotten favorites: "Gunshowers," "Ray Gun," "Experience"
14. Wu-Block (2012)
Soul in Stereo rating: 4 stars out of 5
Edd said: Wu-Tang Clan and The LOX? That's pretty much hip-hop's Reeses's peanut butter cup, the most satisfying combination you can imagine. Wu-Block was marketed as a union of the two groups – and at many times it is – but the album is more less a joint project between Wu's Ghostface Killah and LOX's Sheek Louch. They've collaborated many times previously to this set and goes a long way into making this one of Ghost's more cohesive joint projects. A solid array of guest stars and nice production from Vinny Idol, Erick Sermon and others provide a needed boost. Collabo albums aren't easy tough to pull off but this works a lot better than skeptics might expect.
Forgotten favorites: "Take Notice," "Cocaine Central," "Crack Spot Stories"
13. Bulletproof Wallets (2001)
Soul In Stereo rating: 4 stars out of 5
Edd said: Every major artist has that one album that's the black sheep of the bunch. Here's Ghost's wooly mammoth – an album that got a lot of criticism in some circles in 01 but was more accepted in others. In hindsight, it's not bad at all – in fact, it's pretty good. Diehard fans were disappointed because it was released on the heels of a vastly superior set and because many songs lacked GFK's trademark charisma and bite. Some mediocre beats didn't help. But theres enough of Ghost's trademark charisma and intensity to keep this one afloat.
Forgotten favorites: "Love Session," "The Hilton," "Flowers"
12. 36 Seasons (2014)
Soul in Stereo rating: 4 stars out of 5
Edd said: The concept so nice that Ghost had to do it twice. GFK's first concept album, Twelve Reasons to Die, was a conceptual smash, playing out like a gory B-movie. 36 Seasons serves up more of the same, with Ghost returning from a bid and trying to reclaim his neighborhood from disloyal former friends. Each track seamlessly flows into the next — it's like binge watching your favorite Netflix show.
Forgotten favorites: "Love Don't Live Here No More," "Here I Go Again," "Pieces of the Puzzle"
11. Ghostdini: Wizard of Poetry in Emerald City (2009)
Soul In Stereo rating: 4 stars out of 5
Edd said: When word leaked that Ghostface's 2009 release would feature an R&B sound, many of us assumed the worst. We should have known better – Ghost made his name flowing over soulful production so he sounded perfectly at home here. And the content was well-balanced too – once things got too soft and sweet he quickly ratcheted up the freak factor. It's not a traditional Ghostface album (hence the mixed reaction it still receives a decade later) but I think it works.
Forgotten treasures: "Stay," "Guest House," "Lonely"
10. The Big Doe Rehab (2007)
Soul In Stereo rating: 4 stars out of 5
Edd said: Big Doe Rehab is a weird album in Ghostface's discography, mostly because it's largely forgotten. It's not even available on streaming services at the moment. But just because it's an overlooked album doesn't meant it worth sleeping on. Ghost's renowned storytelling is on full display here. From crime sprees to award show galas, Starks' imagination is at its peak. The only thing it lacks is a signature single.
Forgotten treasures: "Yolanda's House," "Yapp City," "Killa Lipstick"
9. Put it on the Line (2005)
Soul in Stereo rating: 4 stars out of 5
Edd said: Shortly after Ghostface dropped his Theodore Unit collaborative effort, he headed back in the lab with ally Trife da God for Put in On the Line, which feels like a direct descendant of the 718 LP. Ghost and Trife's chemistry is pretty great and both walk around with Groot-sized chips on their shoulders – you can definitely tell they have something to prove. Despite a multitude of really great tracks, the overall set is bogged down by its long runtime. Throw out five or six of the lesser tracks and they'd really have something special. Regardless, this one delivers.
Forgotten favorites: "Struggle," "Gangsta S***," "The Watch"
8. Twelve Reasons to Die (2013)
Soul In Stereo rating: 4 stars out of 5
Edd said: Remember what I said about Ghost's vivid imagination? In 2013, Tone infamously teamed with Adrian Younge for Twelve Reasons to Die, essentially a horror flick on wax. Ghost plays the role of a betrayed gangster who returns from the dead to wreck havoc on his former allies. This is blaxploitation meets boom bap and the results are magnificent. The tracks work best as a collective unit and don't hold up well individually but as a single piece of work, they're great.
Forgotten treasures: "The Center of Attraction," "Blood on the Cobblestones," "The Sure Shot (Parts 1 and 2)"
7. More Fish (2006)
Soul In Stereo rating: 4 stars out of 5
Edd said: The follow-up to Starks' renowned Fishscale continued the momentum established by its predecessor. This could have easily been a cheap cash-in, forcing fans to shell out $15 for cuts rejected from the main album (back when y'all had to PAY for music). Never fear, GFK gave us quality. The soul samples serve as the perfect soundscapes for Tony N' Friends' epic adventures. The abundance of guest stars and lack of cohesion did make this feel more like a mixtape than a true album at times, though, but hey, in that case, it's a pretty great mixtape.
Forgotten treasures: "Street Opera," "Blue Armor," "Alex (Stolen Script)"
6. Apollo Kids (2010)
Soul In Stereo rating: 4 stars out of 5
Edd said: Raw, unapologetic and visceral. This is how I like my hip hop. It's no coincidence that the album cover is essentially a rhyme book. After the experimentation of Wizard of Poetry, this album took Ghost back to basics, solely focusing on rock-solid writing and rapid-fire punchlines over scratchy samples. Basically, it's the building blocks of the Wu itself. At times, the album feels too restrained but for longtime Wu fans, this was a fine return to form. It's not often mentioned today but is deserving of much more love.
Forgotten treasures: "Drama," "In Tha Park," "Troublemakers"
5. 718 (2004)
Soul in Stereo rating: 4 stars out of 5
Edd said: Ghostface's Theodore Unit crew didn't last long but MAN they showed a lot of promise. In an era where G-Unit, Dipset and more were on the scene (and the Wu were taking a collective hiatus), Tony's Avengers bullied their way into the game with their one and only studio album. These guys were far from Clan knockoffs, though – the collective strayed away from the usual kung-fu samples and instead embraced GFK's bravado and hard-hitting bars. It's an underrated effort that still holds up today. This should have been a sign of more greatness to come, but it just wasn't meant to be. Give me a reunion, ASAP.
Forgotten favorites: "Who Are We," "Smith Brothers," "Guerrilla Hood"
4. The Pretty Toney Album (2004)
Soul In Stereo rating: 4.5 stars out of 5
Edd said: I understand why some people dislike Wizard of Poetry. And I certainly understand Bulletproof Wallet's bad rap. But I'll slap a hater with Toney's dinner plate medallion if they have something bad to say about this album. It's GFK's most unappreciated work and easily one of his best. The concepts are golden: Ghost flirts with Missy Elliott, runs from the cops with Jadakiss and somehow has a rap battle against himself. Top that off with some classic soul samples and it's a winner. Yeah, the album leans much more mainstream that some of his more signature works but that's not a bad thing. Stop hating on Pretty Toney.
Forgotten treasures: "Biscuits," "Holla," "Beat the Clock"
3. Fishscale (2006)
Soul In Stereo rating: 4.5 stars out of 5
Edd said: Sometimes buzz is a bad thing. When hype for an upcoming album looms too large, the finished product often can't measure up to the sky-high expectations. But in this case, Ghost's album was even better than what we hoped for. Stellar production from J Dilla, MF DOOM and Pete Rock have helped this album stand the test of time. It's still one of the best rap releases of the 2000s. Believe the hype.
Forgotten treasures: "Jellyfish," "Whip You With A Strap," "Crack Spot"
2. Ironman (1996)
Soul In Stereo rating: 4.5 stars out of 5
Edd said: Twenty-five years later, it's still hard to top Ghostdini's debut. It introduced us to the Ghost we'd know and love – a master of soulful introspection, teeth-rattling punchlines and mind-bending storytelling. What really stands out here is that Ghost had no problem sharing his sensitive side, whether fawning over a woman on "Camay" or reminiscing about childhood on "All That I Got Is You." Sure, he was sentimental but still gritty. It's an authenticity that's hard to find in today's rap.
Forgotten treasures: "Fish," "Wildflower," "Assassination Day"
1. Supreme Clientele (2000)
Soul In Stereo rating: 5 stars out of 5
Edd said: Remember the year 2000, where rappers were obsessed with bling and other shiny objects like kittens with ADHD? Well, instead of focusing all his energy on cash and cars, Ghost used that era's grandiose beats to transform himself into a true ghetto superstar. "Apollo Kids" (the single, not the 2010 album) sounded like the theme for a new millennium blaxploitation character. And I'll put "Mighty Healthy" up against any rap record on your GOAT list. The album is loud, pompous, yet undeniably soulful. Not only is it one of the best Wu-Tang albums ever produced, it's one of hip hop's true gems.
Forgotten treasures: "One," "Buck 50," "Wu Banga 101"
Which Ghostface albums are tops for you? Let us know below.