Album Review: Czarface & Ghostface Killah, Czarface Meets Ghostface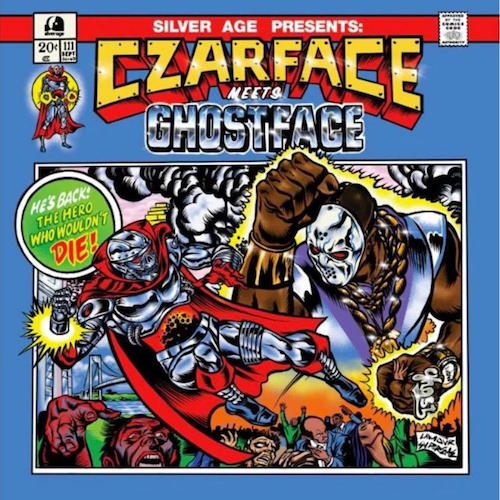 Czarface & Ghostface Killah
Czarface Meets Ghostface (released February 15, 2019)
Just a couple of months before the titans of the Marvel Cinematic Universe punch themselves in the face for our enjoyment, some of the most colorful characters in hip-hip history are set to have their own Infinity War.
I'm here for it.
Czarface is the comic-themed collective of underground sensations  7L & Esoteric and arguably the most underrated member of the Wu-Tang Clan, Inspectah Deck. They've been scorching the hip-hop scene for a half-decade, with their most recent outing – last year's Czarface Meets Metal Face – being one of 2018's standouts.
This time, Rebel INS links up with another familiar Face (and fellow superhero enthusiast) Ghostface Killah, making Czarface Meets Ghostface a natural paring.
And playa, just look at the track titles on this thing.
"Mongolian Beef." "Czarrade '87." "Super Solider Serum." "Masked Superstars."
It's like Captain America: Civil War meets WWE Royal Rumble.
Again, I'm here for it.
Mere minutes into the album and it's clear that Czarface Meets Ghostface is chicken soup for the lyricist's soul.
On "Face Off," all three spitters come loaded for war, with Ghost promising to set off these posse tracks "like my man Busta Rhymes on 'Scenario'," Deck bringing his unmatched wordplay ("The cops watch, nobody move like the clock stop/I'm in the chop shop, harder than a scotch shot") with Eso rounding out the trio with a "flow so worthy it could hold Thor's hammer."
Lyrical excellence is a given with this trio, but the unsung heroes of the project are producers 7L and collaborator Jeremy Page, who orchestrates the game plan behind the scenes like rap's Nick Fury. The bass of "Iron Claw" trembles like the giants from Attack on Titan are milly rockin through your living room. "Czarrcade '87" combines and eerie atmosphere with classic boom bap, sounding like a cypher in Michael Myer's basement while "Super Soldier Serum" feels like you're playing through the last level of Contra on NES.
Even Ghostface himself remarks on "The King Heard Voices" that it sounds like he's "in a horror f***in' church or somethin' right now."
But those soundscapes would mean nothing without solid bars, which this project has in abundance. Czarface Meets Metal Face faced some criticism last year for being lethargic in spots. That's not at all the case on Czarface Meets Ghostface – the energy level is high and the concepts hit hard.
"Morning Ritual" is a day in the life of Pretty Toney, with GFK having a hilarious convo with himself in the mirror:
I got a question for the mirror "The ballys or the wallos?"
"The Desert E or should I do the pound with the hollows?"
The mirror laughed and said, "What the f*** does it matter?
You the flyest motherf***er from here on after"
I winked, grabbed the Listerine and the Irish Spring
And I sing in the elegant zing that "I am king!"
How can you not love that man? Not to be outdone, Esoteric has his own morning convo with his mirror, but things don't go as smoothly:
Look in the mirror, I say, "What is the plan?" He said:
"That Margot Robbie-lookin' chick stole your money, fam"
What? Stole my money? Lemme get this!
I turned around and shot the f***in' mirror for snitchin'
I won't spoil the twist ending to Eso's story but it's the type of off-the-wall storytelling that's becoming a lost art in today's rap.
As much love as Ghost and INS rightfully receive for being incredible wordsmiths, Esoteric really impresses on this outing, especially on "Listen to the Color," where he and Deck go head to head for nearly six minutes, with the beat changing after each verse. Lyricism at its finest.
Czarface Meets Ghostface is an incredibly fun time for boom-bap fans but be warned – it doesn't attempt to peek outside its gritty East Coast box at all. In a genre obsessed with trap and autotune and fake crooning, it feels like a niche project.
But that's fine. These guys know exactly what their fans want – a superhero-sized slugfest – and they're here to deliver.
Best tracks: "Morning Ritual," "Super Soldier Serum," "Listen to the Color"
4 stars out of 5