What Ever Happened to: Karyn White
Here's an interesting question for you music know-it-alls:
Who is the queen of New Jack Swing?
This inquiry came up on the latest edition of the SoulBack Podcast, with a fan bringing up the name Karyn White. At the time of the podcast, I dismissed it – sure she was a force in the movement, but was she really the Head Superwoman In Charge? I didn't see it.
That is until I started revisiting her catalog. She may have a claim to the crown after all.
If you don't remember one of the standout voices of the early 90s, it's time to refresh your memory.
Karyn White is the baby of the family, the youngest of Vivian and Clarence White's five children. Like most voices in the 80s and 90s, she honed her instrument in the churchhouse, singing in the choir before eventually landing a gig as a background singer on Jeff Lorber's 1986 project Private Passion.
Her work for Lorber opened doors and eyes. Soon after, she signed to Warner Bros. Records and was paired with Babyface and LA Reid to work on her debut album.
For you young'ns in the house who only know of Babyface as the guy who is better at Instagram than Teddy Riley, allow me to set the stage – getting the chance to work with Face and Reid in the late 80s is the equivalent of someone handing you not one but TWO winning lottery tickets.
Karyn hit the jackpot.
Her self-titled debut landed in 1988 and you can just ignore that mopey-looking expression on her album cover because she has every reason to be ecstatic. When you think about the biggest names New Jack Swing movement, it's usually a male-dominated sausage party – Bobby Brown, Guy, Bell Biv Devoe, Keith Sweat, etc. But thanks to Karyn's No. 1 debut single, "The Way You Love Me," she proved female artists deserved a space in the NJS lane as well.
And when it came to representing women, Karyn was just getting started.
Hours before I hit publish on this post, Megan thee Stallion dropped a remix to her hit "Savage," this time featuring Beyonce. Nearly every woman I know had an absolute meltdown – apparently Bey complaining about having to jump up and down to pull her jeans up resonated with every sista on the planet.
I'd say brothers can't relate but I guess that's the trick to get into skinny jeans. I still haven't cracked that code myself.
Anyway, before y'all had Hot Girl Meg and Trap Girl Bey, women had Super Girl Karyn – her second single, "Superwoman" was an anthem unlike any other.
I was in middle school at the time, and I still remember my classmates writing the song's lyrics in their spiral notebooks and reciting them for any annoying brother who crossed their paths.
"ImnotthekindofgirlTHATYOUCANLETDOWNANDTHINKTHATEVERYTHINGISOK BOY I AM ONLY HUMANNNNNNNNNNN"
"Superwoman" was THE anthem for maturing 80s babies, and trust, dudes were feeling it too. It's still one of my favorite songs of that era and, in my opinion, the best song Babyface ever penned.
"Superwoman" was Karyn's second No. 1 R&B single in a row. But could she make it three for three?
"Love Saw It," featuring Babyface himself, climbed to the top of the charts AGAIN, and while the next single, "Secret Rendezvous," only made it to No. 4, it's arguably more memorable, thanks to her unforgettable video.
Whew, I think she got that chair pregnant.
It's safe to say that Karyn's platinum-selling debut made her a star right out of the gate, quickly becoming recognized as one of the best releases of the New Jack Swing era. She had way too much momentum to slow down now.
In 1991, Karyn dropped her sophomore effort Ritual of Love, and judging by the cover it looks like she and the chair she impregnated in the "Secret Rendezvous" are now in a committed relationship.
Speaking of relationships, Karyn would enlist the help of Jimmy Jam and future husband Terry Lewis for "Romantic," her biggest song to date. "Romantic" topped the R&B AND pop charts (remember when R&B songs could go No. 1 on pop charts? Good times) and became yet another New Jack Swing mainstay.
Ritual of Love also spawned "The Way I Feel About You," another top 5 R&B hit, as well as, whew lawd, "Walkin' the Dog." If "Superwoman" was a rallying cry for underappreciated women, "Walkin' the Dog" was a 1991 draggin' session. She's literally comparing training men to training pets.
If this song dropped today she would be the queen of Black Feminist Twitter.
Ritual of Love was another winner for Karyn, eventually going gold. But by 1994, things began to slow down a bit.
If you're a frequent reader of this feature, you've heard the story a million times before – by the mid-90s, times were a changin' and the New Jack bounce was swiftly transitioning into a more edgy hip-hop sound. Established artists had to adapt or face extinction.
In 1994, Karyn dropped her third album, Make Him Do Right, once again resuming her mission to knock some sense into these lame dudes outchea.
Babyface returned to pen "Can I Stay With You," Karyn's last top 10 R&B hit. I also remember the remix to "Hungah" getting decent airplay but sadly Make Him Do Right didn't come close to the success of Karyn's previous efforts. Wasn't for a lack of trying, though – it was a solid project that just kinda got lost in the new era of R&B.
Karyn would eventually leave Warner Bros behind a few years later and would be milk-carton status by end of the decade, totally vanishing from a genre she helped define just a few years earlier.
Nearly 10 years later, she'd attempt a comeback with an album slated to be named Sista Sista – that release would be shelved before seeing the light of day. Two tracks, "All I Do" and "Disconnected," would wind up on her greatest hits compilation in 2007.
But if you think that setback would stop Karyn, you clearly haven't been paying attention. She's the Superwoman who makes chairs fall in love with her, she wasn't laying down that easily.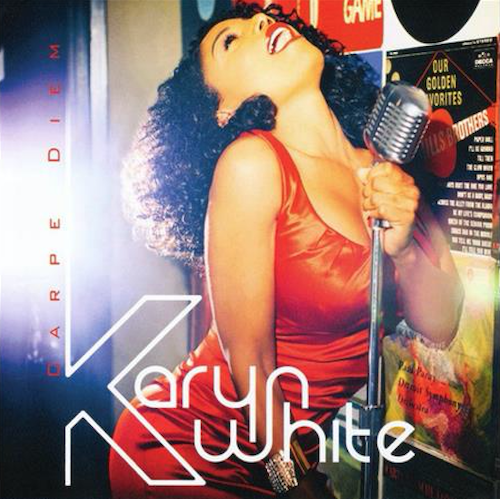 Five years later, we finally got that comeback album – 2012's Carpe Diem. Once again, she was in empowerment mode, celebrating women on "Sista Sista" and fighting through heartache on "Unbreakable."
Not long afterward, she'd try her hand at Hollywood, landing a role in BET Centric's Beauty and the Baller and, later, the film Gale and the Storm. It's probably no surprise that she contributed music to the film's soundtrack, dropping "Lame Excuses" in 2018.
Should She Come Back?: This is a tough one. As we've seen in this era of R&B, there's always room for veterans to return for another shot at glory, especially former headliners like Karyn who have been relatively low-key in recent years. But she also seems to have found her groove in the acting world, so she's probably content there.
However, in an era where women's empowerment is such a large part of mainstream music, it seems only right for the original Superwoman to throw on her cape one mo' time.
Women and chairs everywhere would rejoice.
Visit our "What Ever Happened to…" archive for more on your favorite forgotten artists