Whatever happened to: Patra
Last night, the wifey and I were throwing around ideas for the latest "Whatever Happened To" post and we decided on doomed R&B girl group Jade. (Don't worry, they're coming.)
But the conversation continued to evolve and somehow reggae songbird Patra came up. In one of my first posts for GeorgiaMae, I talked about those heavy looking braids women like Patra and the Jade girls wore in the mid-90s. The wife calls them dookie braids. I call 'em jump ropes.
It might seem like just yesterday, but Patra's debut album, Queen of the Pack, came out way back in 1993. I know y'all remember hits like "Worker Man" (complete with those fake blocks of ice that showed up in a ton of mid-90s videos) and my favorite, "Romantic Call" with Yo-Yo. Between the two, how long do you think it took to braid all that hair?
Ah, who am I kidding, it's probably weave. I can never tell the difference.
I'll freely admit that I thought Patra was mighty sexy back in the day – in a terrifying way. You know how female praying mantises kill and devour their mates? Just look at those neon claws Patra sports in the Romantic Call video.
Patra returned in 1995 with Scent of Attraction. I loved the title track with Aaron Hall back in the day but it hasn't aged well. Patra sounds kinda silly saying "Yes, Aaron hon-nay, lemme tell ya something bay-bay." Ugh. But Queen Patra is probably best remembered for swiping Grace Jones' "Pull Up To The Bumper." I preferred the remix.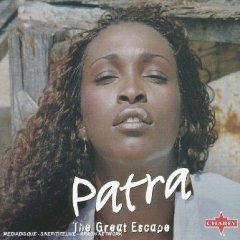 Now here's where things get dicey. Aside from a few collaborations Patra pretty much vanished by the end of the 90s. She attempted a comeback in 2003 with The Great Escape, which featured "Loving is Crazy" but I couldn't find audio.
Then in '05 she dropped Where I've Been, and it's just like old times. I couldn't find the album anywhere, but I did track down the singles "Man Dem Thriller" and "Black Cinderella". They aren't half bad and Patra is still in pretty good shape.
Should she come back?: I wouldn't mind. Patra still sounds good, still looks good and still has plenty of attitude. If she does return, I hope she loses her Wolverine claws.