Ranking the Best New Edition Albums
There's power in those biopics, playa.
Prior to 2017's New Edition Story miniseries, Ricky Bell, Michael Bivins, Bobby Brown, Ronnie DeVoe, Ralph Tresvant and Johnny Gill were regarded by my generation of R&B fans to be one of the most influential and successful ensembles in genre history.
But with their glory days far behind them by the 2010s, their star didn't shine as brightly to newer fans. That incredible miniseries, though, became the entry point for younger music fans, introducing them to classic hits, unforgettable choreography and some of the biggest personalities of their era.
I can't tell you how many "If It Isn't Love" talent show performances I sat through in 2017 and 2018.
NE deserves those accolades and that's why we're here today, to rank their discography from bottom to top. While this list will exclude their Christmas albums and compilations, as a bonus I WILL add Bell Biv Devoe's spinoff catalog to this list.
But no, I'm not ranking all the solo albums too. Give me a break.
I love when our legends get the love they deserve. Give NE all the flowers.
11. BBD (2001)
Soul In Stereo ranking: 2.5 stars out of 5
Edd said: BBD's 2001 effort is rarely mentioned these days … and there's probably a good reason for that. This one feels very much like a product of its time – a bunch of lukewarm early millennium club jams that sounded pretty generic then and absolutely dated now. Pass on this one.
Forgotten favorites: "I Ain't Going Nowhere," "In My Crib," "Pesos"
10. Under the Blue Moon (1986)
Soul In Stereo ranking: 3.5 stars out of 5
Edd said: OK, so you're one of the biggest R&B groups of your era, you've just lost your most charismatic member and you're looking to redefine yourself. What do you do? You record a bunch of doo-wop covers! Um, yeah. NE's first release after Bobby Brown's exodus was quite the transition period. The trick to making a successful cover is to retain the spirit of the original while adding a personal stamp to make it your own. NE performs all the classics well here, but they rarely added anything new – well sung but, well, forgettable.
Forgotten favorites: "Hey There Lonely Girl," "Blue Moon," "Bring the Back the Memories"
9. Hootie Mack (1993)
Soul In Stereo ranking: 3.5 stars out of 5
Edd said: BBD's sophomore album is a bit of a departure from the debut, leaning more hip-hop than the previous New Jack Swing sound. The change in direction made sense as NJS began to fade but the execution feels off in places. "Something In Your Eyes" by far is the biggest standout – I wish we got more of that sound.
Forgotten favorites: "Something In Your Eyes," "Please Come Back," "The Situation"
8. One Love (2004)
Soul In Stereo ranking: 3.5 stars out of 5
Edd said: It's the infamous Puffy album! After their successful comeback album in 1996 (more on that later), the guys – minus Bobby – reunited under the Bad Boy banner. While the album is mainly remembered for creative conflicts with Puff and a failure to recreate the magic of the previous effort, all things considered it's not as bad as its reputation claims. The club tracks certainly feel forced but once the Jimmy Jam & Terry Lewis-produced songs click on the second half of the album things turn around for the better.
Forgotten favorites: "Start Turnin' Me On," "Re-Write the Memories," "Last Time"
7. Three Stripes (2017)
Soul In Stereo ranking: 3.5 stars out of 5
Edd said: Bet y'all forgot about Bell Biv DeVoe's reunion a few years ago! The buzz around the revival came and went but the album was pretty solid and deserved a bit more attention. Unlike that 2001 disaster, BBD authentically adapted to a new era while remaining true to their party-starting roots. It's a breezy listen that's a fun reminder of BBD's pedigree.
Forgotten favorites: "I'm Betta," "One More Try," "Run"
6. All for Love (1985)
Soul In Stereo ranking: 3.5 stars out of 5
Edd said: The final studio album to feature the original quintet, All for Love feels like an extension of the group's previous self-titled release. On one hand, riding the momentum of that excellent effort is far from a bad strategy. On the other, it makes All for Love feels like a lesser version of a superior release. Make no mistake, this one is mostly solid, there's just a "been there, done that" vibe that makes this feel like the odd man out in their discography.
Forgotten favorites: "Whipsers in Bed," "Let's be Friends," "Tonight's Your Night"
5. Candy Girl (1983)
Soul In Stereo ranking: 4 stars out of 5
Edd said: Yes, it's the one that started it all. Listening to this today is like looking back at your baby pictures – sweet and innocent and kinda awkward. The Jackson 5 influence was heavy here, but felt more like the evolution of that trademark sound that outright imitation. Filled with classics that still resonate today, NE's debut is landmark release not just for the fledgling group but 80s R&B as well.
Forgotten favorites: "She Gives Me a Bang," "Jealous Girl," "Gotta Have Your Lovin"
4. Poison (1990)
Soul In Stereo ranking: 4 stars out of 5
Edd said: Many times when I do these retro reviews I say something like "you had to be there to know how big this album/record was." Well, three decades later and it's a safe bet that you DIDN'T have to be around in 1990 to know how big BBD's debut was. The title track alone has transcended R&B's New Jack Swing era and has become a part of pop culture history, period. But this album is more than just one song, it's a fondly celebrated party record in its own right. I mean, when half the tracks end in exclamation points, you know the energy is going to be on another level. BBD's inaugural voyage has yet to be topped and became a defining moment for New Jack Swing.
Forgotten favorites: "I Do Need You," "Ain't Nut'in' Changed," "Ronnie, Bobby, Ricky, Mike, Ralph and Johnny (Word to the Mutha)!"
3. New Edition (1984)
Soul In Stereo ranking: 4 stars out of 5
Edd said: NE's self-titled album might not be their debut but, in my eyes, this is when they found themselves. Their blend of pop and R&B was groundbreaking at the time, moving them away from their juvenile roots to a sound that would solidify their act as one of the biggest in the genre. It's well-documented that some group members weren't fond of their new squeaky clean image but, hey, it endeared them to a new set of fans so it worked. As always, I'm just here for the music, not the politics, and this music is among the best they've ever presented.
Forgotten favorites: "I'm Leaving You Again," "Hide and Seek," "Maryann"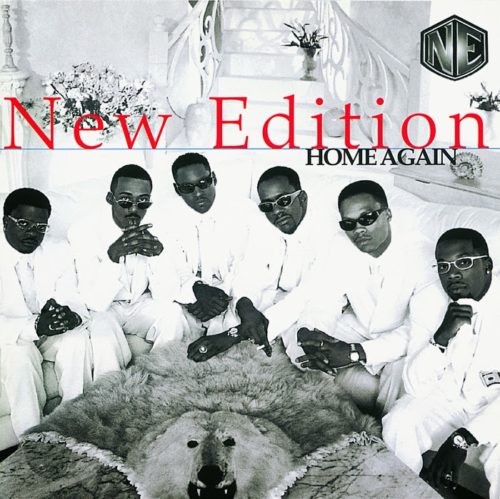 2. Home Again (1996)
Soul In Stereo ranking: 4 stars out of 5
Edd said: It's a little tough to accurately describe how monumental this reunion was. After years of splits, drama, solo projects and side hustles, it seemed a New Edition reunion was totally off the table – and certainly not a reunion of all six members. But miracles do happen and the result was one of the greatest R&B comebacks of all time. To date, it's the only LP to feature all six members and they were treated to an all-star team of producers, including Puffy, Chucky Thompson, Gerald Levert, Jermaine Dupri and Jimmy Jam & Terry Lewis. Expectations were high and they were easily met with this great release.
Forgotten favorites: "Hear Me Out," "Oh Yeah, It Feels So Good," "One More Day"
1. Heart Break (1988)
Soul In Stereo ranking: 5 stars out of 5
Edd said: The ultimate coming-of-age album. After the departure of Bobby Brown left NE floundering and Ralph's solo aspirations were put on hold, Johnny Gill became the glue that put the NE legacy back together again. Gill instantly proved his worth – his fully formed vocals helped define their new sound, giving them the maturity to push their legacy into the next decade. It's a true R&B classic and the definitive New Edition album.
Forgotten favorites: "Superlady," "I'm Comin Home," "Boys to Men"   
Which NE albums are your favorite? Let us know below and if you haven't already, check out our Head to Head discussion on their career too.