Ranking the Best Amerie Albums
Y'all know I pride myself on being an unbiased reviewer, but I'm a fan first and let me tell you – you won't find a bigger fan on these here Innanets of Ameri(i)e Mi Marie Rogers than yours truly. And I will go to my grave saying that by 2006 she should have been the biggest star in R&B, period.
Oh I come bearing receipts:
An incredible, critically acclaimed debut album.
A chart-topping single to lead off her sophomore album.
A superproducer in her corner who helped cultivate a signature sound.
But between label drama, so-so sales and even MORE label drama, a surefire star faded out by the end of the decade. But that won't stop us from reminiscing about better days.
Let's look back at Amerie's career, ranking her albums from bottom to top. We usually just stick to LPs on these lists but since her discography is relatively small, let's throw in her three EPs and 2006 mixtape to make things interesting. Album quality, consistency, and impact helped determine these rankings.
Amerie deserved more! We're giving her flowers today.
8. After 4AM (2018)
Soul in Stereo rating: 2 stars out of 5
Edd said: Lord, OK, let's get these out of the way. So, in 2018 Amerie shocked fans by delivering not one, but TWO new EPs nearly a decade after her last LP. The results were … not great. Instead of trendsetting, Amerie conformed to the sounds of the time – drowsy production and screechy autotune. Instead of a reintroduction or even a step forward, it feels like Amerie playing dress up with someone else's sound and it doesn't fit her well at all.
Forgotten favorites: "Don't Say a Word"
7. 4AM Mulholland (2018)
Soul in Stereo rating: 3 stars out of 5
Edd said: Take most of what I said about After 4AM and apply it here, with a key exception – 4AM Mulholland benefits not only from stronger production but the tracks also seem to be a better fit, instead of sounding like some other artist's leftovers. Again, the autotune is unnecessary and downright oppressive at points but at least most of the songs are listenable.
Forgotten favorites: "Curious," "A Heart's for the Breaking"
6. Drive (2016)
Soul in Stereo rating: 3 stars out of 5
Edd said: Amerie quietly dropped her Drive EP in the summer of 2016 and it instantly fell through the cracks. That's a shame because there was potential here. While her later EPs unsuccessfully tried to evolve her sound, coming off way too forced in the process, this felt like a more natural progression. High tempo tracks rule the day and the energy is great – the problem is that none of the songs truly break away from the pack.
Forgotten favorites: "Trouble with Love," "Every Time"
5. In Love & War (2009)
Soul in Stereo rating: 3.5 stars out of 5
Edd said: After Columbia completely dropped the ball on Amerie's third album (more on that later), she moved on to Def Jam in what, at the time, seemed like the perfect opportunity for her to break through. Didn't quite work out that well, though. The switch in scenery and creative direction yielded very mixed results, producing an LP with a handful of standouts but not much else. Sadly it remains Amerie's last LP to date.
Forgotten favorites: "Why R U," "The Flowers," "Pretty Brown"
4. Because I Love It Vol. 1 (2006)
Soul in Stereo rating: 4 stars out of 5
Edd said: For you kiddos who were like 5 or 6 years old in the mid-00s, allow me to share this brief musical history lesson: If you wanted buzz around a new project in that era, your best bet was dropping a head-turning mixtape. That's exactly what Amerie did to promote her upcoming third album, and it definitely turned heads (though we won't get into the overblown "Beyonce beef" this tape's intro stirred up). This is a mixtape through and through, featuring remixes of current hits of the era, remakes of classics and early leaks of songs that would wind up on the official LP. Amerie's REALLY feeling herself here, oozing with confidence and personality while dismissing critics and celebrating past successes. This one is a ton of fun and worth checking out if you can track it down.
Forgotten favorites: "Push It," "Weekend Love," "Money in the Bank"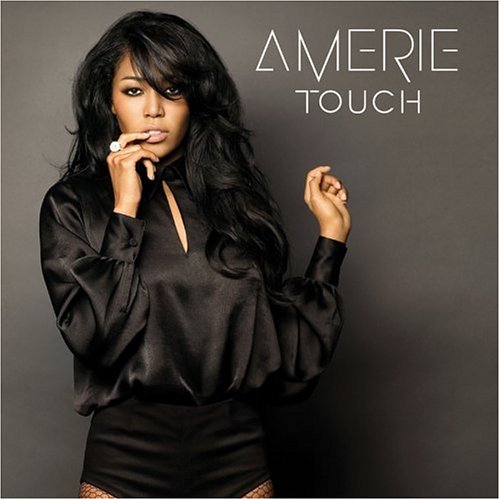 3. Touch (2005)
Soul in Stereo rating: 4 stars out of 5
Edd said: After a critically acclaimed debut, pressure was mounting for Amerie to deliver big on her sophomore album. What did she do? She just DROPPED ONE OF THE BEST SONGS OF THE DECADE, that's all. Touch is much more than "1 Thing," though – the heavy horns and go-go feel across the record gave Amerie a signature sound all her own, and there are plenty of midtemp cuts that harken to her roots. This is the album that should have pushed Amerie to superstardom but life refuses to be fair.
Forgotten favorites: "All I Need," "Not the Only One," "Come with Me"
2. Because I Love It (2007)
Soul in Stereo rating: 4.5 stars out of 5
Edd said: The best album you've never heard was a victim of label politics. Ameri(i)e's third studio album was originally released overseas, quietly dropping stateside nearly a year later due to drama with Columbia Records. Sadly, countless fans missed out on some of Amerie's best work. The album wildly swings from uptempo jams to sparkling ballads without losing sight of itself. It's heavy on samples but each one plays its role very well. I've been singing the praises of this one for years – and I won't stop until y'all get on board and listen for yourself. By far one of the most overlooked gems of its era.
Forgotten favorites: "Crush," "When Loving U Was Easy," "Paint Me Over"
1. All I Have (2002)
Soul in Stereo rating: 5 stars out of 5
Edd said: We all knew Amerie had a hit single on her hands before she released her debut LP in 2002. What we didn't know is that she was so much more than a one-hit wonder – she was the total package. Writer/producer Rich Harrison's impeccable soundscapes take the lead here as Amerie wistfully glides over his infectious midtempo tracks. It was the very definition of a summertime album – filled with romantic longing and danceable cuts tailor-made for an evening cookout. Amerie blew away our expectations and made an album that has endured for nearly 20 summers – and counting.
Forgotten favorites: "Need You Tonight," "Show Me," "Can't Let Go"
Which Amerie's of albums albums is her best? Let us know below in the comments. And check out YouKnowIGotSoul's list of Amerie's 10 best tracks here.