Ranking the Best Alicia Keys Albums
It's been quite the newsworthy week for Alicia Keys.
First, it was announced that she will again host the Grammys. Also, she released a new song.
Eh, it's OK.
Sadly, those three words have defined much of her career this past decade. Unquestionably, she was R&B's biggest forces a decade prior. But recent years haven't been as fruitful – between her very sporadic releases and an inability to evolve her sound, we're just here like
Eh, it's OK.
Regardless, you can't take anything away from her legacy, one that started with just a girl and a piano reshaping the sound of R&B. Let's look back at Alicia's discography, ranking her LPs from bottom to top. Album quality, consistency, and impact on the genre are the determining factors here. And as usual, I'm skipping compilations, greatest hits and her Unplugged album (which is pretty decent, actually).
6. Girl on Fire (2012)
Soul in Stereo rating: 3.5 stars out of 5
Edd said: Unfortunately for our girl Alicia, this was the album where things got a little rough. Alicia tried experimenting with different genres – rock, electro, hip-hop, but for some reason, barely anything on Girl on Fire sticks. You'll find yourself enjoying the songs in the moment, but once you're hit with the question, "hey, what are the best songs from this album?" the only answer you'll have is "ummm, the Maxwell joint, I guess?" Girl on Fire isn't offensively bad, just woefully unremarkable.
Forgotten favorites:  "Fire We Make," "Brand New Me," "Tears Always Win"
5. Here (2016)
Soul in Stereo rating: 3.5 stars out of 5
Edd said: Here is an ambitious project with good intentions but, much like other latter-day A-Keys albums, struggles to find itself about halfway through. The first half of the album starts promising but Alicia quickly falls back into old habits – cookie-cutter pop tracks and dull writing. Even the background singers sound comatose half the time! Like Girl on Fire, this isn't a BAD album per se, there's just barely anything worth revisiting.
Forgotten favorites: "She Don't Really Care_1 Luv," "Kill Your Mama," "Blended Family (What You Do For Love)"
4. As I Am (2007)
Soul in Stereo rating: 4 stars out of 5
Edd said: As I Am is a weird one for me. As an overall project, it's not one I revisit often – mostly likely due to the singles being PLAYED TO DEATH in 2007/2008. I never wanna hear "No One" or "Superwoman" ever again, thank you very much. But it's not a bad project – far from it, in fact. The sound is a bit more pop-ish and the writing a bit more cliched than previous efforts (slight cracks here that would wind up being bigger issues in later releases) but there's more than enough consistency to keep the project afloat. It's a solid, though somewhat unspectacular, effort.
Forgotten favorites: "Lesson Learned," "Teenage Love Affair," "Tell You Something (Nana's Reprise)"
3. Songs in A Minor (2001)
Soul in Stereo rating: 4 stars out of 5
Edd said: I have a complicated relationship with this album. If you were around in 2001, this was hyped as the best album in the history of albums. I certainly get why – Alicia was presented as an R&B prodigy,  exhibiting maturity and musical instincts well beyond her years. At the time, I appreciated aspects of it but didn't think it was NEARLY the cultural touchstone critics claimed. In 2019 though, I respect the artistry of this one a bit more. Songs in A Minor does have a tendency to meander (especially on the second half) but it's a very promising debut nonetheless. Not the all-time classic it's often called, but much better than I remembered.
Forgotten favorites:  "Girlfriend," "Goodbye," "Why Do I Feel So Sad"
2. The Element of Freedom (2009)
Soul in Stereo rating: 4 stars out of 5
Edd said: If we've learned anything from this ranking is that while Alicia is incredibly talented, she's often had a tough time making consistent releases, especially in recent years. Not so for The Element of Freedom. Maybe it's because she sticks to her comfort zone – instead of stretching herself too thin chasing Top 40 success, she leans on piano ballads and midtempo hip-hop numbers. This one doesn't get the love it deserves but it's quietly home to some of Alicia's best work.
Forgotten favorites: "Empire State of Mind (Part II) Broken Down," "Try Sleeping With A Broken Heart," "That's How Strong My Love Is"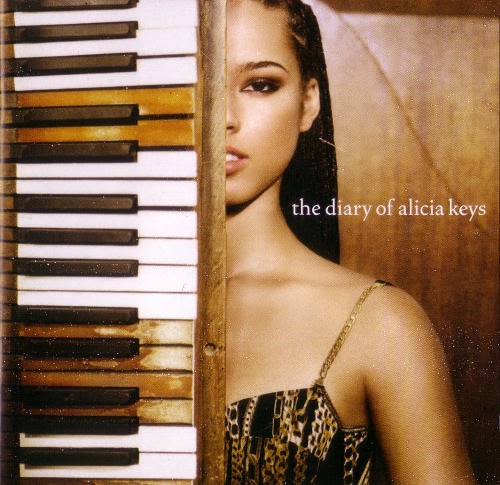 1. The Diary of Alicia Keys (2003)
Soul in Stereo rating: 5 stars out of 5
Edd said: Alicia's debut may have been heralded as an instant classic, but if you ask me, that destiny was not fulfilled until two years later. The Diary of Alicia Keys might not have the massive singles of its predecessor but it's a much tighter effort that blends pop, hip-hop and traditional R&B into an impeccable package. It's capped off by brilliant writing as well – you feel Alicia morph into a star-gazing waitress on "You Don't Know My Name" and walk alongside her as she casts off fame for love on "If I Ain't Got You." No sophomore jinx here, this is not only Alicia's best work to date but the best R&B album of the 2000s.
Forgotten favorites:  "Nobody Not Really," "So Simple," "When You Really Love Someone"
Which Alicia albums are your favorite? Demanding justice for Songs in A Minor? Tell us below.