30 Best Albums of the 2010s
It's pretty insane that we're just a few months away from closing out another decade.
And it's even more incredible that Soul In Stereo has been in existence the entire time, covering the countless albums that have dropped over these past 10 years.
So yeah, don't trust those OTHER "end of decade" lists whose music fandom began in like 2015. We've been here the whole time, highlighting the classics and weeding out the trash.
The 2010s have been some of the most unpredictable years of my music fandom. We saw hip-hop become the most dominant genre in the world, influencing basically every other form of music on the planet. The rise of social media broadened the world of music for better and worse – talented artists leveraged it to break their way into our headphones; less talented artists used it as a bully pulpit to rally stans behind their mediocre music. And my beloved R&B continued to struggled with its identity crisis, though a new generation of younger artists seems to be dedicated to keeping the craft alive.
But good music always endures. Let's revisit the 30 albums that defined this decade.
But first, some ground rules. Read 'em before you run to the comments to complain:
Since it became very apparent that a couple of artists would dominate the top 10 with multiple albums (and it's not hard to figure out who), this is NOT a ranked list. And remember, this isn't a list of most celebrated or most buzzworthy records of the year, so get outta your feelings, stans. Album quality and consistency are the main factors here, not simply hype. And yes, we're also showing love to mixtapes too.
Just missing the cut:
Kanye West and Jay Z, Watch the Throne
A Tribe Called Quest, We Got it From Here…Thank You 4 Your Service
Jazmine Sullivan, Reality Show
Kendrick Lamar, Section 80
Frank Ocean
Channel Orange (2012)
What a strange journey it's been for Frank Ocean. He's spent the past 10 years as one of the most abstract artists in the game – one minute he's singing hooks for rap headliners, the next he's filming himself building a staircase. And fans EAT IT UP every time. And one of the reasons his aura is so bulletproof is thanks to Channel Orange, his dark, alluring debut that blends R&B, funk, pop and electronica into a hazy fog of emotion. What he lacks in vocal prowess he makes up for in atmosphere and expert songwriting. Channel Orange rewrote the rules for soul this decade and had dozens of artists following his lead.
Tamia
Love Life (2015)
I won't waste time arguing about Tamia's criminally underrated recording career. If you're reading this site, you already know that she's been a premier vocalist for two decades — and you know that voice has been the magic behind some phenomenal material. So it should be no surprise that Tamia's sixth album continues that standard of excellence — tender, heartfelt ballads, sweaty bedroom burners and a voice as clear as spring water. Her vocal performances are unmatched. Overlook this album if you must, it just means you missed some of the best R&B album this decade had to offer.
Beyonce
Beyonce (2013)
When Beyonce randomly dropped her self-titled fifth solo album in the middle of the night Dec. 13, 2013, EVERYTHING changed. Album releases moved from Tuesdays to Fridays. "Surprise" album releases – foregoing the traditional promotional tactics – became the norm. Everyone hopped on the "visual album" bandwagon (in my day, we just called it "releasing videos," but whatever). And Beyonce went from popular R&B singer to the biggest pop icon since Michael Jackson. And all of that would ring hollow if the album was terrible – and it's not. It's very, very good. Easily Bey's most personal and diverse album to date, Beyonce became the standard of feminism in the 2010s and totally changed the world of music as we knew it.
Lupe Fiasco
Tetsuo & Youth (2015)
By 2015 we all thought Lupe Fiasco's best days had passed him by. Not that he hasn't given us solid material in past years, he's just been forever haunted by the specter of his Lasers album and many ill-timed social media rants. But in a world dying for social commentary, Lupe gets his groove back. Tetsuo & Youth is a sprawling dialogue of America's ills — from the plight of the heartbroken mother to inner-city crime so prevalent that you can't even order pizza, Lupe weaved tales that hit home and allowed him to showcase his renowned wordplay. Need proof? Just listen to the eight-minute "Mural," the best rap song of 2015. If even for a moment, it was good to hear the REAL Lupe again.
Jay Z
4:44 (2017)
OG fans of Soul In Stereo know that for years I defended Jay Z as the best rapper alive. Bar none. That all changed in 2012 when, after a string of mediocre releases, I passed Jay's crown to Nas, who had just delivered yet another 5-star album. Jay would always remain a legend but in my eyes, his star definitely was dimming. 2017 became his redemption. Pulling from his personal marital problems, Jigga got his groove back with 4:44, a thrilling ode to fatherhood, fidelity and maturity – three words I thought we'd never associate with Jay. I hope you think piece writers still aren't misunderstanding his message: The album is about not blindly forgiving infidelity, it's a cautionary tale warning men to mature or risk losing it all. No ID's immaculate production and Jay's most personal lyrics ever make it one of the better albums in his legendary catalog.
Justin Timberlake
The 20/20 Experience (2013)
It was an album seven years in the making, and with that kind of hype, expectations are bound to be too high. Thankfully, we weren't disappointed. JT returned to the game with a newfound maturity and a sound that emulated R&B's roots. Mellow grooves and danceable cuts showed that JT continues to evolve, keeping his music fresh and exciting.
Miguel
Kaleidoscope Dream (2012)
2012 was a great year for music across the board and Miguel and Frank Ocean were in a dead heat for the top spot for R&B. Frank's Channel Orange certainly has gone on to build the better legacy but it's Miguel's sophomore album that pulls slightly ahead due to it's air-tight consistency. A case could be made for "Adorn" being THE best R&B song of the past 10 years. But this album is much bigger than one hot single. Kaleidoscope Dream has become Miguel's magnum opus and has set the bar for R&B releases in the years that followed. In an era where R&B seemed to struggle to find it's identity, Kaleidoscope Dream felt like an oasis in the storm.
Kanye West
My Beautiful Dark Twisted Fantasy (2010)
Yeah, it's been QUITE the decade for Mr. West. No matter how bad things got (and boy, they got bad) fans can always go back to this one. After wasting his time auto-tunin' n' croonin' his way through the end of the previous decade, Ye finally got back to basics. Sorta. This album saw the return of many of Kanye's calling cards – namely, the soulful orchestration that made him a phenom in the mid '00s. But this time, true to the album's title, everything's much more dark. Despite its rep, MBDTF is far from perfect – it can be as pretentious as its creator, bogged down by songs that run three and four minutes too long. Preposterous, yet stunningly brilliant, MBDTF stretched the boundaries of hip hop. Give Ye props for that.
Bilal
A Love Surreal (2013)
Admittedly, I've never been much of a Bilal fan. I found it very difficult to get into his music, which often came off sounding like a strained version of Prince's work. Well, this album made me a believer. A Love Surreal is a tale of a love found and lost, playing out almost cinematically. Bilal blends R&B with elements of rock, hip-hop and country, resulting in a compelling listening experience. NOW I get why y'all love him so much.
Pusha T
Daytona (2018)
Kanye West's 2018 summer experiment of seven-track releases had its ups and downs, but the clear winner was Pusha T, who made the most of the abbreviated real estate to give us his best solo project to date. Of course, he doesn't reinvent the wheel – is the coke rap you've come to expect since 2002 – but what pushes this above the rest is his infectious wordplay and those stellar beats, straight from whatever shed Kanye is hiding in in Wyoming. All hail King Push, the crown is his.
Marsha Ambrosius
Late Nights & Early Mornings (2011)
& Friends and Lovers (2014)
During the first half of the decade, the former Songstress of Floetry reigned as the unsung hero of R&B. Her solo debut Late Nights & Early Mornings far exceeded lofty expectations, dripping with the sensuality that made Marsha a star. The follow up, Friends & Lovers was just as strong, this time blending more introspection along with those good ol' bedroom burners. Both Late Nights & Early Mornings and Friends & Lovers missed out on the mainstream accolades they deserved but while the world sleeps, Marsha just keeps making great music.
Black Thought
Streams of Thought Vol. 2 (2018)
Vol. 1 was the body blow. Vol. 2 was the knockout. Thought found a formidable partnership with 9th Wonder on the former, but the chemistry he finds with Salaam Remi on the latter is what really takes this project to the next level. The impeccable wordplay is as sound as ever, but Remi's soundscapes are what seal the deal. In a decade where tight, concise rap releases were often overshadowed by their bloated peers, this remains a gem.
Common
The Dreamer/The Believer (2011)
These days, it seems like all Common wants to talk about is Microsoft AI. We get it playa, you don't have to hit us with this commercial every 45 seconds. While Common has spent the past decade hobnobbing in Hollywood and hyping up Skynet, to his credit, he's continued to drop music with relative frequency. Unquestionably, this is the most overlooked gem in Common's discography. No ID returned to provide the score and didn't disappoint, proving that their chemistry is indeed timeless. Lyrically, Common's bars were the sharpest they've been in years – from optimistic introspection of "Blue Sky" to the battle-tested fury of "Sweet." The lack of a strong single hurt the album's notoriety, but as a full body of work, this one was hard to top.
Freddie Gibbs and Madlib
Bandana (2019)
Freddie Gibbs and producer Madlib are no strangers to each other, but there's something extra magical about their follow-up collaboration to Pinata. Everything is taken to the next level on Bandana – the beats hit a little bit harder, the guests bring a little more fire and Gangsta Gibbs is obsessed with proving that he's one of the best in the world. Bandana excels on every level, proving that Gibbs should be mentioned among rap's elite. When Gibbs called this the album of the year, he shortchanged himself. Not only is it one of the best of 2019 so far, it's one of the best rap releases of the decade.
Chrisette Michele
Better (2013)
Chrisette has had a rough few years recently, bogged down by politics, personal issues, creative struggles and, ugh, "cancel culture." Can't wait till y'all grow out of that. But in 2013, Chrisette quietly peaked with Better, a refreshing LP that harkened back to the glory days of 90s R&B. Here's proof of that legacy: How many weddings have you attended this decade that played "A Couple of Forevers?" Probably 400, and rightfully so. Better doesn't get the love it deserves but it helped keep R&B's spirit alive.
Run the Jewels
Run the Jewels 2 (2014)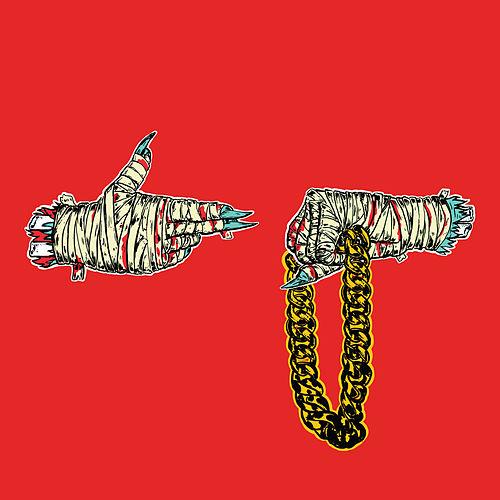 I'll be honest with y'all, I thought Killer Mike & El-P's original Run the Jewels record was slightly overrated. It wasn't bad at all, mind you, it just didn't stick with me on repeat listens. That all changed with this sequel. More gripping — and angry — than it's predecessor, rap's new Dynamic Duo run roughshod over 11 tracks with reckless abandon. It's funny, it's thought-provoking, it's emotionally stirring — it's incredible.
Rapsody
Laila's Wisdom (2017) & Eve (2019)
The 2010s were an odd era for female rappers. Pretty much all of the legends from previous decades were on hiatus, leaving the field to be dominated by just one or two faces at a time. Problem is, most of those faces were all style. It was Rapsody who finally brought substance. Both Laila's Wisdom and Eve eclipse albums from both her female AND male counterparts – the former celebrating family while the latter embraces womanhood. Don't get stuck on gender: She's not just a great female MC – she's one of the best storytellers of the decade. Period.
KING
We Are King (2016)
KING spent years as almost an urban legend, a group that came out of nowhere, dropped a couple of head-turning tracks, then disappeared. But when they finally returned in 2016, they came strong — stronger than anyone expected. Their harmonies blend seamlessly with the lush production, making every single song instantly infectious. With a diverse set of soundscapes and nearly flawless vocal performances, KING is no longer a myth, they're R&B royalty.
Bruno Mars
24K Magic (2016)
The greatest story of this decade is that a pop artist did what your favorite R&B artist couldn't – bring the fun back to R&B.  On 24K Magic, Bruno's third album, he takes his infatuation with all things '80s even further, crafting album that branches out from his usual '80s pop stylings and cabbage patches right into early '90s New Jack Swing. In an era where moody R&B with sour lyrics and dour production rule the charts, the game was in dire need of some levity. Thank Bruno for reminding us why we love music in the first place. 24K Magic is absolutely spellbinding.
Janelle Monae
The ArchAndroid (2010), The Electric Lady (2013)
& Dirty Computer (2018)
It's pretty incredible – and a little depressing – that Janelle Monae not once, not twice, but THRICE dropped the best albums of the decade yet still goes unnoticed by most mainstream ears. Their loss. Each album is completely different yet utterly daring – from the afro-futurism of The Arch Android, the soulful femininity of The Electric Lady and the biting political commentary of Dirty Computer, Janelle's music never rings hollow. She also refuses to be boxed into one genre – one minute she's belting out classic soul with her highly underrated pipes, the next she's outrapping your faves on hip-hop tracks. Much like her mentor Prince, whom we lost this decade, Janelle is a complete artist – singer, writer, performer and thought leader. Simply put, she's a phenom.
Big KRIT
Return of 4eva (2011)
Many have spent the last decade attempting to crown various emerging Southern artists as the "new Outkast." Playa please, only one person deserves that crown. Big K.R.I.T.'s Return of 4Eva is a portrait of Southern living – the highs and lows of family and fame and the struggles of a racially charged environment. And for the turn-ups among us, there is plenty of talk about rims and strippers too. It's Southernplayalisticadillacmuzik for a new generation.
J. Cole
Friday Night Lights (2010)
J. Cole has gotten a LOT of hype over this past decade, especially in recent years – some of it a little unwarranted. But this is mixtape is the one release that had rap critics uttering his name in the same breath as Nasir Jones. Cole was at his lyrical and creative peak here, touching on personal issues with the wit and flair of a veteran artist. It was a can't miss-release that, if it were a full fledged LP, I'd have no problem anointing with a 5-star score. Cole's later LPs haven't come close to capturing the magic of this mixtape but I'm holding out hope that he gets there one day.
Nas
Life is Good (2012)
Rap is a young man's game. After nearly 20 years in the game, it's a miracle that Nas is still releasing albums at all. But 18 years after his debut, Esco still had enough gas in the tank to drop one of the best albums of the past decade. Life Is Good isn't a bunch of braggadocious fairy tales or an attempt to cash in on the current rap craze. It's an open book of Nas' journey, from his boom-bap roots and climb to stardom to crushing losses and, of course, his failed marriage. The soulful backdrop makes it even more mature, more relatable – more human. A masterful piece of work. I've only given one 5-star album review in more than 10 years of reviewing releases on this site. This is the only worthy LP.
Kendrick Lamar
Good Kid, MAAD City (2012),
To Pimp a Butterfly (2015) & DAMN (2017)
Here he is, the list-breaker himself. It's pretty incredible that of all the music we've heard over the past decade, all three of Kendrick Lamar's most recent solo projects are worthy of top 5 contention. It's also telling that that news probably doesn't shock anyone reading this list. Good Kid, MAAD City was an incredible coming-of-age tale packed with elite-level storytelling (if you're wondering, "Sing About Me, I'm Dying of Thirst" is my personal pick for best rap track of the decade); To Pimp A Butterfly is a dense, multi-layered opus that delved deep into the psyche of America's forgotten youth, one that eventually became the face of the modern social-justice movement. And then there is DAMN, a sobering evolution of the black experience – gone is the youthful exuberance of GKMC and empowerment of TPAB, instead, Kenny is a man at war with himself, trying to convince himself to be a voice of change in a world that happily covers its ears. Storytelling, lyricism, passion and yes, even hit singles – these three albums have set the tone for hip-hop over the past 10 years.
Some hip-hop heads say it's still too soon to crown Kendrick was one of the greats. Well, numbers don't lie. For 10 years he's given us three of the best albums in hip-hop history. Ninety percent of rap's legend's don't have that kind of track record. Kendrick Lamar, legitimately, should be mentioned among the greatest rappers of all time. This decade was his.
What did we miss? Share your favorites of 2010-2019 below.