10 Best Hip-Hop Albums of the Decade: 2008-2018
Man, time flies.
This past summer, I marked my 10th year as a music reviewer. Whew lawd, what a decade it has been.
In that time, I've reviewed countless albums; debated classics; tracked down forgotten artists; teamed up with great industry experts; launched a podcast (shout out to my boys at YouKnowIGotSoul.com); doled out love advice on the regular; got a lot of love from some of your favorite artists; got yelled at by your other favorite artists and their knuckle-dragging stans; launched a Facebook group where fans can chill and discuss music; GOT A SHOUTOUT FROM KING KEEF and most importantly, made lasting friendships that I truly cherish.
Music builds such strong bonds. I appreciate y'all for opening your digital devices to my work and trusting me to give you that real.
In commemoration of this 10-year journey, let's look back at the top rap releases of each corresponding year.
One note: At the request of readers in the Soul In Stereo Cypher, this list WILL include albums designated as mixtapes. Which is cool, it didn't feel right leaving them off.
So, revisit the albums that made this decade great. It's a decade that changed my life.

2008: Nas, Untitled
Nas turned the industry upside down when he announced that he'd name his 2008 album after the dreaded N-word. Eventually, he relented, going Untitled instead. But I don't care about controversy, I care about content, and this album was an outstanding examination of black culture. From what we eat to who we are, and most importantly, WHY we are who we are, Nas shed light on the pain and beauty of black life. Untitled proved to be eerily prophetic in today's cultural climate.
Honorable mention: Q-Tip, The Reniassance
2009: Raekwon, Only Built 4 Cuban Linx Pt. 2
It's a scientific fact: Sequel albums almost always suck. So you can understand why my hopes weren't very high for Raekwon's addendum to his classic debut. Also, let's face it, outside his debut (and last year's fantastic release), Rae's solo material has often been met with mixed reviews. But not this time. Rae effortlessly recaptured the magic of the original Cuban Linx, and quickly reminded us why he's one of rap's most revered voices. I'll never doubt the Chef again.
Honorable mention: Clipse, Til the Casket Drops
2010: J. Cole, Friday Night Lights
I know most would assume Kanye is the obvious choice here, but I beg to differ. This is mixtape is the one release that had rap critics uttering his name in the same breath as Nasir Jones. Cole was at his lyrical and creative peak here, touching on personal issues with the wit and flair of a veteran artist. It was a can't miss-release that, if it were a full fledged LP, I'd have no problem anointing with a 5-star review. Cole's later LPs haven't come close to capturing the magic of this mixtape but I'm holding out hope that he gets there one day.
Honorable mention: Kanye West, My Beautiful Dark Twisted Fantasy
2011: Big KRIT, Return of 4 Eva
Many have spent the last decade attempting to crown various emerging Southern artists as the "new Outkast." Playa please, only one person deserves that crown. Big K.R.I.T.'s Return of 4Eva is a portrait of Southern living – the highs and lows of family and fame and the struggles of a racially charged environment. And for the turn-up generation, there is plenty of talk about rims and strippers too. It's Southernplayalisticadillacmuzik for a new generation.
Honorable mention: Common, The Dreamer/The Believer
2012: Nas, Life is Good
Rap is a young man's game. After nearly 20 years in the game, it's a miracle that Nas is still releasing albums at all. But 18 years after his debut, Esco still had enough gas in the tank to drop one of the best albums of the past decade. Life Is Good isn't a bunch of braggadocious fairy tales or an attempt to cash in on the current rap craze. It's an open book of Nas' journey, from his boom-bap roots and climb to stardom to crushing losses and, of course, his failed marriage. The soulful backdrop makes it even more mature, more relatable – more human. A masterful piece of work. I've only given one 5-star album review in 10 years of reviewing countless releases. This is the only worthy LP.
Honorable mention: Kendrick Lamar, good kid, M.A.A.D. city
2013: Eminem, The Marshall Mathers LP 2
2013 was a weird year in hip-hop – lots of solid releases, no real true standouts. But lyrically and creatively, MMLP2 is ahead of the competition. More than a mere "comeback" album, this set showcases the maturation of a disturbed young man to an older, wiser (but still kinda disturbed) adult. Em readily admits his mistakes but he's not gonna change who his is – accept it or go listen to someone else. That kind of frank introspection is what hip-hop needs. Back that up with some of the best punchlines and rhyme schemes Em has ever produced and MMLP2 becomes an undeniable hit. I know it's fashionable to trash Em these days but he still has some gas in the tank.
Honorable mention: Pusha T, My Name is My Name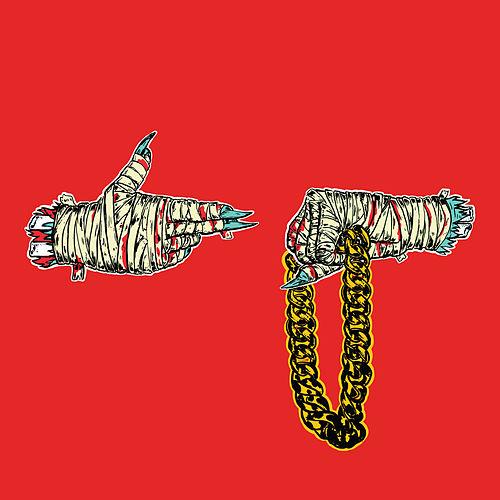 2014: Run the Jewels, Run the Jewels 2
I'll be honest with y'all, I thought Killer Mike & El-P's original Run the Jewels record was slightly overrated. It wasn't bad at all, mind you, it just didn't stick with me on repeat listens. That all changed with this sequel. More gripping — and angry — than it's predecessor, rap's new Dynamic Duo run roughshod over 11 tracks with reckless abandon. It's funny, it's thought-provoking, it's emotionally stirring — it's easily the album of 2014.
Honorable mention: Royce da 5'9 and DJ Premier, PRhyme
2015: Kendrick Lamar, To Pimp a Butterfly
Yeah, Kendrick's third album taking the top spot in 2015 is a no-brainer, and that simply speaks to the monumental impact of this release. No album that year spoke to the black experience like To Pimp a Butterfly, a dense, multi-layered opus that delved deep into the psyche of America's forgotten youth. The album may have been short on radio singles but that didn't prohibit many of the songs from penetrating our culture — "Alright" became the theme song of the Black Lives Matter movement. Of all the albums in the past decade worthy of "classic" contention, To Pimp a Butterfly might be the one true contender.
Honorable mention: Lupe Fiasco, Tetsuo & Youth
2016: A Tribe Called Quest, We Got It From Here, Thank You 4 Your Service
Of all the improbable returns we saw in 2016, none were more shocking than the reunion of one of rap's greatest trailblazers. Serving as their final swan song – and a tribute to fallen member Phife Dawg – A Tribe Called Quest re-entered the rap arena without a hint of ring rust. While it's brimming with nostalgia, this is no mere rehash. Tribe deftly targets hot-button political issues, posits on the current state of hip-hop and, of course, honors the legacy of Phife. Easily one of the most satisfying releases of that year.
Honorable mention: Elzhi, Lead Poison
2017: Kendrick Lamar, DAMN
Kendrick's fourth LP is yet another bold statement that he, legitimately, should be mentioned among the greatest rappers of all time. DAMN is elite-level storytelling, with every vocal inflection and shifting soundscape adding new layers to his thesis. On DAMN, Kendrick almost seems at war with himself, trying to convince himself to be a voice of change in a world that happily covers its ears. His turmoil manifests into yet another near-classic on his resume.
Honorable mention: Raspody, Laila's Wisdom

*2018 SO FAR: Pusha T, DAYTONA
Obviously the year isn't over so this pick is subject to change. Kanye West's summer experiment of seven-track releases had its ups and downs, but the clear winner is Pusha T, who made the most of the abbreviated real estate to give us his best solo project to date. Of course, he doesn't reinvent the wheel – is the coke rap you've come to expect since 2002 – but what pushes this above the rest is his infectious wordplay and those stellar beats, straight from whatever shed Kanye is hiding in in Wyoming. All hail King Push, the crown is his. At least for the moment.
Honorable mention SO FAR: Black Thought, Streams of Thought, Vol. 1
MORE STUFF: Check out the top 10 R&B releases of the decade here.
Now it's time to share your lists. What are you favorite releases from 2008-2018? Share 'em below.