Album Review: Eminem, Kamikaze
Eminem
Kamikaze (released August 30, 2018)
When Damita Jo asked the world "what have you done for me lately," she might as well have been speaking for hip-hop fans.
In 2002, Eminem was THE biggest name in hip-hop, the year when he would release his groundbreaking album The Eminem Show ­– one that would eventually reach diamond status. Commercially and creatively, he was unstoppable, a first-ballot hip-hop hall of famer.
Fifteen years later – a couple of weeks before last Christmas, in fact – he would release Revival.
And whew lawd, critics were ruthless. It was Just a Sad Xmas. Word to the Soul Duo.
At best,  Em was called a washed-up has-been, unable to keep up with the times and coasting on past glory. At worst, he was labeled a never-was – an overhyped caricature who only achieved success due to his skin color.
The Internet: Blowing everything out of proportion since 2012.
Listen, I get it. An artist is only as good as his or her last release. And Revival WAS pretty underwhelming, though it was nowhere near the disaster many claimed.
Not when THIS is still on Em's resume: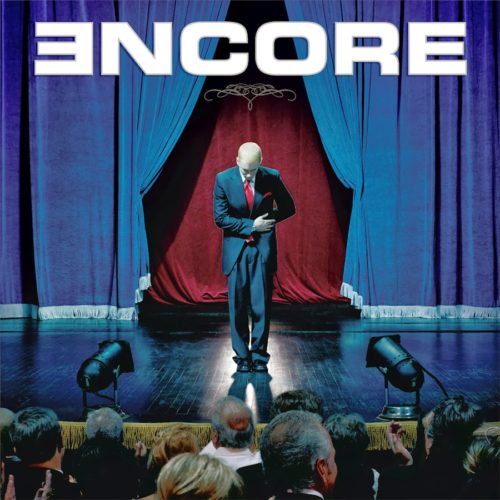 But I understand why many rap fans have moved on from Eminem's storied heyday. Many of today's fans were in Pampers when he was topping the charts and he has been largely absent during this current era. Plus, due to today's social climate (#cancelculture), Eminem has hesitated to resort to the pearl-clutching shock rap that made him a megastar at the turn of the century.
That's where Em's new album comes in. Kamikaze, his 10th LP, has one goal: to the remind the world – and probably Eminem himself – that he's as good as he says he is. Kamikaze is pretty fitting name: Get respect or die tryin'.
And Shady wastes NO time. Since Em's 2010 release Recovery, he's embraced the role of maturing veteran, the insane frat boy you remember from college who has somewhat settled down a bit. Somewhat. But on the opener track "The Ringer," Em is partying like it's 1999, and everyone is caught in the crossfire.
MGK, Lil Yachty, Lil Xan, Iggy Azalea, Vince Staples, Donald Trump – everyone can get it. And that includes us media types:
My beef is more media journalists
I said my beef is more meaty, a journalist
Can get a mouthful of flesh
And yes, I mean eating a penis
Cuz they been pannin' my album to death
So I been givin' the media fingers
He's STILL mad about those Revival reviews, huh? Sure, there's a lot of sour grapes but that rage has motivated Eminem to sound more focused and hungry than he has in years.
You will like him when he's angry.
"You say we're cut from the same cloth/But I guess you fabricate, eh?" Em asks on "Greatest," a frantic outing that has him running laps around the competition:
You better bring more men than the Latter Day Saints
Manic states, Stephen Paddock with automatic stay sprayin'
At anything that may stand in they way
As I stand at the bay window with a hand grenade
And a tre eight, at the Mandalay Bay
Common sense, I'm a dollar short and a day late
I know it's not currently in fashion for rappers to actually, um RAP, but Em is really spitting here. It's a trend that continues with "Lucky You," where Joyner Lucas does an admirable job of keeping up before Em cuts loose and Speedy Gonzales-s his way through the track
Let's recap, way back, MCs that wreak havoc on tape decks
ADAT's with the G raps and Kane's hat
We need 3 Stacks ASAP, and bring Masta Ace back
Because half of these rappers have brain damage
All the lean rappin', face tats, syruped out like tree sap
I don't hate trap, and I don't wanna seem mad
But in fact, where the old me at? The same cat
That would take that feedback and aim back, I need that
Em gleefully embraces his role as Grouchy Old Rap Man and DARES you come on his lawn.
Though the first half of Kamikaze is very strong, it doesn't take long before Em falls into old bad habits. "Stepping Stone," sort of an apology letter for the implosion of his group D12, is a great sentiment that's ruined by a grating hook. Both "Nice Guy" and "Good Guy" stumble due to weak hooks or bizarre structuring, symptoms that have corrupted Em's work for decades.
For instance, I really like "Fall," which is full of quotables and more rapper slander (even telling former running buddy Joe Budden "the closest thing he's had to hits is smackin' b****es"), but the lazy hook pulls things down. But with lines like "Time to separate the sheep from G.O.A.T.s/And I got no faith in your writers, I don't believe in ghosts," Em constantly makes the best out of shaky situations.
Kamikaze oddly straddles the line between disgruntled veteran reminiscing about the days before autotunin' and face tats while simultaneously grasping for mainstream relevance. Sometimes it works (he and Royce da 5'9 turn "Not Alike" into a trap triumph), sometimes it's a wreck (after listening to "Normal" I need every rapper not named Phonte to STOP SINGING YOUR OWN HOOKS. Call Carl Thomas or somebody, it's not like he's busy).
Kamikaze can be a schizophrenic listen at times and the album's highs certainly won't be enough to silence his critics. But for Em's Day One fanbase, it's a long overdue return to form.
Yes kids, Eminem is a rap legend. Your fave could never, even with Em's best days behind him.
Em's gone from the crazy kid in the back of chemistry class to the crazy uncle at the Labor Day cookout screaming at a bottle of barbecue sauce. Even when he's unhinged he's still pretty entertaining.
Best tracks: "The Ringer," "Not Alike," "Fall"
3.5 stars out of 5