20 Questions: 2018 BET Awards Recap
Like most of you reading this, I have a love-hate relationship with the BET Awards.
I WANT them to win every year. I really do. It's one of the few outlets black artists have to be recognized for their contributions.  But between the constant technical gaffes, lazy performances and absurdly long runtimes, it's often hard to have fun.
But every year, I come crawling back, hoping they get it right. It's like the family member you love despite them constantly screwing up.
This year, they've got a chance to achieve greatness – they're honoring legit R&B legend Anita Baker, veteran host Jamie Foxx has the reigns, and quite a few talented artists are planning to hit the stage.
Does it work out?
Here are 20 questions that went through my mind tonight.
1. Jay Rock opened the show with his current hit "Win." Have you read our review of his new album? If not, go bless yo'self. Our host Jamie Foxx then hit the stage, dishing out a ton of tired Black Panther jokes, to expound on the show's theme, "Blackanda."
More on Jamie and WACKanda in a minute.
2. J. Cole, who is slowly morphing into a dusty tarantula, hit us with a great performance of "Friends." But what was up with the random Wale cameo? Sheesh, even when he's on stage at the BET Awards Wale is STILL sitting in his auntie's living room watching superior artists.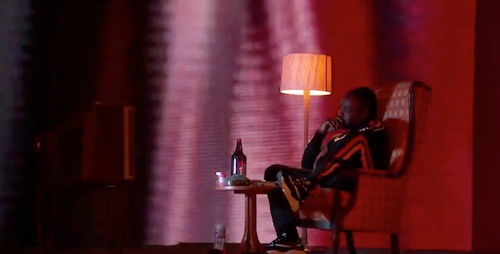 We need to do better.
3. "Wild Thoughts" took home the award for Best Collaboration. But wouldn't you just rather listen to the sounds of the guitar … played by Carlos Santana?
4. Migos hit the stage to mumble through "Walk It Like I Talk It." Did y'all really think Drake was gonna show up with them? He's too busy ducking child support at the moment.
5. Tyra Banks named Tiffany Haddish as Best Actress … eventually. Are BET's teleprompters set to CP time or something? All the presenters were stuttering and mumbling through their lines like a 21 Savage mixtape.
6. Your boy Jamie was REALLY showing his age tonight. So at one point, he pulls Childish Gambino out of the audience (who was wearing pajamas and church shoes for some reason) to sing "This is America." Donald was CLEARLY annoyed. And earlier in the night, he pulled Michael B. Jordan on stage to quote Killmonger lines from Black Panther.
When did Jamie become the embarrassing uncle at the cookout who is always forcing his nephews to perform for his drunken friends?
"GO ON SHOW EM DAT DANCE YOU BE DOING, STOP ACTIN' ALL SHY!"
7. Miguel had a pretty strong performance, slowing down "Come Through and Chill" even more and then hitting us with "Sky Walker." Speaking of hitting, remember that time he got too hyped and leg dropped that woman on stage? That was the one of the OG Internet memes.
8. Shockingly, SHOCKINGLY I SAY, Migos won the award for Best Group. Why did they even bother having this category? I'm sure 70% of the audience had never heard of A Tribe Called Quest. They should have just tossed Migos their statue after they finished giving the closed caption guy carpel tunnel during their last set.
9. Oh, and as usual, MC Lyte was stuck playing the role of BET Siri, listing off names of inferior artists. Ain't it a shame that there is a generation of hip-hop fans who think Nicki Minaj invented female rap and that Lyte is a computer program that reads names at the BET Awards?
And speaking of Nicki…
10. Nicki Minaj's song is named after a Street Fighter character so WHY are her dancers are dressed like Mortal Kombat?
And y'all wonder why she gets on my LAST GOOD NERVE.
11. At this point I'm screaming WHERE IS ANITA?!
This show is making the Source Awards look like a National Honor Society dinner.
12. FINALLY we get a noteworthy performance, with H.E.R. stealing the show backed by an orchestra for "Focus" and teaming with Daniel Caesar for "Best Part." But you know the REAL best part? They performed on a stoop that looked straight out of 227. All we needed was Pearl to peek out of the window.
13. Wanna guess the winner of Best Movie? Duh, it's Black Panther.
Seeing that the show was nicknamed Blackanda, Jamie CONSTANTLY referenced the movie and its stars and even did a weird sketch with Wanda from In Living Color called WaWanda (please don't ask), It was kind of a given.
14. And speaking of Black Panther, isn't it time that we stopped bugging Chadwick Boseman, MBJ and everyone else about that film? Yes, it was great – one of my favorite movies ever – but every time y'all beg the cast to Wakanda Forever in your selfies the cast looks like
15. We finally get to the main event – the tribute to Anita Baker.
Tyler Perry, wearing the same glasses Jadakiss wore on the Money Power Respect album cover, set the stage.
Jamie did his best to drag down the set with a bunch of lame jokes and unnecessary talking like a hyperactive worship leader, but once Marsha Ambrosius, Ledisi and Yolanda Adams hit the stage, it was all good. Doesn't Anita's music remind you of Saturday afternoons in the 80s? It just feels GOOD, with the whole house smelling like lemon Pledge.
In her speech, she gave us this late-night wisdom:
Singers should be allowed to SING
Rappers should be allowed to RAP
Y'all listen to a legend.
16. Meek Mill, fresh out of the pen, hit the stage for a performance that spoke to police brutality. At least I THINK that's what it was – he was rapping all off beat so I had to use context clues. Isn't it weird how Twitter likes to pretend he was some sort of political prisoner? Meek ain't Nelson Mandela, playa, bring those think pieces down a notch.
At least  it seems he finally learned how to use his inside voice in jail and quit all the screaming, so there's that.
17. The Ultimate Icon Award was awarded to outgoing BET honcho and perpetually grouchy church usher Debra Lee.
Um, did she REALLY  need to tell us that LL Cool J is her thirst trap? She's on her way out, so shoot your shot, I guess.
Oh, and during her speech, we got the worst camera shot of them all.
When she said "On BET we see authentic images…," the director immediately panned to Nicki Minaj.
Somebody got jokes.
18. Listen, I love that Ella Mai's "Boo'd Up" sounds like an actual R&B song and not some rapper sounding like a rusty can opener. But be honest with yourself – isn't that hook is kinda cornball?
MEDIBADOOBOODUP
ERYKAHBADUUUBOODUP
19. Do you notice how the mood completely changes when the real artists hit the stage? Janelle MyBae hit us with a great performance of "Django Jane" and "I Like That," two of my favorite tracks this year.
And yes, children, I noticed that she sounded a little winded near the end of her set. But that's because she was DANCING and SINGING FOR REAL. Your fave could never.
20. The show ended with Snoop Dogg celebrating the 25th anniversary of his debut Doggystyle, proving that AARP will be calling me by the end of the month. But then he switched things up, launching into tracks from his pretty awesome Bible of Love gospel album. Only on BET can you Cripwalk for Christ.
But we can't go off the air with Jamie once again screwing up once again, right? He invited a bunch of kids on stage to recite all 66 books of the bible, then cutting 'em off halfway through.
Everybody needs Jesus tonight, good lord.
The Bottom Line: WHEW. Last year's show wasn't too bad, but this year was ROUGH. Between the show's heavy-handed hotep theme and Uncle Jamie laming up the place with his off-script rants and bad jokes, the BET Awards are in dire need of reinvention.
However, give credit when it's due – the Anita tribute was good, H.E.R. stole the show, and J. Cole, Miguel and Janelle gave solid outings. Also, give BET props for honoring activists with their Humanitarian Award. It was a nice touch. But 45 solid minutes out of a 3 hour-plus show ain't the best way to spend a Sunday night.
So I'll leave you with this clip of Yolanda Adams getting turnt to Migos' "Stir Fry" because this train been fell off the tracks.
Let the church say skrrt skrrt skrrt.
Y'all peep Yolanda Adams singing Migos' "Stir Fry" 👀? What in the church of God in Christ!? #BETAwards #FNLRadio pic.twitter.com/v2T9SdH7Ay

— #FNLradio #TDR (@mrdoc) June 25, 2018