The Kings and Queens of R&B: 1990-1999
Every discussion about music inevitably comes down to one question:
Who is the best at what they do?
When it comes to hip-hop, we argue endlessly about the GOAT MCs — the greatest of all time. We'll focus on the microphone controllers another day. Today, we're talking about the greatest contributors to one of the most beloved eras of music – 1990s R&B.
Many people have laid claim to being the King of R&B. There are quite a few self-professed queens too. Let's put the speculation to rest. For each year of the 1990s, we will highlight the true all-star, whether it's a man, woman or group. The greatest star of those 365 days will be designated as R&B royalty for that year.
That designation was determined by these factors: Popularity, retail success, influence and visibility throughout the year. That last factor is key — artists who released albums at the end of the year were hurt by timing. R. Kelly's 12 Play, for example, landed at the end of 1993 but made its biggest impact in 1994, when competition for the crown was much stiffer. Keep that in mind before you start flaming my inbox.
Now, meet 10 years of R&B royalty.
The Kings of R&B: 1990
Bell Biv DeVoe
R&B's much-vaunted New Jack Swing era hit its apex in 1990, and it was BBD who led its charge. Ronnie, Ricky n' Mike found life after New Edition by moving away from sugary R&B to hyperactive sex jams. Their debut, Poison, sold over four million copies and its title track became an anthem that STILL dominates parties 25 years later. No other artists completely conquered R&B charts during the calendar year like BBD.
Who came closest to the crown?: En Vogue
The Kings of R&B: 1991
Jodeci
The secret to musical stardom is developing a fresh new sound that resonates with listeners. That's what Jodeci did in 1991, pairing the harmonies of traditional R&B with the grit of hip-hop, which was emerging from a block party fad to a worldwide phenomenon. With their debut, Forever My Lady, Jodeci completely changed the rules for R&B, showing that thugs need love too. The album spawned two No. 1 R&B singles that calendar year (with yet another No. 1 the following year), gave R&B a hip-hop makeover that lasted will into the next decade, and showed brothers that there's nothing wrong with showing your sensitive side.
Who came closest to the crown?: Whitney Houston
The Queen of R&B: 1992
Mary J. Blige
What Jodeci started in 1991, MJB expanded upon in 1992. Mary J. Blige's soulful lyrics, backed by the rugged rhythms of early 90s hip-hop, resonated with the highs and lows of life in that era. Every lyric spoke for her core audience — the yearning for affection in "Real Love," the feeling of deja va on "You Remind Me," the regret of "Reminisce." Of all the music released that decade, none were more relevant to its audience than MJB's 1992 catalog.
Who came closest to the crown?: Bobby Brown
The Queen of R&B: 1993
Janet Jackson
1993 was by far the most difficult year to narrow to one particular standout. And while Janet Jackson is most prominently known as a pop singer, she gets the crown because her biggest records were unquestionably rooted in R&B, successfully veering the genre away from the increasing influence of hip-hop. Janet's strength was in her versatility — sweet and vulnerable one minute, flaunting her sexuality the next. That duality allowed her to subtly introduce R&B to a larger audience and continue to push the art form forward.
Who came closest to the crown?: Toni Braxton and R. Kelly
The Kings of R&B: 1994
Boyz II Men
If 1993 was the hardest year to decide a standout, 1994 was the easiest. While there were several artists who enjoyed unprecedented success in '94, they all paled to the juggernaut known as Boyz II Men. When their sophomore album dropped in that summer, 12 million fans were swayed by their flawless vocals. Singles like "I'll Make Love To You" "On Bended Knee" became cultural staples — Boyz II Men almost single-handedly made R&B mainstream. Dozens of male groups would later follow their blueprint, but none matched their success.
Who came closest to the crown?: Mary J. Blige
The Queens of R&B: 1995
TLC
Like Mary J. Blige a few years, prior, TLC's strength was always their ability to speak directly to — and for — their core audience. On their 1992 debut, they were nearing adulthood, but in 1995, they were women on a verge of a breakthrough, and that journey resonated with millions of listeners. Their CrazySexyCool album eventually hit diamond status, making TLC the first female group to hit that milestone. That's all thanks to their array of music that urged women to own their sexuality ("Creep," "Red Light Special") while also touching on key social issues ("Waterfalls"). Their music was the soundtrack of the lives of countless women.
Who came closest to the crown?: R. Kelly
The King of R&B: 1996
R. Kelly
Arruh Kelly is easily one of the most prolific voices of the 90s, but he didn't truly sit on R&B's throne until 1996, thanks to the strength of his sophomore album, which hit in late 1995. That success bled over into 96, where his creative genius truly began to shine. Kelly nearly went from songwriter to playwright with "Down Low (Nobody Has to Know)" and its infamous remix, raising the stakes of R&B storytelling. And of course, "I Believe I Can Fly"was downright INESCAPABLE. 1996 was the year Kelly's name was mentioned among the all-time greats.
Who came closest to the crown?: Toni Braxton and Keith Sweat
The Queen of R&B: 1997
Erykah Badu
By 1997, R&B was ready for a change. The marriage of R&B and hip-hop, while fresh and exciting a few years prior, was simply commonplace now. We needed change, and change came wearing a gigantic headwrap. While Erykah Badu certainly wasn't the originator of the 90s Neo-Soul movement, she became the face of it, infusing the R&B/hip-hop template with elements of jazz to create a new, throwback sound. Her debut, Baduizm, came out of nowhere to captivate audiences, while her singles, especially "Tyrone" from her Live album, became anthems. Her vintage sound appealed to older listeners; her youthful aura reached younger ears. She carried herself like royalty, and deservedly so.
Who came closest to the crown?: Dru Hill
The Queen of R&B: 1998
Lauryn Hill
Ever since the Fugees' reign of hip-hop dominance in 1996, fans speculated about an Lauryn Hill solo album. Well, that dream became a reality in 1998, and exceeded all expectations. Both R&B and hip-hop were slowly becoming victims of their success, dumbing down their messages in an attempt for mainstream appeal. Lauryn upped the ante, using her flawless, raspy alto to convey the pain of broken relationships ("Ex-Factor") the beauty of motherhood ("To Zion") and the rapture of love ("Can't Take My Eyes Off You"). In a genre that was beginning to emphasize style over substance, Lauryn gave us entertainment and an education.
Who came closest to the crown?: Brandy
The Queens of R&B: 1999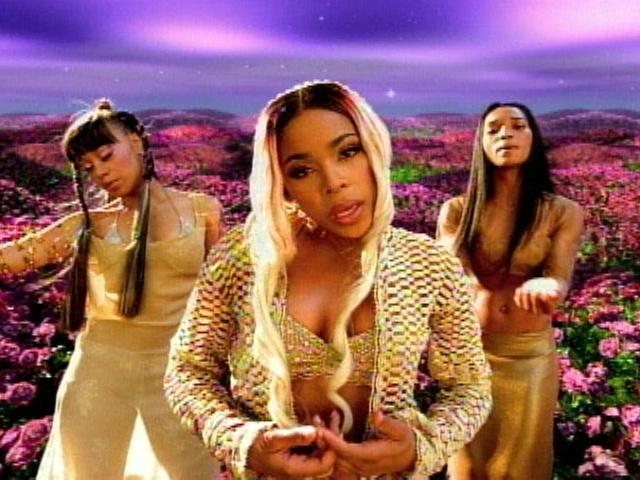 TLC
TLC's comeback album wasn't just redemption for the group, it was another example of the lasting power of R&B. As the world neared the new millennium, everything took on a futuristic tone. And while most of those attempts came off as pretty cheesy, TLC wisely tied issues of image ("Unpretty") and faulty relationships ("No Scrubs") to those futuristic backdrops. Those old themes became new again, introduced to a new generation of R&B fans. As the decade closed out and R&B's audience was injected with new, younger listeners, TLC once again proved relevant, using their music to again speak their language.
Who came closest to the crown?: Mary J. Blige and Destiny's Child
Throughout the decade, there has been one constant force in R&B. Before we wrap up, let's acknowledge the man who reigned longest and strongest.
The King of '90s R&B
R. Kelly
Yep, this pick is a no-brainer. The outcome was never in doubt because his influence has never been doubted. In 10 years, Kelly racked up six No. 1 singles, more than 20 million albums sold, and countless production credits. Kellz's first album was pretty prophetic — he wasn't just Born into the 90s. When it came to R&B, he WAS the 90s.
Agree? Disagree? Who are your kings and queens of 90s R&B?