2014 BET Hip Hop Awards Cypher Review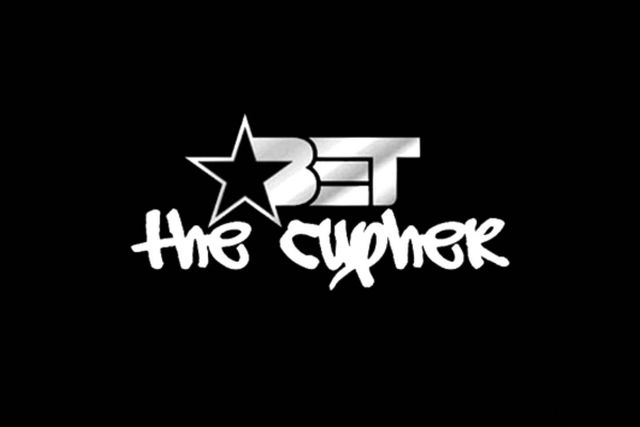 The BET Hip Hop Awards is the one awards show I actually look forward to.
No, not for the embarrassing skits or blatant product placement (more on SPRITE later). The cyphers are always Christmas in October for a hip-hop head like myself. Yeah, the majority of them are laughable but there's always at least one cypher that has the Internetz Goin Nutz the next morning.
Except this year of course.
In case you missed the Hip Hop Awards main show this year, here are the highlights:
Doug E Fresh delivered a heartfelt, tearful speech after receiving the I Am Hip Hop Award
Brandy brought back BET announcer MC Lyte, Ke-Lo-Lo from Martin Yo-Yo and Cleo from Set It Off Queen Latifah for her epic remix of "I Wanna Be Down." They even performed that stupid hand dance, as best as their arthritic wrists would let them.
Common performed his remix of "Kingdom" and led the crowd in a remembrance of shooting victim Mike Brown.
Also, host Snoop Dogg and an assorted gang of offenders set black folks back to Jim Crow.
But enough about that, let's look at this year's cyphers and see who really brought heat.
The Medicinal Marijuana Cypher
Tuki Carter: I'm not all that familiar with dude but he had a decent showing. It took him a second to find himself but he caught the beat eventually. He could have kept the acronym spelling stuff, though. 3.5/5
Berner: This dude sounds like he just woke up from being cryogenically frozen for 50 years. Awful. 2.5/5
Chevy Woods: Again, yet another who sounds like he's in cruise control — he spit nothing of note. I've heard much better from Chevy. 3/5
Ty Dolla Sign: Ty Dolla Sign is T-Pain without the Megatron voice. Or the charisma. Or dumb top hats. That's all I've got. 1.5/5
Juicy J: FINALLY someone wakes this cypher out of its weed cloud and injects some energy into the proceedings. I'm not even mad at his leather short set — he's going through the best midlife crisis ever. 3.5/5
Wiz Khalifa: Wiz came shuffling toward the camera with his hands in his pockets like a kid who just got grounded for cussing at church. Wiz spit his usual lackadasical flow. He promised to bring back the "old Wiz," but all we got was a sad man dressed like a runway in panty hose. 3/5
Cypher Champ: Juicy J. Good lord that was a boring cypher.
The #FakeTwitterDeep Cypher
Vic Mensa: Mensa tossed a few bars around here and there but totally failed to connect with the audience. It wasn't bad but instantly forgettable. 3/5
Snow Tha Product: WHOOO finally we get some bars. She won over the crowd by dropping in a few Spanish lines but had me hooked with her aggression and presence. "Hit your S.A.P. button A.S.A.P.!" I feel you ma! But please get a new name. It would be like me naming myself Blacky the Walking Stereotype.  4/5
King Los: I'm a big Los fans but I was pretty disappointed here. He spit his usual tongue-twisting lines but where were the knockout punchlines? You can't have a stage like the BET Cypher to showcase your craft and throw little jabs all night. 3.5/5
Treach: Straight out of VH1's Couples Therapy, Treach came through and turned the clock back to 1993. "Half the hip in hip hop needs a hip replacement." One of the most underrated lyricists ever. 4/5
David Banner: Just to hammer home the point that David Banner is the intellectual in this crew, he spent the entire cypher pretending to read a book while everyone else rapped. At least TURN THE PAGE or something. DJ Premier (brought to you by SPRITE, if you couldn't tell by the constant closeups of the soda can) stopped the beat so Banner could get his spoken word on. Lyrically, it was strong — props to him for shedding light on the struggles of Ferguson, Mo. Next time you don't have to dress like Monterey Jack from Chip N Dale's Rescue Rangers to prove your point, playa. 4/5
Cypher Champ: Snow Tha Product
The Random Assortment of Rappers Cypher
Troy Ave: I've yet to see the big deal with Troy Ave, and his performance here didn't win me over. Average punchlines, OK flow, decent delivery and silly catchphrase (POWDERRRH). Which I guess means he'll be winning Grammys in a year. 3/5
Detroit Che: Detroit Che won some sort of contest to be here (BROUGHT TO YOU BY SPRITE, naturally) and MAN did she make the most of her opportunity. Not only did she step up lyrically, she did so with a hunger that proved that she earned her spot. She had more passion than everyone in Wiz's drugged-up cypher combined. I just wish she wasn't wearing that dumb Burger King crown. 4.5/5
Dee-1: Once again, another rapper who could have used this national stage to shine but remained in cruise control. 3.5/5
Logic: This guy rolls with Childish Gambino and is just as charismatic. He spent time not only discussing his biracial heritage, but his quest for street cred AND demanded everyone go find his album on iTunes (which isnt' bad, by the way). Great showing. 4/5
Lil Bow Wow Mama: Lil Mama, who played Left Eye in that TLC movie, came out dressed like the ghost of Aaliyah, rocking a Biggie shirt. She was definitely going for the sympathy vote. She didn't need it — Lil Mama actually showed some fire and spit some of the strongest stuff I've heard from her. I mean, it's still Lil Mama — it ain't like she suddenly morphed into Bahamadia. But she gets an A for effort. Well, not an A, but you feel me. 3.5/5
Cypher Champ: Detroit Che by far
The Get Out Of Jail Free Card Cypher
Jarren Benton: The ATL representer came out in his trademark coonskin cap, which still looks completely stupid. His punchlines were pretty embarrassing too: "Beat up a kangaroo and nailed Iggy Azalea?" Stop. 3/5
Corey Charron: He's from Canada. In case you forgot, he was happy to remind you of that every other bar. Homie seemed mad nervous too, like he was on his 57th take and had to rush so everyone could pack up and go home. Also he's representing Canada. 3/5
Remy Ma and Papoose: I like Remy, I really do. But it's kinda weird that a rapper with one solid album and one moderately decent single 'bout TEN YEARS AGO is now being praised as a hip-hop deity. I need to get locked up for six years so y'all can finally put me on a pedestal with the other hip-hop blogging greats. Anyway, Remy and Pap did an awkward tag team thing that sounds good in theory but didn't work well in practice. Plus, while naming the industry's power couples, they named dropped Wiz & Amber and Nick & Mariah. Either the BET Hip Hop Awards were taped last May or Remy didn't get wifi in jail. 3.5/5
Cypher Champ: Remy Mapoose
The Mixtape Rapper Cypher
OT Genasis: OT Genasis sounds like a glitchy shooting game on PlayStation 2. Too bad the man isn't as interesting. We just got a bunch of lukewarm punchlines and not much else. 3/5
Kevin Gates: I'm feeling this guy. Unlike most of today's rappers — who wear shirts made from Christmas wrapping paper and have voices like Fievel Goes West — this brother has a presence on the mike. Lyrically he's just above average but his threatening charisma makes up for it. You can't stop listening to him — or you might get slapped. 4/5
G-Eazy: Rob Van Winkle Jr. seemed just as jittery as ol Canada Dry Corey Charron but by the end of his set he was COMPELLED BY THE POWER OF SPRITE because he suddenly picked up steam. Dude has potential. 3.5/5
Loaded Lux: Lux has all the potential in the world and is just waiting to break out. But yet again, here's another rapper who didn't take advantage of this platform. I've heard him massacre opponents in his battle raps. Here, he just randomly sprinkles some punchlines and wraps up. It wasn't bad but he's capable of so much more. 3.5/5
Cypher Champ: Kevin Gates
Uncle Snoop's Fake Battle Rap Cypher
Arsonal: For some reason, Snoop called this a collection of battle rappers, but no one actually battle rapped. Arsonal showed aggression but dropped no memorable lines. In fact, the only memorable thing about him was the dingy rubber band that held his dreads back. He kept it 100 on national TV, I'll give him that. 3.5/5
Couture: "Since Day 1 I'm A-1, you can pour me on a steak." Twitter thought that was the hottest line of the night. Twitter sucks. 3/5
Calicoe: Pretty much Arsonal without the rubber band. So his score is lower. 3/5
Murda Mook: The only person who actually felt like a battle rapper: rapid-fire insulting punchlines, wild aggression — dude definitely had a chip on his shoulder, and I loved it. He even outrapped the beat, going on and on even after DJ Premier stopped spinning to DRINK HIS SPRITE. They tried to play this off as unscripted but we all know better. Still, dude went in. 4/5
Cypher Champ: Murda Mook
2014 BET CYPHER GRAND CHAMPION:
Detroit Che
When the winner of a CONTEST BROUGHT TO YOU BY SPRITE outshines a couple dozen signed and established artists, I don't know if that means the future of hip-hop is very bright, or if the present is just really complacent. Probably both.
Keep your eye out for Che, she's got talent. Nearly everything else put me to sleep.
**THIS REVIEW WAS BROUGHT TO YOU BY SPRITE.**
(Not really. I'm still broke, people)