Product Review: Goddess Curls Curl Gel
After being a Kinky Curly addict for months I got the itch again to try a new product. Deep down I am as much of a product junkie as any natural chick. If you haven't noticed, Target now sells a host of natural hair care products. So I decided to try the Curls for Target line. A few months ago I picked up the Curl Crème Brule Styler, but I have only been using it as a curl refresher on days I don't feel up to combing my hair. And I love it. The smell is awesome and it does the job.
A few days ago I purchased the Goddess Curls Curl Gel in hopes that it would be a cheaper alternative to the $16.00 jar of Kinky Curly Curling Custard. Curls for Target comes at a very reasonable price. The products range from $7.99 to $10.99.
I did my usual wash and go routine using Aussie Moist Shampoo and Conditioner. I parted my wet hair into sections and applied the Goddess Curls Curl Gel. I noticed as I continued to apply the product that it didn't seem to take unless I used a pretty generous amount so I actually went back to the first few sections of hair and reapplied more of the product and noticed immediately the difference. Once I was done applying the gel I let my hair air dry. Here are the results:


As you can see my hair is very poofy. I even have some pinned back! By the end of the day it was SUPER dry and felt like a brillo pad. I was not happy with the outcome.

However, instead of giving up I decided to give the product a second try. This time putting the Shea Moisture Curl Enhancing Smoothie,that I previously reviewed, under the Curl Goddess Gel in hopes that it would provide moisture.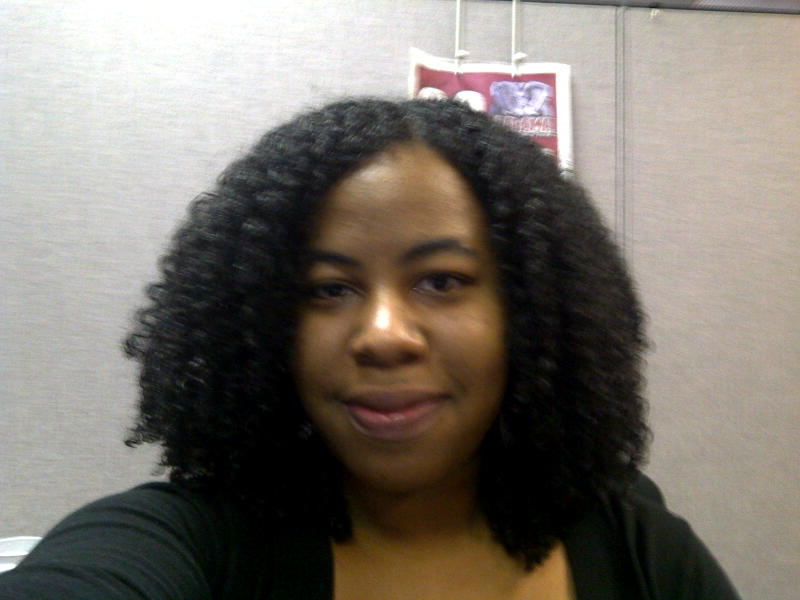 Of course, my hair is still big since I have so much of it, but it's definitely not poofy as before. I was very happy with the results! My hair was super soft and smelled wonderful. My curls were defined and best of all my mane wasn't dry.

I would definitely recommend these two products as a cheaper alternative.
Likes:
-product didn't weight the hair down
-good price
-great results when used with a moisturizing product like Shea Moisture Curl Enhancing Smoothie
-like that the gel came in a mess free pump instead of a jar.
Dislikes:
-not a stand alone product
-very drying when used alone