Album Review: Jay-Z, The Blueprint 3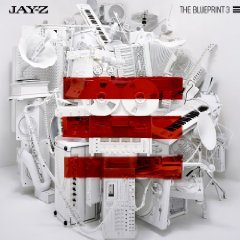 Jay-Z
The Blueprint 3 (released September 11, 2009)
Earlier this summer, I made the case here about Jay-Z being the top rapper in the industry today. I figured I defended my position well.
But then he turns around and releases this album.
Everyone knows his story by now: Biggie's protege takes his spot, sorta retires in 2003 and becomes a mogul, comes back in 2006 with the somewhat unfairly maligned Kingdom Come, drops the awesome American Gangster the next year and launched his new company Roc Nation.
His latest album, the third and alleged final installment in the Blueprint series, is his first musical venture since he racked up roughly a gazillion dollars in the Roc Nation deal. And since he's been so immersed in the business end of the music business, he spends nearly the entire album justifying his spot as rap's top dog. Ad nauseam.
If you've heard "D.O.A. (Death Of Auto-Tune)," unfortunately you've heard the best the album has to offer. When he spits "you boys' jeans too tight, your colors too bright, your voice too light" I giggle every time. Jay's all-out assault on today's bubblegum rappers is music to the ears of a grouchy old-timer like myself. "A Star Is Born," in which Jay checks his ego at the door and pays tribute to the rise of hip hop's top players, is another keeper. Newcomer J. Cole pops up at the end and holds his own with his mentor.
The biggest problem is, with the exception of the tracks mentioned above, Jay doesn't really have much to say, other than to remind us that he's still as good as he was 10 years ago. "Thank You" isn't bad thanks to stellar production from Kanye West and No I.D., but Jay wastes the beat by simply rattling off his accomplishments. Ditto on "Empire State of Mind" with Alicia Keys – Alicia sings her heart out while Jay doesn't do much more than name N.Y. landmarks.
A quarter of the tracks – "Run This Town," "On To The Next One," "Already Home" and "So Ambitious," for example – are ruined by cringe-inducing hooks, courtesy of Rihanna, Swizz Beats, Kid Cudi and Pharrell, respectively. And Mr. Hudson should be thrown under the jail for his horrible Coldplay impersonation on "Young Forever."
But all is not lost. I'm a card-carrying Young Jeezy hater but "Real As It Gets" impressed me. Sadly he nearly steals the show from Jay. Kanye does the same thing on "Hate" – Mr. West sounds way more comfortable over the brooding track than Jay.
It might seem like I'm being harsh, but harsh criticism comes with being the "best rapper alive." Yeah, the lyrics here are good, but they aren't "Jay-Z good." Maybe that's why he spends the entire album reminding us, and himself, how good he was.
Jay is like the old uncle at the family cookout running his mouth about his glory days on the basketball court. Sure, he still has skills but he's definitely losing his luster.
If not for the solid production from No I.D. and Kanye, Blueprint 3 would be a total loss.
Best tracks: "D.O.A.," "Thank You," "A Star Is Born"
3.5 stars out of 5