Whatever happened to: Xscape
Back in the 90s, to form an R&B group, all you really needed was one recognizable member who could sing. The rest were accessories.
Remember LaTocha from Xscape?
Probably not. Let me try again.
Remember LaTocha from Xscape? She was the big girl who could sing.
See, you remember now.
LaTocha Scott was easily the most recognizable voice of the group. Other members included her sister Tamika, Tameka "Tiny" Cottle and Kandi Burruss. With maybe the exception of Kandi, I wouldn't be able to pick the other women's voices out of a paper bag.
Although they had three platinum albums, Xscape always got lost in the shuffle among the SWVs and TLCs and Destiny's Childs of the world. Let's check up on 'em.

Their debut, Hummin' Comin' at 'Cha, dropped in 1993. The thing I remember most is that those girls looked ROUGH. Not ugly per se, they just looked like they would jump you in a parking lot for your leather Africa pendant. That's probably because ladies dressed like thugs back then, with the boots and big jeans. Can you imagine Ciara dressing like DMX nowadays?
Anyway, I remember ladies loving the single "Understanding." And I bet 90 percent of you are singing it right now.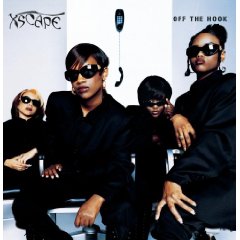 Off The Hook was released a couple of years later. It bothered me that the first single, "Feels So Good," sounded exactly like "Just Kickin'," the first single from the debut album. People would be all over them if they tried that these days. This was also around the time when all of Xscape's videos revolved around Tiny's drama with her no-good "boyfriend" Debo.
Hmmm, art imitates life. More on that later.


1998's Traces of My Lipstick was quite the underrated gem for its time. "The Arms of the One Who Loves You" was kinda boring, but I loved "The Softest Place on Earth." Ahem. And their remake of "Am I Dreamin'" is still in heavy rotation on my iPod. And that has nothing to do with Keith Sweat being featured on the song.
Despite the album selling well, people stopped caring about R&B around this time and the group broke up.
About five years ago during a trip to Virginia I got word that the group was reuniting. I even heard a few new tracks on the radio. They were OK, nothing earth-shattering. But I guess I was the only person who heard them because the album was never released.
So what have the ladies been up to?
LaTocha was featured on quite a few singles in the early 2000s and she supposed to drop an album. Back in the day I would have bet the farm she would have been big.
Big as in successful, of course.
Tiny is better known as T.I.'s babymomma these days. I wouldn't wish that on anybody.
I always thought Kandi got too big for her britches. She wrote a couple of big songs ("Bills Bills Bills" for Destiny's Child, "No Scrubs" for TLC – see a pattern?) and ditched the group to go solo with Hey, Kandi in 2000. Her single, "Don't Think I'm Not" made me want to jump out of a moving car. Even worse was that song she had with E-40, "U And Dat Monkey." Ugh. I hear that she soon will be on "The Real Housewives of Atlanta." I won't be watching.
Poor Tamika. I wouldn't recognize her if she was singing "Who Can I Run To" on the street corner. Who knows what that woman is doing?
Should they come back? Why not? I'm sure Tamika would appreciate it. Kandi will probably drag them together to promote her dumb show anyway.