Edd's MANtra: Edd meets Keith!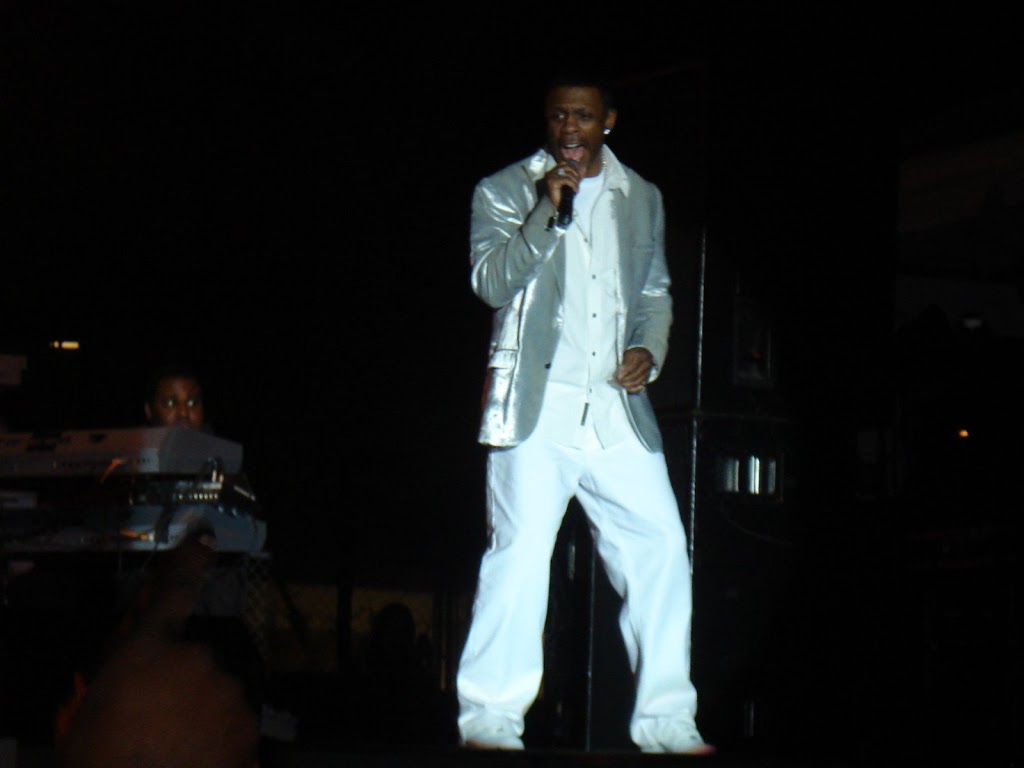 Last night, a dream was fulfilled. Let me share:
7 p.m. – The wife and I arrive at the Louisville waterfront for an outdoor Keith Sweat concert. I have long suffered from the "Keith curse" – over the past 10 years, every single time I plan to see the man live something comes up. This night, even though the forecasters predict rain, I won't be denied.
7:10 – We pick a spot front and center for the concert, more than two hours before the show begins.
What? I told you I wasn't playing.
The stage includes a leather couch, roses, and a bucket of bubbly. I can only hope to be that cool someday.
7:15 – A cigarette-smoking woman yells into her cell phone "We at the Keith Sweat concert…HUH?…I say we at the KEITH SWEAT CONCERT!" And y'all thought I was excited.
7:40 – The wife meets with a woman named Tricia, who organized the event. Tricia agrees to sneak me backstage in an hour or so to meet Keith face-to-face. I have three mild heart attacks and a stroke.
8:10 – Some drunk guy stumbles by me and says he's going to call Keith on his cell phone. He calls someone, lord only knows who, and he points to an airplane flying overhead – he says Keith is on that plane. Uh huh. Then he stumbles off. At least he didn't throw up on me.
8:30 – Tricia tells us to meet her at the front of the stage at 9.
8:31 – 9 – I probably blacked out because I don't remember a thing.
9:00 – We go backstage, only to be confronted by a Ky. Derby Photo Nazi. Photo Nazi says we can meet Keith, an "official" Derby festival photographer will take our picture, then we have to bounce.
9:05 – I met Keith! I'm sure you're wondering what we discussed but honestly I can't remember. It went something like this:
Me – "Keith, what's up playa?"
Keith – "What's up, baby, how you doin'?"
Me – "I'm good, man. Love your work."
Keith – "Thank ya, baby, thank ya."
Or something like that. You get the point. Javacia tries to take a personal photo of me n' Keith but Photo Nazi gives her the evil eye, so we let the Derby photographer snap a pic and Photo Nazi herds us off like cattle. Tricia promises to send us a copy of that pic after the Derby madness ends. I decide to name my first born Tricia, even if it's a boy. He'll just have to have tough skin.
9:20 – The wifey and I shuffle back to our seats and the crowd is now HUGE. Anyone who doubts the power of Keith would be amazed. They're getting restless too, since the show is now 20 minutes late. A woman next to me yells "Keith, bring you a** on stage!" It's funny because I'm sure my visit is partly to blame for the late start.
9:40 – Keith FINALLY shows up and the place goes ballistic. He belts out 17 of his best tracks, from classics like "Make It Last Forever" and "I Want Her," to lesser-known gems like "Yumi" and "How Do You Like It." It's like my iPod exploded in my face.
Some of the highlights:
– Someone throws panties or some type of rag on the stage (I couldn't quite make it out) but Keith says he was afraid to touch 'em. Smart man.
– Before he sing "How Deep Is Your Love," Keith says, "a lot of babies were made to this song!" A woman behind me screams, "Yeah, mine is 16 now!"
– Keith's best quote ever – "I ain't old. Ain't nothin' old but my money." I need that on a T-shirt.
11:10 – The show wraps up. Even the wife had to admit that it was an awesome performance. The only complaint was that it seemed to go on about 15 minutes too long – the old folks were restless near the end. It was probably past their bedtimes. But I could have watched him perform for another hour.
Best night ever!