Where Does Xscape Rank Among the Best Groups of the 90s?: Head to Head with Edd
Welcome back to Head to Head with Edd, where yours truly goes toe-to-toe with the superfans of the game's biggest artists. We'll take a look at the selected artist's biggest hits and misses and see where we can find common ground.
If you hang around the hallowed halls of Soul In Stereo often, you know how much we love 90s R&B groups. Nearly 30 years later, the convos continue about the legacies of ladies like En Vogue, SWV, TLC and Destiny's Child. But what about Xscape? Today's we show the first ladies of So So Def some much needed love.
To do just that, I'm joined by a familiar face. You may know him as Luh.Rawnce or Lerrance or Darius, but he's Dary to me, and he's down to debate his favorite R&B group with me. Let's go.
Rank Xscape's three albums
Dary:
1. Traces of My Lipstick 
2. Off the Hook
3. Hummin' Comin' At 'Cha
I enjoyed their debut and their sophomore was even better but their third album is to me their best work. It has zero skips for me which is very rare and probably their most polished work. They changed up their image and sound, hooked up with Babyface, Diane Warren and others for some solid cuts for an album that was a perfect blend for both urban contemporary and mainstream audiences. If this is their last album (as of now), I wouldn't be upset because they left with a bang.
Edd:
1. Traces of My Lipstick 
2. Off the Hook
3. Hummin' Comin' At 'Cha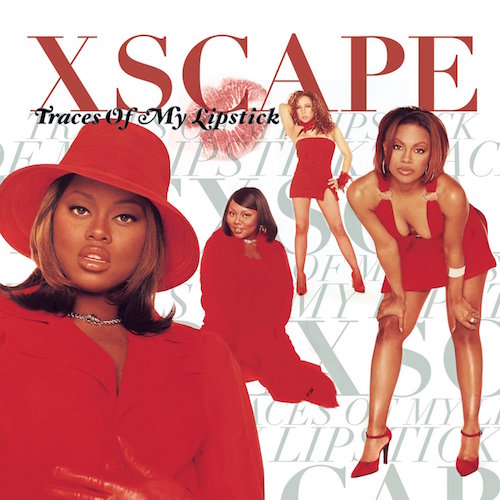 Wow, I was pretty sure I was in the minority on this one but it looks like we're on the same page. Xscape's debut is good but this is clearly a race between their sophomore year and junior year releases. It's very close but Dary is right – the third album showed so much growth, from sound to songwriting to presentation, that it edges out the incredible but overlooked Off the Hook. You can't go wrong with any of the three, though.
Name the ladies' best single.
Dary: "Understanding"
I'm gonna have to rock with "Understanding" for this one. They each share leads on this track and undeniably KILL IT! Tocha taking us to church and Kandi with that semi-Mariah high note towards the end? WOOH! Dem gurls can SANG!
Edd: "Who Can I Run To"
"Understanding" is definitely a strong intro into Xscape's talent, but "Who Can I Run To" is where they solidified themselves as a force. This is when LaTocha REALLY got my attention (more on her later) and the group really began to gel. This era of Xscape may have been their pinnacle.
Let's keep the singles talk going. Which album cut should have been a single?
Dary: "Keep it on The Real"
This was a challenge for me to figure out which cut should have been a single because my girls' album cuts are fire but I'm gonna choose "Keep it on the Real" from Off The Hook because to me, that song had great potential to be a staple radio hit.
Edd: "The Runaround"
Xscape has lots of strong album cuts but "The Runaround" is one of their best and could have given Traces of My Lipstick even more juice. In the late 90s, those "my man is trash" tracks were all the rage – from Scrubs to Bills. An anthem about a woman seeing through her man's lies would have fit right in. Give it a strong video and it definitely would have been a BET staple.
Don't you miss music videos? Name Xscape's best.
Dary: "My Little Secret"
Was debating between this video and "Do You Want to" only because of that scene with Tiny running off in that helicopter always have me weak but "My Little Secret" is my pick for best video. They were serving face and looks in this video showcasing their new image but is Tiny laying on top of a glass ceiling spying on dude? I never understood her scenes but overall this video was great. Their last video before they disbanded.
Edd: "Do You Want To"
Dary alluded to it but let me set the stage – circa 1995, Xscape's videos had a continuing plot thread, which was pretty novel at the time. It revolved around Tiny and her trash bag of a boyfriend (and real-life ex-fiancé) Z-Bo. Z-Bo walked so Badu's Tyrone could run. And man, this video was SOMETHING. Tiny running around with her fuzzy Kangol, getting mad at her friends and dipping in the XSCAPE HELICOPTER to hook up with Z-Bo only to get played AGAIN at the end. Man I miss 90s videos. Also, personally speaking, this is my favorite Xscape song and it was great to hear Tiny take the lead on vocals.
Xscape knows how to lay those vocals. What's their best feature?
Dary: MC Lyte feat. Xscape, "Keep on Keepin' On"
They have another feature that I enjoy (which I have a feeling that it will be your choice, Edd) but the joint with MC Lyte is my jam! This to me, is an ultimate 90s party jam and I never skip it when it comes on my shuffle. I love how they utilize that Michael Jackson sample and also, I love LaTocha's and Kandi's adlibs throughout the song.
Edd: Ol Skool featuring Xscape, "Am I Dreamin'"
Anyone who knows me – including Dary – knows there was only selection for me. Ol Skool was vastly underrated and showed so much chemistry with the ladies here. And oh yeah, it was produced by Keith Sweat himself, so you KNOW this was made for me. It's one of my favorite covers of all time and, in my opinion, even surpasses Atlantic Starr's version
My one beef? The video. Basically the guys drag their boy to a club where his girl is secretly a stripper to … shame them both, I guess? Worst homies ever. Twitter would think piece that video to smithereens if it dropped today.  
Soundtracks were big business in the 90s. What's their best contribution?
Dary: "Let's Do It Again"
Okay small backstory, the Soul Food soundtrack was the first album my mom allow me to have out of her collection and the song "Baby I" from Tenderoni (whatever happened to those girls?) and this song "Let's Do It Again" by Xscape were the two top songs I WORE out. This particular Xscape track is probably in my top five favorites from them, mainly because of the nostalgia but it's a solid track overall and could have been a single for the soundtrack. They have a song on the Love Jones soundtrack that i wore out too but "Let's Do It Again" is a bop that makes me dance every time I hear it.
Edd: "Work Me Slow"
I'm gonna cheat – yes the sultry "Work Me Slow" finds its home on Xscape's sophomore album but it's also on the original Bad Boys movie soundtrack – a movie I saw for the first time this year, by the way. Yes, I know I'm about 25 years late. Dary, were you even born when that dropped?
If that doesn't work for you, "Rest of My Life" from the Hardball soundtrack is my backup. It's a great vocal showcase.
Who had the most potential for a breakout solo career?
Dary: Kandi
In my opinion, Kandi had the potential to be the breakout solo star. She has that unique tone that I love which I now found out via social media that it ain't for everyone's ears. I kinda felt that she always wanted to be a boss or a businesswoman even before the Real Housewives fame. A lot of people don't know that she was managing Jagged Edge when they debuted and helped them get signed to Sony/So So Def. We all know about her writing credits for TLC, Destiny's Child, P!nk etc., and it is shocking that her solo career didn't have the same success. Her debut single got a lot of play on MTV and that was it. Her debut album was album good too but NOWHERE as successful as the Xscape stuff.
Edd: LaTocha Scott
I know hindsight paints Kandi as the obvious answer since she's become such a media maven these days. Reality show success, Grammy winning songwriting, and didn't she win that Masked Singer show? That show kinda weirds me out – it's just a bunch of dancing monsters from Power Rangers.
But back to Kandi – yes, she dropped a couple of solo projects over the years but, honestly, neither moved me. I thought the real money was with LaTocha, the most recognizable voice in Xscape. Imagine if she hit big in early 2000, back when, you know, we still valued things like vocal ability and song presence – she would have been big. I know there were rumors of solo projects over the years but I'm sad they never played out. The talent was definitely there.
If their career continued through the 2000s, where would they be today?
Dary: Honestly that's a hard question to answer. If there wasn't any turmoil within the group then they probably would have gave us one more album in 2000 or 2001 and then disband for solo careers. They probably would have gotten more awards and more worldwide recognition but really this a question that they could answer better. It seems like in 1998, a lot of 90s girl groups whether R&B or pop (En Vogue, SWV, Spice Girls etc.) took extended breaks and/or disbanded for good.
Edd: I've often said that Xscape was the one 90s group that never "fell off" – every project went platinum, every album had a chart-topping hit (or No. 2 hit, in the case of the final LP). If they held off on their solo urges, stayed strong and continued to evolve, they would have carried that moment in the next decade. While other groups were falling apart for various reasons, they could have been the veterans who kept the torch burning, similar to how former labelmates Jagged Edge seemed to be the last men standing after groups like 112, Jodeci, Boyz II Men and Dru Hill fizzled by mid-00s.
By the 2010s though? Whew, good luck, playa. Few artists of Xscape's generation survived the Great AutoTune Purge of the last decade, and they may have been casualties too. But I'm confident the ladies had at least one or two more great group albums in them, even though it was clear by 2000 that they were ready to move on.
Where does Xscape rank among girl groups of the 90s?
Dary: I saw an article years ago on Complex.com where they did this pyramid of 90s R&B girl group excellence and at the top at that pyramid (Named "The Icons") included Xscape along with TLC, En Vogue and SWV. They were the only 4 groups in the top but I feel that Xscape didn't get that mainstream appeal that the other 3 girl groups received. In my eyes, Xscape is an iconic 90s girl group. If they had a longer run, they could have possibly had a Legendary status by now but overall they are the standard R&B group that could have easily got lost in the shuffle in the 90s but never did and had great success. Personally they are one of my favorite girl groups of all time.
Edd: I feel you. I'm never one to agree with Complex and, as you said, as much as I love Xscape, it doesn't feel right to put them shoulder-to-shoulder with the other three groups mentioned. They just didn't reach the mainstream heights that those others shared.
Even if they're a rung below, they're by no means inferior – three solid and successful albums and plenty of chart-topping hits say otherwise. Personally, I rank them No. 5, behind the three aforementioned groups and Destiny's Child, who, while still new on the scene, were picking up major steam by the end of the decade. Make no mistake, Xscape had a great 90s run, they were just often overshadowed in a very competitive landscape. But in my eyes, their legacy is intact. They were a major part of the foundation that made 90s R&B so strong.
Who did you agree with, Darius or Edd? Let us know below, and share your favorite Xscape tracks too.