The 100 Best Hip-Hop Songs of the 90s, Presented by the Soul In Stereo Cypher
What's hip-hop's greatest era?
It's a debate with no clear answer. Just take a stroll through hip-hop Twitter – you'll get 5,000 different voices with 10,000 different opinions.
For my money, though, the 1990s were the most transformative years in hip-hop history. The array of sounds, legends being made seemingly on a monthly basis, regions rising up to tell the stories of their communities, dynamic producers pushing the boundaries of sound – it was a magical time. Sure, that era didn't have the financial or mainstream success that rap enjoys today, but make no mistake – today's hitmakers are standing on the foundation laid in that special decade. Pay homage.
Today we're going to embark on the impossible task of ranking the 100 best songs of that decade. Clearly, we could have made a list of 500 sounds and still left out some incredible music. But these are the songs that meant the most to me and our panelists.
Once again, I'm joined by fellow music stans from the Soul In Stereo Cypher on Facebook, where we debate these topics 24 hours a day. The homies include:
Hip-hop reviewer Luke James, the only reviewer you should trust besides me. Make sure you check out his youtube channel, it's dope.
Veteran reporter and 90s hip-hop expert Maisy Draper
Troy Smith, entertainment reporter for Cleveland.com and host of CLE Rocks podcast
God-is Rivera, global director of culture & community for Twitter, yes, THE Twitter. She does big tings outchea.
And of course, the slayer of sloppy stans and the reviewer your favorite artist hates, yours truly, Edward T. Bowser.
To compile this list, each panelist nominated their 30 favorite songs from the years 1990-1999. We compiled them into one mega list, ranked them all and created the list below.
And we've even created a playlist, check it out here.
Now, journey with us as we revisit the best songs from our favorite decade.
Just missing the cut:
The Coup, "Fat Cats, Bigger Fish"
Outkast, "ChonkyFire"
LL Cool J featuring Total, "Loungin Remix"
Heltah Skeltah, "Leflaur Leflah Eshkoshka"
Foxy Brown featuring Blackstreet, "Get Me Home"
Mase, "Feels So Good"
Bumpy Knuckles, "Part of My Life"
Drag-On featuring Juvenile, "Down Bottom"
Master P, "Make 'Em Say Ugh"
Coolio, "Fantastic Voyage"
Busta Rhymes, "Gimme Some More"
The Roots, "Clones"
Raekwon featuring Nas and Ghostface Killah, "Verbal Intercourse"
Lil Kim, "Queen B"
100. DMX, "Slippin"
Edd: DMX is often painted as a wild force of nature but he's most impressive when he's at his most introspective. "Slippin" was the first single to show the more thoughtful side of X, a semi-autobiographical tale about his come-up to stardom. Amazingly, he doesn't compromise his gritty flow here – he's as aggressive as ever but the touches of sincerity bring it to another level. It's one of my favorite tracks ever.
99. Black Star featuring Common, "Respiration"
98. DMX, "How's It Goin Down"
97. Coolio, "Gangsta's Paradise"
96. Lord Tariq & Peter Gunz, "Deja Vu"
95. The Roots, "The Next Movement"
94. Redman, "Time 4 Sumaksion"
93. Outkast, "SpottieOttieDopaliscious"
92. Jay Z, "Can I Live"
91. Mos Def, "Umi Says"
90. Das EFX, "They Want EFX"
God-is: Repping for BK and Dirty Jerz, Das EFX was one of the most creative groups to come out of EPMD's Hit Squad. Their word play and style was different, intriguing and unforgettable– personified most notably by how they opened this track with "Bum-stickety-bum-stickety-bum" laced over a James Brown sample. Das EFX had the early 90s gutter NY hip hop on lock, and this track is a staple of that time.  
89. Skee-Lo, "I Wish"
88. Puff Daddy featuring Notorious BIG and Busta Rhymes, "Victory"
87. Big L, "Ebonics"
86. Heavy D & The Boyz, "Nuttin But Love"
85. Jeru the Damaja, "Come Clean"
84. Gang Starr, "Who's Gonna Take the Weight"
83. ODB, "Brooklyn Zoo"
82. Lost Boyz, "Jeeps, Lex Coups, Bimaz and Benz"
81. Lauryn Hill, "Doo Wop (That Thing)"
80. Ghostface Killah featuring Raekwon and Cappadonna, "Daytona 500"
Maisy: With a swiftness to match its title, this fast-paced cut provides the perfect medium for Ghostface Killah's energetic, versatile delivery, bookended with stellar appearances by Raekwon and Cappadonna. The chorus gives you just enough time to catch your breath before the next verse.
79. Onyx, "Slam"
78. Naughty By Nature, "Hip Hop Hooray"
77. Lil Kim featuring Lil Cease, "Crush on You Remix"
76. Lauryn Hill, "Lost Ones"
75. Missy Elliott, "The Rain"
74. Salt-N-Pepa, "Shoop"
73. Digable Planets, "Rebirth of Slick (Cool Like Dat)"
72. LL Cool J, "Doin' It"
71. Fugees, "Fu-Gee-La"
70. KRS-One, "Sound of Da Police"
Luke: KRS-One has long been respected as one of hip-hop's GOATs, and "Sound of da Police" further solidified his spot. This anthem boasts heavy boom bap production to go along with the extremely catchy hook, and even though it dropped almost 30 years ago in 1993, KRS-One's brutally honest criticism of police brutality & systemic racism is still powerful & relevant in 2020.
69. Goodie Mob, "Cell Therapy"
68. The Notorious BIG, "Warning"
67. Jay Z featuring Mary J. Blige, "Can't Knock the Hustle"
66. Dr. Dre featuring Snoop Dogg, "Deep Cover"
65. Eminem, "My Name Is"
64. DMX, "Get At Me Dog"
63. Scarface, "I Seen A Man Die"
62. Gang Starr, "DWYCK"
61. The Roots, "You Got Me"
60. Mos Def, "Ms Fat Booty"
God-is: The best hip hop tracks are the ones that tell stories. The kinda stories that pull you in and have you hooked until the end. "Ms. Fat Booty," is definitely one of those tracks, as Mos weaves a tale about how a voluptuous lady he met one night took him on a wild ride of a relationship only to end it all abruptly, just like the song. Released near the end of the millennium, this was the song everyone wanted to vibe out to in an underground speakeasy, and really contributed to kicking off the Neo-soul, conscious hip-hop vibe of the early 2000s. 
59. Lost Boyz, "Renee"
58. Outkast, "Player's Ball"
57. Outkast, "Elevators (Me & You)"
56. LL Cool J, "Around the Way Girl"
55. Busta Rhymes, "Woo-Hah!! Got You All In Check"
54. A Tribe Called Quest, "Can I Kick It"
53. Da Brat, "Funkdafied"
52. Juvenile, "Ha"
51. Nas, "Nas is Like"
50. Snoop Dogg, "Who Am I (What's My Name)"
Edd: Easily one of the most iconic tracks of the era – and in hip-hop history – Snoop's sing-songy ode to, well, himself, is unforgettable. From the obvious but appropriate "Atomic Dog" sample to the array of quotable lyrics (not to mention the Animorphs-looking video), "What's My Name" has become one of Uncle Snoop's signature tracks and is a defining moment in the G-Funk movement.
49. Queen Latifah, "U.N.I.T.Y."
48. Public Enemy, "911 is a Joke"
47. A Tribe Called Quest, "Check the Rhime"
46. Common, "I Used to Love H.E.R."
45. DMX, "Ruff Ryders Anthem"
44. Mobb Deep, "Survival of the Fittest"
43. Big Pun featuring Joe, "Still Not a Player"
42. The LOX featuring Lil Kim and DMX, "Money, Power Respect"
41. KRS-One, "Step Into a World (Rapture's Delight)"
40. Nas, "Halftime"
Luke: Here it is – the song that started it all for Nas when he still went by Nasty Nas back in '92. It was first featured on the Zebrahead soundtrack before being added to Illmatic two years later, and Large Professor's blend of big bass, heavy drums & horns worked as the perfect backdrop for the then-newcomer to flex his skills. Nas instantly made his mark with this track and the rest is history.
39. Jay Z featuring The Notorious BIG, "Brooklyn's Finest"
38. DJ Jazzy Jeff & The Fresh Prince, "Summertime"
37. Nas featuring Lauryn Hill, "If I Ruled the World"
36. 2pac, "Dear Mama"
35. Nas, "It Ain't Hard to Tell"
34. Busta Rhymes, "Put Your Hands Where My Eyes Could See"
33. Method Man, "Bring the Pain"
32. Luniz, "I Got 5 on It"
31. Eric B & Rakim, "Don't Sweat the Technique"
30. Wu-Tang Clan, "Protect Ya Neck"
Troy: The song that introduced Wu-Tang to the world. "Protect Ya Neck" is the ultimate emcee showcase, one earth-shattering verse after another. It was hard to believe this many talented guys could belong to one crew.
29. The Notorious BIG, "Who Shot Ya"
28. Puff Daddy featuring the LOX, Lil Kim and The Notorious BIG, "All About the Benjamins Remix"
27. Black Sheep, "The Choice is Yours"
26. Method Man featuring Mary J. Blige, "I'll Be There for You/You're All I Need to Get By"
25. Fugees, "Ready or Not"
24. Bone Thugs-N-Harmony, "Tha Crossroads"
23. LL Cool J, "Mama Said Knock You Out"
22. Naughty By Nature, "O.P.P."
21. Nas, "New York State of Mind"
20. Geto Boys, "Mind Playing Tricks On Me"
Troy: To me, this is the most important Southern rap song ever and maybe the first truly great hip-hop track to come out of the region. From a subject matter standpoint, it was groundbreaking injecting a vulnerability into gangsta rap that gave the genre more depth.
19. Camp Lo, "Luchini"
18. Gang Starr, "Mass Appeal"
17. Raekwon featuring Ghostface Killah, Method Man and Cappadonna, "Ice Cream"
16. Wu-Tang Clan, "Triumph"
15. A Tribe Called Quest, "Electric Relaxation"
14. Craig Mack featuring Notorious B.I.G., LL Cool J, Rampage and Busta Rhymes, "Flava In Ya Ear Remix"
13. Souls of Mischief, "93 Til Infinity"
12. Pharcyde, "Passin' Me By"
11. 2pac featuring Dr. Dre, "California Love"
10. Ice Cube, "It Was a Good Day"
Maisy: Up to this point, Ice Cube had been known more for his street-inspired storytelling and some politically-charged lyrics. But in this 1992 track, the artist describes what an ideal day would look like, resulting in a mellow, feel-good song that pairs perfectly with a road trip on a sunny day.
9. The Notorious BIG featuring Faith Evans, "One More Chance Remix"
God-is: If you were from and in NYC when "One More Chance Remix" dropped, you will never forget how this song shaped that entire moment of 1994-1995. This is one of those songs that was already so smooth and dope, and then the video just took it to new heights. The video reflected the house party we all wished we were invited to, hip hop and R&B royalty all in one place, and looking back now was a legendary celebration for so many that we went on to lose too soon. (RIP BIG, Aaliyah, Heavy D, Craig Mack, Kim Porter). BIG showed us how we could all sip Crystal when we thirsty, be smooth when we spit game, have fun and enjoy the life that we were living.
8. A Tribe Called Quest featuring Leaders of the New School, "Scenario"
Maisy: If you haven't had the time of your life while listening to this essential, buoyant posse cut featuring Leaders of the New School, are you even a hip-hop fan? Often credited as Busta Rhymes' introduction to the mainstream, his final verse epitomizes saving the best for last, while Phife delivers one of the most iconic verses of his career.
7. Warren G featuring Nate Dogg, "Regulate"
Edd: If you want to know the ingredients for a classic hip-hop song, "Regulate" lays it all on the line. Vivid storytelling, an addictive beat and an undeniable hook are the three pillars for greatness. Warren G and Nate Dogg put all these elements together for this unquestionable classic, producing arguably the best performance in both their careers.
6. Snoop Dogg, "Gin & Juice"
Luke: "Who Am I? (What's My Name?)" may have been Doggystyle's first single, but the follow-up single "Gin & Juice" hit even harder. Dr. Dre came through with his classic G-Funk production, and the hook on this is one of hip-hop's greatest. If you start singing it anywhere at any time, someone is bound to join in! On top of all that, Snoop's lyrical depiction of a wild house party is very vivid and portrayed perfectly in the music video.
5. Dr. Dre featuring Snoop Dogg, "Nuthin But a G Thang"
Troy: Before Nas, Wu-Tang Clan and Biggie came out, Dr. Dre kickstarted the golden era of rap with his groundbreaking G-funk sound on "Nuthin But a 'G' Thang." Not only did he expand the scope of rap music with something laid back and accessible, but Dre but the West Coast on the map while introducing the genre next megastar in Snoop Doggy Dogg.
4. The Notorious BIG, "Juicy"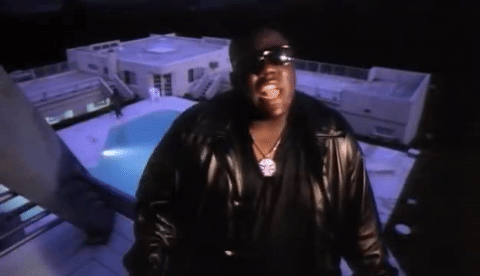 God-is: "Juicy" was the perfect ode to the magic of what Big and Puff brought out of each other. Hard-hitting yet inspirational rhymes from the G.O.A.T. floating over a classic 80's soul groove that Puff knew would make the song legendary for decades to come. "Juicy" represents that moment where rap was really taking off, and the world was seeing the impact. The movement was becoming global and it was taking the artists lives to new heights. A feel good track with so many memorable hip-hop lines, so if ya don't know … now ya know.  
3. Mobb Deep, "Shook Ones Part II"
Maisy: Laid upon Havoc's menacing beat, this raw, vividly-spun narrative of inner-city life came when "fun" hip-hop was enjoying commercial success. But with an authentic New York sound, and ominous lines like "I'm only 19, but my mind is old," it emerged to become one of the most powerful and poignant hip-hop songs of all time.
2. Wu-Tang Clan, "C.R.E.A.M."
Troy: It's the ultimate New York rap song. Raekwon kicks things off perfectly: "I grew up on the crime side, the New York Times side." "CREAM" established that hardcore rap could go mainstream. The song wasn't a huge hit on the charts, but everyone knows it now for having the greatest chorus in rap history…."Dollar, dollar bill y'all!"
1. Pete Rock & CL Smooth, "They Reminisce Over You"
Luke: Well-deserving of the #1 spot is an all-time classic from Pete Rock & CL Smooth. The sample work on this includes an iconic sax riff that instantly fills listeners with nostalgia, and the song itself is a heartfelt tribute to their friend Troy Dixon, AKA Trouble T from Heavy D & The Boyz. This is hip-hop at it's best – honest, raw, invigorating & relatable. You might also remember hearing it on the soundtrack of NBA Street 2 – a classic itself!
Check out a playlist of all 100-plus songs below: