Ranking the Best A Tribe Called Quest Albums
We're all family here right? So allow me to be honest with you:
During the early years of my hip-hop fandom, I didn't like A Tribe Called Quest. At all. Though I was a huge fan of R&B and soul, Tribe's more melodic sounds just didn't connect with me in the way that the aggressiveness of the Rakims and Wu-Tangs of the era grabbed my attention.
It wasn't until years later when my ears matured that I began to appreciate the genius of Tribe. Phife Dawg's wit, Q-Tip's insight, the mellow yet addictive production of Ali Shaheed Muhammad and others – Tribe quietly, yet defiantly, reshaped hip-hop in their image, creating a blueprint that's even followed by today's generation of artists. There's a little Tribe in J. Cole, Kendrick Lamar, YBN Cordae and more.
So today, let's look back at Tribe's legacy, one that infamously has had its ups and downs. But throughout the infighting, breakups and drama, incredible music has always remained the hallmark. Album quality, consistency, and impact on the genre will help shape this list.
And yes, we finally answer the age-old question: Low End Theory vs Midnight Marauders.
Young Edd slept on these guys. Mature Edd knows legends when he hears them.
6. The Love Movement (1998)
Soul in Stereo rating: 3.5 stars out of 5
Edd said: Yeah, wasn't a big mystery over which album was bringing up the rear here. To be fair, The Love Movement isn't as bad as the rep it's received over the years. – it's just a shockingly uninteresting release from a group known for groundbreaking records. Thankfully, what we all thought in 1998 was the group's swan song would be redeemed almost two decades later.
Forgotten favorites: "Rock Rock Y'all," "The Love," "Find a Way"
5. Beats, Rhymes and Life (1996)
Soul in Stereo rating: 4 stars out of 5
Edd said: Coming off the heels of not one, not two but THREE legit hip-hop classics, Beats, Rhymes and Life had a pretty high bar to clear. Sure, it's not nearly as air-tight as its predecessors but it's a very strong offering in its own right. At times, Beats, Rhymes and Life is even more mellow than a typical Tribe release (which is saying something) but the addition of Consequence and strong themes keep this one afloat. It doesn't always feel like a Tribe album, but change can be a good thing.
Forgotten favorites: "Stressed Out," "Get A Hold," "The Hop"
4. We Got It from Here… Thank You 4 Your Service (2016)
Soul in Stereo rating: 4 stars out of 5
Edd said: Of all the improbable returns we saw in the year 2016, none were more shocking than the reunion of one of rap's greatest trailblazers. Serving as their final farewell – and a tribute to fallen member Phife Dawg – A Tribe Called Quest re-entered the rap arena without a hint of ring rust. While it's brimming with nostalgia, this is no mere rehash. Tribe deftly targets hot-button political issues, posits on the current state of hip-hop and, of course, honors the memory of Phife. Tribe's legacy proved unbreakable.
Forgotten favorites: "Dis Generation," "Melatonin," "Solid Wall of Sound"
3. People's Instinctive Travels and the Paths of Rhythm (1990)
Soul in Stereo rating: 4.5 stars out of 5
Edd said: Obviously, when you think of the words "Tribe" and "classic albums" your mind immediately goes to Low End and/or Marauders. But I'm making the case for Instinctive Travels to be held in just as high regard, considering how it both pioneered a new sound and has some of the most memorable singles in rap history. The mellow instrumentals that became the hallmark of early 90s hip-hop began to take shape here, along with elevating Q-Tip as the hottest new MC in the game. Instinctive Travels changed the course of rap history and we're still feeling the reverberations today.
Forgotten favorites: "Footprints," "Rhythm (Devoted to the Art of Moving Butts)," "Mr. Muhammad"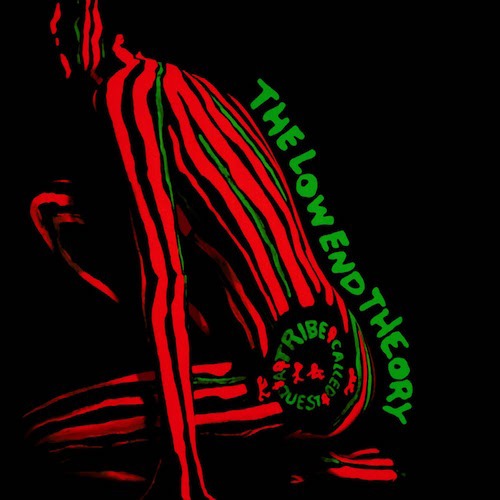 2. The Low End Theory (1991)
Soul in Stereo rating: 5 stars out of 5
Edd said: Many heads consider Low End not only Tribe's best album, but one of the greatest in rap history. They're not wrong about the latter and it's very difficult to argue the former. Consistency is the name of the game here – I dare you to find an album that flows as seamlessly as Tribe's sophomore effort. While Tip clearly was the star MC on their debut, Phife really comes into his own here, adding to the poignant reflections on life, relationships and the industry that would make this LP legendary. This album was a moment in rap history and is only surpassed by the slimmest of margins by one other…
Forgotten favorites: "Butter," "Verses from the Abstract," "Show Business"
1. Midnight Marauders (1993)
Soul in Stereo rating: 5 stars out of 5
Edd said: So what makes Midnight Marauders better than The Low End Theory? When it comes down to it, Marauders has a SLIIIIIIIIIGHTLY better selection of singles. That's it. And even that statement is really picking nits – we're talking about a nearly equal playing field here. If anything, Marauders should be celebrated for keeping the incredible momentum of the previous album rolling. It's the culmination of everything that made the previous two album so special – unforgettable bars, legendary tracks, head-turning features and production that is still sampled today. Few artists can claim three back-to-back classics, let alone one album as good as this release.
Forgotten favorites: "God Lives Through," " Keep It Rollin," "Sucka N****"
What's your favorite Tribe album? And where do you stand on Marauders vs Low End? Let us know below.