19 Overlooked and Underrated Hip-Hop Albums of the 2010s
Last week, we saluted 19 underrated R&B releases that deserved more appreciation this decade.
Now, we gotta give hip-hop some love.
It's a little strange that this is the decade that finally made hip-hop the biggest genre on the planet, yet there are probably more incredible yet overlooked releases than ever before. There's a simple reason for that – hip-hop may be bigger than it's ever been but, when it comes to mainstream sounds, hip-hop has never been this homogenized.
In a decade defined by trap, mumbling and autotune, other forms of expression were unfairly written off as dated, too lyrical (that "rappity rap term still annoys me") or too heavy.
Y'all missed out.
Hip-hop was never meant to be ONE thing. These 19 albums prove just how diverse and powerful hip-hop can be in the right hands.
Ab-Soul, Control System
Edd said: Kendrick Lamar's TDE conglomerate just might be hip-hop's best crew of the decade. While most fans are enamored with K Dot's starpower, Jay Rock's street appeal and Schoolboy Q's, uh, pharmaceutical tales, Ab-Soul is the real linchpin of the group. His 2012 album is his best work by far, showing that there is a real philosopher lurking behind those clouds of weed smoke. The experience is much deeper and more thought-provoking than you'd expect.
Bad Meets Evil, Hell, the Sequel
Edd said: The album I thought we'd never see. After decades of talk, Bad Meets Evil finally put their rhymes where their mouths are. Eminem and Royce da 5'9 spit with such speed and ferocity you'd think their lives were at stake. For Royce, that might be true – he took the opportunity to emerge from rap's underground and prove to the world just how good he is, often leaving Em in the dust. But even when Eminem is on cruise control he's still one of rap's elite.
Flatbush Zombies, 3001: A Laced Odyssey
Edd said: I can't front — the Flatbush Zombies have flown under my radar for years. I was certainly familiar with their offbeat sound but always wrote them off as A$AP Mob clones. How wrong I was. 3001: A Laced Odyssey is more accurately described as a throwback to the Boot Camp Clik — smart wordplay mixed with dashes of humor and air-tight production. The gruff Meechy Darko specifically is a star in the making. I slept on them before but never again.
Big Boi, Dangerous Lies & Vicious Rumors
Edd said: Remember those obnoxious top 50 rapper lists that cluttered your timelines this year? They often annoyed me because so few gave proper respect to Big Boi, who not only is a legit rap legend but one who doesn't rest on his reputation. He spent this decade delivering several great projects, including his 2012 sophomore effort. It's full of the humor, wit, funk and insight that has long been his hallmark.
Prodigy & The Alchemist, Albert Einstein
Edd said: This decade was filled with loss, and few hit me as hard as the passing of Prodigy in 2017. But this collabo will ensure that his legacy lives on. After all, this is how rap used to be – pair an aggressive lyricist with a like-minded producer and you're guaranteed a hit. The synergy P has with Alchemist is undeniable and the result is one of the rawest albums of the decade.
Sean Price, Mic Tyson
Edd said: And speaking of losses, Sean Price's tragic passing in 2015 denied fans silenced one of rap's underground titans. Sean Price, once known as Ruck, was one-half of the mid-90s rap duo Heltah Skeltah with partner Rock. Along with Rock, P was also part of the Boot Camp Clik collective — basically the Avengers of East Coast rap. P dropped music with both groups for years but it was 2012's Mic Tyson that solidified him as one of rap's greats. P's vicious punchlines and cocky flow will never be duplicated. This record has gone on to be one of my personal all-time favorites.
The Game, The Documentary 2
Edd said: Sequel albums are almost always a bad idea. They just set unrealistic expectations — an artist typically can't turn back the clock to his or her glory days. But don't count out The Game, who abandoned his worst habits (no mimicking other rappers, no suspect production or pointless beefs) to give us arguably his best work since his landmark debut. Game pull no punches as he unleashes his fury over production by rap's biggest composers. While the accompanying Documentary 2.5 album meandered, this was Game at his rawest — and most focused.
Nas and Damian Marley, Distant Relatives
Edd said: I certainly had my reservations about this album. While I appreciate the genre, I'm not typically a huge reggae fan and I questioned how well Nas would be able to gel with a drastically different artist in Damain Marley. Never doubt Nas Escobar. This was a fantastic album, using street smarts to fuel social commentary over infectious riddims. In light of the Black Lives Matter movement that defined this decade, it proved to be quite prophetic and extremely relevant.
Ghostface Killah, 36 Seasons
Edd said: The concept so nice that Ghost had to do it twice. GFK's previous concept album, Twelve Reasons to Die, was a conceptual smash, playing out like a gory B-movie. 36 Seasons serves up more of the same, with Ghost returning from a bid and trying to reclaim his neighborhood from disloyal former friends. Each track seamlessly flows into the next — it's like binge watching your favorite Netflix show.
Raekwon, The Wild
Edd said: Never doubt a legend. With legit classic albums already under his belt and a 25-year career that reshaped the face of hip-hop, Raekwon had nothing left to prove. But on The Wild, Rae proved one key fact – he's still one of the best to ever grip a microphone. Rae's superior wordplay is in full display, along with some of the best production since his mid-90s heyday. From the cinematic excellence of "Marvin" to the brutal braggadocio of "The Reign," The Chef's meals are still unmatched.
Scarface, Deeply Rooted
Edd said: It's hard to believe that Brad Jordan has chalked up 25 years in the rap game, yet spits as ferociously as he did when he first introduced himself as Mr. Scarface. Deeply Rooted, Face's 12th solo LP, continues his unprecedented run of dominance — sobering street tales and heartfelt introspection. You can't even call this a comeback — Face never left. And by the sound of things, he never will.
Dr. Dre, Compton
Edd said: Face it, Detox was going to be a disappointment. There was no way that Dr. Dre's mythical album could live up to a decade of hype. From the ashes of Detox we got an even better gem — Compton, a companion piece to the blockbuster "Straight Outta Compton" film. It wasn't just a movie soundtrack, it was a celebration of West Coast artists, helmed by the maestro himself. Top-notch production and an A-list roster of guests helped keep Dr. Dre's legacy intact.
Elzhi, Lead Poison
Edd said: In recent years, Elzhi has quietly become one of hip-hop's premier lyricists. But thanks to Lead Poison, the game's best-kept secret is finally getting a chance to roar. Nearly every track here is vivid portrayal of expert storytelling, taking well-worn topics like career struggles and relationship woes into new directions. Lead Poison is a master's class in the art of MC'ing.
Apollo Brown and Skyzoo, The Easy Truth
Edd said: When lyricism comes as easy as it does to an artist like Skyzoo, all he needs is the perfect production to accent his storytelling. Apollo Brown comes through on The Easy Truth, crafting some of the best beats I've heard in the past 10 years. If you're looking for turn-up tracks, keep moving – The Easy Truth is a realm of hi-hats, lush instrumentals and boom bap that perfectly suits Sky's laid-back lyricism. If you've been turned off by this decade's glut of Mumble Rap, this is the album for you.
Royce da 5'9, Book of Ryan
Edd said: Royce has always been one of hip-hop's greatest treasures, whether y'all want to admit it or not. And in 2018, he made all the skeptics believers. Royce's deeply personal Book of Ryan is a conceptual win, serving as an audio analysis of his upbringing and the experiences that defined his manhood. And considering that he's one of the best lyricists on the planet, that story is told in expert fashion.
Big KRIT, 4eva Is A Mighty Long Time
Edd said: Big KRIT is really tired of being rap's most underrated artist. And the frustration that comes with being immensely talented yet constantly overlooked fuels 4eva Is A Mighty Long Time, a double album that wrestles with the duality of being a braggadocious, overachieving rap star and an insecure black man still searching for direction. 4eva Is A Mighty Long Time is a bridge between fame and frailty, giving us a look inside KRIT's life as a rap celebrity and his very human struggles. As always,  his stories are presented over authentic Southern production, from system rattling trunk bangers to laid back soul samples. 4eva Is A Mighty Long Time is KRIT's best – and most important – LP thus far.
DJ Quik and Problem, Rosecrans
Edd said: DJ Quik and Problem first teamed for a Rosecrans EP, showing that the duo has a surprising amount of chemistry. That collaboration birthed a full-length version of Rosecrans, and it's even better than its predecessor. West Coast hip-hop fans dying for a taste of G-funk finally get their fill here – this album rides as hard as any of those classic records circa 1994. While there is some repetition from the previous release, there's enough new content to differentiate it from its little brother.  Superb production and insanely catchy rhyme schemes made this a summer hit.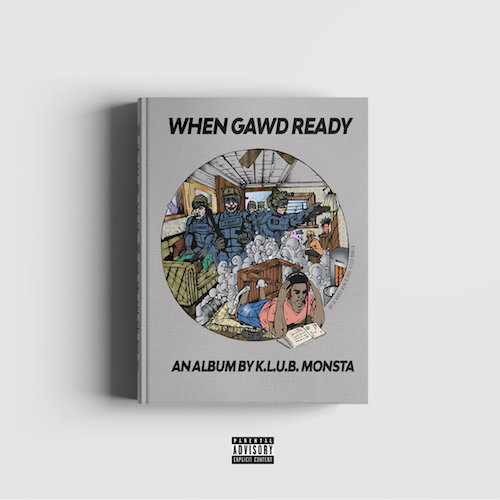 K.L.U.B. Monsta, When Gawd Ready
Edd said: Alabama-bred MCs K.L.U.B. Monsta turned heads a couple of years back with their critically acclaimed release Separate but Equal but they have topped that one with When Gawd Ready, a sobering examination of life in the South. Feeling like the evolution of Goodie Mob's classic Soul Food, When Gawd Ready blends insightful wordplay and weighty topics with a frank honesty about the world around them. The South still got something to say.
Vince Staples, FM!
Edd said: Remember the days when radio ruled our lives? FM!, the third LP from the Compton-born MC, is an ode to the airwaves, effectively recapturing the spirit of those days when the radio was the soundtrack to our summers. At just 22 minutes, it's a breezy, digestable listen, easily Vince's best work since his beloved debut Summertime '06. I wish today's radio playlists were this consistently good.