What Ever Happened to: Amerie
Summer is finally upon us, which means cookouts, disgustingly expensive AC bills and brothers and sisters stuntin on IG wearing in the skimpiest of clothing.
I ain't mad, get your IG likes, I guess.
But I'm about the music, and summer isn't OFFICIALLY summer until you hear that one song that signifies the season.
For most of my generation it's Fresh Prince & Jazzy Jeff. For my old heads it's the Manhattans. For the young'ns it could be Demi Lovato.
But as for me and my house, it ain't summer until these horns kick in:
Back in 2002, Amerie dropped THE definitive summertime anthem, launching a career that should have made her one of the biggest R&B stars of her era. And don't get me wrong, the woman had HITS. But why didn't she reach that next level of stardom? Where is she now? And why did she add extra vowels to her name?
Ameri(i)e's been hiding in plain sight.
Amerie Mi Marie Rogers was born into a military family. She spent the first few years of her life in South Korea, the native country of her mother. Her dad, a chief warrant officer in the U.S. military, kept the family on the move, including stints Germany, Texas, Alaska and Virginia.
She eventually enrolled in Georgetown University and I'm tripping because not only am I the same age as Amerie, I also considered going to Georgetown.
I could have gone to school with Amerie. Sigh.
Anyway, she headed to Georgetown to study literature (more on that later) and was briefly in the Navy ROTC. She eventually graduated with a BA in English, minoring in design.
But y'all ain't here to hear about SCHOOLIN y'all here for SANGIN.
While at Georgetown she met the man who would change her life – producer Rich Harrison. Rich had already done some work with Mary J. Blige and was just a few years away from netting a Grammy for producing "Crazy In Love," one of Beyonce's biggest hits.
The pair quickly realized they had great chemistry and knocked out some demos that would help Amerie get signed to Columbia Records.
Soon summers would never be the same again.
After doing a few guest spots for Nas and Royce da 5'9, Amerie dropped her debut All I Have in the summer of 2002. And man, I have fond memories of this album. I still remember the first time I heard "Why Don't We Fall In Love" – the lush production was unlike anything on the scene at the time. And I very clearly remember copping the CD from Best Buy on release day for like $5.99. $5.99!
You can't get a combo from Chick-fil-A for six bucks and Amerie's out here GIVING AWAY hits. What a time to be alive.
I was living in Louisville, Ky., at the time and had to drive to nearby Indiana to pick up my then-girlfriend-now-wife for some work related something or other. I'm forgetful in my old age. What I DO remember is getting completely lost on the back roads of Indiana (I didn't have a GPS or Siri back then, give me a break) but All I Have kept me sane. I played the entire album on repeat at least three or four times while I hunted for my future wifey.
So thank you for keeping me sane, Amerie. If not for you I'd still be wandering around Indiana eating dragonflies or something.
Many R&B fans have taken me to task over the years because, in the 10 year history of this site, I've yet to give an R&B album the coveted 5 star score in a review.
Well, I've got five words for those 5-star critics: Artists need to do better.
But if Soul In Stereo was around in 2002, All I Have would have received every one of those elusive 5 stars, not just because of "Why Don't We Fall in Love," but the smooth second single "Talkin' to Me" and the incredibly deep album cuts as well. Amerie is able to do in a short 40 minutes what most artists can't do with FORTY-FIVE tracks.
Yeah I'm STILL fussing about my Cousin Chris' album and will forever.
Regardless, All I Have was a stellar debut, would wind up going gold and amazingly, even BIGGER things were to come.
The success of All I Have opened the floodgates – Amerie won a Soul Train Award, landed Image Award and BET Award nominations and even got a major part in the film First Daughter with Katie Holmes. Proving that I'm the biggest Amerie stan ever, YES I've seen the movie (it was on cable one afternoon, give a brother a break) and she did a pretty good job playing the main character's frenemy Mia. She really should have explored more acting roles.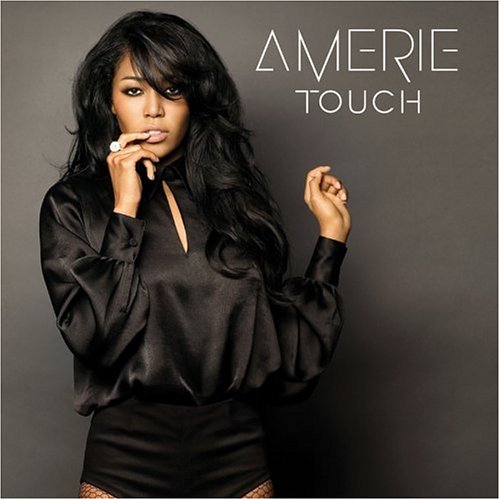 In 2005, Amerie and Rich were back at it. Strutting across my BET screen to a sample of  The Meters' "Oh, Calcutta!," Amerie introduced the go-go sound that was a staple in DC/Maryland/Virginia to the mainstream.
THIS. WAS. AN. INSTANT. CLASSIC.
"1 Thing" quickly became a No. 1 R&B hit and one of the biggest songs of the year, with EVERYBODY AND THEIR MOMMA either doing an unofficial remix or outright stealing the drum patters for their own hits. It was a hot, fresh new sound that once again made Amerie the talk of the industry. "1 Thing" became the lead single for Amerie's sophomore effort Touch, another gold-seller. While the second single "Touch" wasn't nearly as successful (there were MUCH better choices for a follow-up single, in my humble opinion), the album was still a near-5 star affair in its own right.
Again, Amerie's success seemed certain.
Except it wasn't. Here's where our story begins to take a turn.
Around 2006, Amerie returned to the studio to work on her third album, Because I Love It, without longtime homie Rich.
There's probably a bunch of you who didn't even know this album existed. There's a reason for that.
The album was promoted by the singles "Take Control" and "Gotta Work," which honestly I didn't love, but I remained intrigued by Amerie's promise that the album would be inspired by funk and 80s R&B. Too bad it took us YEARS to actually hear the album. According to Amerie, Columbia Records was dealing with internal turmoil due to management shakeups. That greatly delayed the project.
Because I Love It was eventually released overseas in May 2007 but was only available digitally in the U.S. for most of that year. Now you've gotta keep the timeline in mind – yes, digital releases are much more important that physical releases in 2018. This month alone Kanye West is releasing five highly anticipated albums exclusively in digital format. But back in 2007, the market still leaned on CDs. No CD and no promotion had you looking like Ghost Dad out here.
The album FINALLY was released physically in the US in the fall of 2008 but by then Amerie had cut ties with Columbia, so the project was basically ignored by everyone. And that's a SHAME because it's a phenomenal album, only second to All I Have in terms of quality. It's a must-listen.
After all the drama with Columbia, Amerie was ready for a new start, signing with Island Def Jam in 2008 and releasing her fourth album, In Love & War in the fall of 2009. Lead single "Why R U" was great – sort of an evolution of "1 Thing" with Rich Harrison. But the album itself?
It was the first Amerie project that felt a little directionless. It swung wildly from hyperactive pop ("Heard Em All") to 90s R&B ("Pretty Brown") with little cohesion. It wasn't trash by any means but it wasn't anywhere near as good as previous efforts. But hey, that album artwork was fire at least. In Love & War made it to No. 3 on the R&B charts – a respectable showing in '09 – but lacked staying power.
In Love & War would be Amerie's final LP before fading from the spotlight. Around this time, I wondered aloud on this very  site – what went wrong? She had the hits, the talent, the catalogue, the look, the chart success. Why wasn't she a bigger star?
I remember some readers saying, "well, you've gotta have big vocals to be a big star. She didn't have that."
Oh really?
Y'all really don't want me to start pulling out the receipts around here.
Regardless, while Amerie's time in the spotlight might have dimmed, she stayed busy. Most infamously, she changed her name to Ameriie around 2010 and temporarily went Barbie blonde for awhile. Why did she do it? She said:
"I operate on vibes and intuition, and I believe everything is energy; the vibration of the double I is right for me."
Um, do you, boo.
In the past five or six years, Ameriie has announced a couple of upcoming LPs, Cymatika Vol. 1 and BILI (aka, Because I Love It Vol. II) but neither has yet to materialize. We have heard a few singles though, including "Out Loud," a reunion with Rich Harrison, and her 2016 EP Drive.
But just because she hasn't been on your playlists often doesn't mean she's been in hiding. In recent years, Double Eye has developed quite the YouTube following, thanks to her channel that focuses on beauty and books. And speaking of books, her passion for literature led her to publish an anthology entitled "Because You Love to Hate Me: 13 Tales of Villainy,"  a series of stories that focus on the bad guys instead of the heroes.
Should She Come Back?: She's already back! Sorta. Last month Ameriie remixed Swae Lee's "Guatemala" – check out it over on my boys' site YouKnowIGotSoul.com.
Still no word on those missing LPs but I'm more than ready for a return to form. The drama with Columbia Records really shortchanged Ameriie's career – she had a lot of gas left in the tank. This is the perfect time to bring her boundless creativity back to R&B.
Besides, we're always down for another summer classic.
Visit our "What Ever Happened to…" archive for more on your favorite forgotten artists