Album Review: Chris Brown, X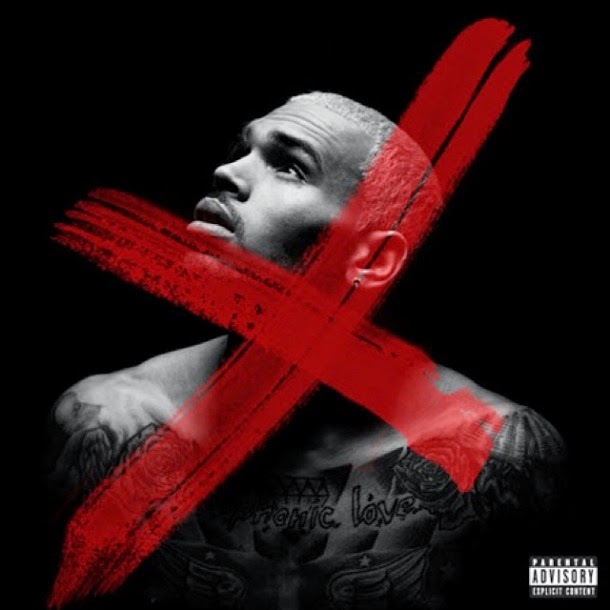 Chris Brown
X (to be released September 16, 2014)
#FactsOnly: It took so long for my play cousin Chris Brown to drop his latest album that in the interim Kim and Kanye West had a baby; Robin Thicke rose to
biggest pop star in the world
only to
fall flat on his face
; and America embraced, then rejected, the fine art of twerking.
Um, it's been a pretty boring 18 months, huh?
Although Breezy's sixth album has languished in limbo for a year and a half, he's been a constant presence on radio. So don't call X a comeback album, Brown's been here for years – amassing a collection that runs the gamut from soulful R&B to frantic pop to braggadocious hip-hop.
I just wish he realized that sometimes less is more. But more on that later.
The first half of X offer few surprises – it's the same CB you've grown to love/hate/attempt to tolerate. The title track is in the mold of hyperactive dance-pop that has been the foundation for some of his biggest hits. "Add Me In" is yet another chance for Breezy to soak in those Michael Jackson comparisons.
Trey Songz pops up on "Songs on 12 Play," a track that leans heavily on the '90s R&B template and gives the pair and excuse to name drop a bunch of old R. Kelly tracks. Trey even swipes Kellz's trademark "oh oh oh oh oh oh oh," which, of course, Kelly stole from Lenny Williams. The tradition of theft continues, I guess.
And speaking of Kelly, he appears on "Drown In It," a bedroom burner that's less immature than CB's "Wet the Bed" but is basically the same concept.
Yes, the first half of the album is a lot of "been there, done that." Even "Loyal" – a song so addictive that you're forced to forget how offensive it is – is cloned a mere six tracks later on "Came to Do." It follows the very same blueprint, down to the identical intros and Akon trying to imitate Lil Wayne's flow.
However, the album really begins to shine when Brown backs away from his bad boy image and shows a little bit of vulnerability. That's why "New Flame" is such a success – CB and Usher might be looking for love in the club, but when the invitation is this infectious it's hard to turn it down.
The energetic "Time for Love" is just as refreshing – and romantic too. And when it's time for Breezy gets sentimental and apologetic, he sounds surprisingly sincere on "Do Better" with Brandy and "Autumn Leaves" with Kendrick Lamar – who, as per usual, totally steals the show.
X has quite a few strong tracks – some of the best in Brown's career. The problem is that the album is in dire need of a diet plan. It's way too bloated, and the strongest songs get buried in the blubber. CB bounces from acoustic country on "See You Around," to autotuned EDM on "Don't Be Gone Too Long" to 2000s-era R&B on "Drunk Texting." It's all over the place. And I won't even get into the bonus tracks (i.e., all his singles from 2013) – those push the track listing to TWENTY-ONE SONGS. It's overkill.
I'm sure Team Breezy will eagerly say that X was worth the long wait. There's definitely good stuff here, if you're willing to dig through all the excess to find it.
Best tracks: "Loyal," "New Flame," "Autumn Leaves"
3.5 stars out of 5