Whatever Happened to: Tony Terry
It's not often that an old-school artist catches me off guard, but it certainly happened yesterday. While traveling to Krispy Kreme to feed the wifey's doughnut addiction, Tony Terry's
"In the Shower"
came on the radio.
The wife was so busy screaming "THAT'S MY SONGGGGGGGGGG!" that we nearly drove through the doughnut shop.
Tony had a great voice and a couple of good songs but for some reason I had nearly erased him from my memory. Obviously the wife hadn't forgotten him.
Let's reminisce on why the ladies loved Tony so much.
Tony, looking like Drake's daddy, debuted with Forever Yours back in 1987. His first single,
"She's Fly
", was typical cornball 80s New Jack Swing. The
title track
, however, was off the chain.
Foooooooooooor-ever yoursss….
That song served as inspiration for countless ghetto talent shows.
Tony re-emerged at the end of 1990 with his self-titled sophomore album, which included his biggest hit, "With You." I know y'all remember that one. Check him out
singing at the Apollo
. Are my eyes failing me, or is this dude really wearing chaps? Guess he's going to strip at a bachelorette party after the show.
Although I couldn't find a reliable link, I'm sure "Everlasting Love" brings back memories. Oh, and don't forget
"Head Over Heels,"
which was pretty good, but I think I prefer Allure's
"Head Over Heels."
If anyone needed the "Whatever Happened to" treatment, it's those ladies.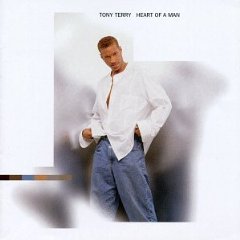 Tony released Heart of a Man in 1994, but most of his fans had moved on. That's a shame, because
"When a Man Cries"
was pretty good stuff. The lyrics sorta sound like a country song – maybe that turned off his old fans.
Although I barely found any info on it, My Best dropped in the summer 2001. That album featured the song that nearly got me killed yesterday afternoon. Any Tony Terry fans remember anything about that album?


In recent years Tony moved on to gospel. Huh, who knew? He had worked with gospel artists like Yolanda Adams in the past so I guess it makes sense for him to strike out on his own. He dropped his first gospel album, Changed!, in 2006.


Should he come back?: Sadly, Tony's brand of tender-hearted R&B isn't as well-received as it was in the early 90s. At this point in his career, I think Tony's better off making music for the Lord. He's come a long way from messing around in the shower.