Is SWV the Best Female R&B Group of the 90s? Head to Head with Edd
Welcome back to Head to Head with Edd, where yours truly goes toe-to-toe with the superfans of the game's biggest artists. We'll take a look at the selected artist's biggest hits and misses and see where we can find common ground.
Did you catch the SWV vs Xscape Verzuz a few weeks back? We've already given the ladies of Xscape the Head to Head treatment so in honor of their big day you could say … It's About Time for the Sistas with Voices to shine.
Yeah, I know, throw me in Twitter jail for that one.
Today I'm joined by SWV superfan Deland Wilson aka Jazz Digga, a Christian R&B artist from Seattle who has had music in his veins since birth. SWV is his favorite group so I couldn't think of a better person to debate the highs and lows of one of our most beloved tandems. Let's get to it.
Name SWV's three best albums.
Deland:
1. New Beginning
2. It's About Time
3. I Missed Us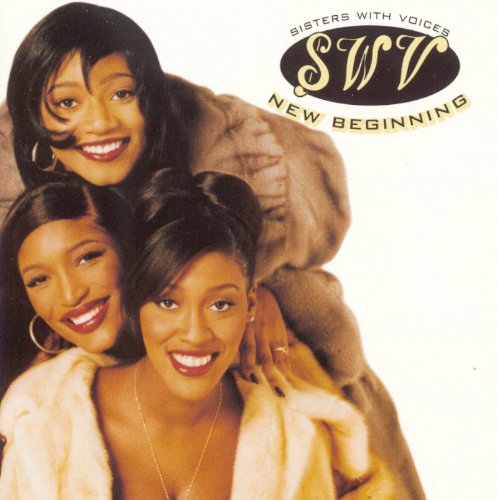 These are hands-down classics for ANY R&B lover … like seriously.
Edd:
1. It's About Time
2. Release Some Tension
3. I Missed Us
Well, it's pretty hard to top the original – not only was it the perfect introduction for the trio but it also is home to so many of their most beloved hits AND also continued R&B's transition from New Jack Swing to hip-hop soul. It's monumental on many levels. I know Release Some Tension gets mixed reviews due to the random assortment of rappers tacked on to many of the songs, but the variety works for me. I probably revisit this album more than any of their others. And I agree with Digga on I Missed Us, a HIGHLY underrated comeback record.
And what's your pick for their weakest album?
Deland: Still
Solid effort, but they didn't have the songs that GRAB you and that's normally their calling card.
Edd: Still
Still is the obvious choice here but hey, I still gave it a very high score when I reviewed it back in 2016. It's by no means a bad album. Its biggest crime is that it's just not very memorable. The quality is there.
What's SWV's most underrated album?
Deland: I Missed Us
Now THIS album was definitive of what it should look like when a legendary group updates their sound.
Edd: I Missed Us
Wholeheartedly agree. I Missed Us is the perfect comeback record. After a 15-year layoff the Sistas proved that they hadn't lost a step. If you missed this one the first time around, catch up IMMEJIATELY.
These ladies have a bunch of classic singles. Which is their best?
Deland: "Rain" & "Use Your Heart"
Both are such beautiful compositions … like seriously.
Edd: "Right Here/Human Nature"
Kinda surprised you didn't go with "Weak" there, playa, that's seems like the safest pick. But I'm not afraid to shake things up – "Right Here/Human Nature" is one of the greatest remixes of the era (and perhaps all time). That one easily takes the top spot. Those songs meld together so seamlessly.
Which single is your least favorite?
Deland: "It's All About U"
I've always HATED this song … it doesn't fit their vibe.
Edd: "It's All About U"
I won't go so far as to say I HATE this track but I agree that it doesn't fit their vibe. Feels more En Vogue-ish to me. Credit where it's due though, SWV has a great ear for singles – even their more recent ones like "Ain't No Man" are quite noteworthy. This one just didn't seem like a good fit, especially when they had so many others to choose from on the New Beginning album. And speaking of…
Name an album cut that should have been a single.
Deland: "Fine Time"
"Fine Time" from New Beginning. Such a beautiful song that had the potential of "Weak"… buuut such is life, I guess.
Edd: "Fine Time"
ABSOLUTELY. "Fine Time" was a hit waiting to happen and definitely should have been single No. 3 in place of "It's All About U." Also, I wouldn't have minded if the Release Some Tension title track got some love. A Foxy Brown feature in 1997 was worth its weight in gold plaques, and the song itself was dope as well.
What's SWV's best video?
Deland: "Rain" & "Anything"
The former is a total mood & the latter is a total party … hard to choose.
Edd: "Rain"
Real talk, I love the song but I never liked the video for "Weak." Having them sing about being knocked off their feet during a boxing match seemed a liiiiiittle on the nose to me. So allow me to be a hypocrite and talk about how much I love the video for "Rain," which is basically Tyrese and the ladies sitting in a puddle. The simplicity of it works so well – yes, as Deland said, it's a mood.
In 1999, Coko went solo with her album Hot Coko. What's your opinion of the album?
Deland: It had a few cuts on there that were dope, I was disappointed overall. She tried to create her own lane and it just didn't work.
Edd: Gotta disagree, I loved Coko's solo album and was surprised that it didn't lead to bigger things. The single "Sunshine" gets all the love but the album cuts are where it's at. "Try-Na Come Home" has been in rotation since 1999. I also appreciated that it felt like a unique project and not just an offshoot SVW joint.
Should she have had a longer solo run?
Deland: She SHOULD'VE … but she didn't create the J-Hud or Fantasia lane that she should've OWNED back then.
Edd: Yes, as I alluded to above, Coko deserved a longer run and I think she could have stood on her own among other R&B veterans going into the 2000s. Even though the R&B competition was fierce, there was room for an established name with a new sound to gain momentum. It's a bit of a lost opportunity.
Should Taj or Lelee have tried to go solo as well?
Deland: They never had a shot, fam. I loved that song Faith did for Lelee on New Beginning, so I would've liked to hear her in that lane. Taj's voice is just meh for me. So there's that.
Edd: I wouldn't have minded if they tried but unless they were sitting on some heat or had a few big name producers in their corner I think they would have had a tougher time transitioning than Coko. The talent is there but lord knows stardom isn't always about talent. Just go look at the weirdos on the Billboard charts today.
After SWV's 1997 album Release Some Tension, they went on a 15 year hiatus. If their careers continued into the 2000s how would they have fared?
Deland: Destiny's Child would've given them a run, but their experience in the game could've given them an edge if the production & songwriting stayed solid.
Edd: Yeah I tend to agree. SWV's 2012 comeback proved that the ladies were able to adjust their sound for the times without abandoning their core audience. And with connections to heavy hitters like Missy Elliott, Timbaland, Darkchild and the Neptunes, all the elements were in place. Even though R&B's landscape was shifting I think they could have remained a presence, especially in the early half of the decade.
Is SWV the greatest R&B girl group of the 90s?
Deland: Absolutely … but that's MY opinion. Most will say TLC, but that's another convo.
Edd: Well I guess I'm "most." As much as I love the Sistas, I can't give them the 90s crown – I'd put TLC and maybe even En Vogue ahead of them. That's not a shot at their legacy though. SWV still stands as one of the most consistent and beloved voices of their era. We didn't need Verzuz to remind us how dope they are but I'm glad we stopped to give them their long-overdue flowers.
Whose side are you on? Do you agree with Deland or are you riding with Edd? Let us know and share your favorite SWV memories below.