Ranking the Best Keith Sweat Albums
If you're new to Soul In Stereo, let me put you on game:
This is Keith Sweat territory.
Unless this is your first day on this site, you probably know my history with Keef. His picture sits on my mantel with Black Jesus and MLK and Malcolm X. And I already told y'all about the night I met the big homie.
But I don't have to convince you of Keith's greatness. Look at my man's track record. He reinvented the R&B game in the '80s by pioneering New Jack Swing; had a career resurgence in the late '90s, bringing ballads back to the forefront; joined R&B titans Gerald Levert and Johnny Gill to create LSG, one of the best supergroups of any genre; and still remains relevant in the 21st century.
A few years ago, I ranked his entire discography from bottom to top but with new albums and new perspectives means this list was long overdue for a redo. This list now includes a few releases that dropped after this was first published, and a little reshuffling (including one album that made a big jump up the list). I've also added Keith's Christmas album and unreleased LP but I've skipped compilations, live sets and his LSG joint albums.
Who's better than Keith Sweat?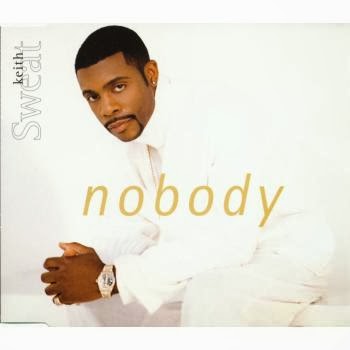 Real talk.
15. Rebirth (2002)
Soul In Stereo rating: 3 stars out of 5
Edd said: Almost 20 years later, I'm still not sure what went wrong here. Outside of the criminally underrated "One on One," one of the best Keith tracks no one seems to remember, Rebirth feels very lethargic and weary, lacking the energy of pretty much every other Keith release. It's an odd anomaly in an otherwise solid discography.
Forgotten favorites: "Trust Me," "One on One," "Show Me"
14. Playing for Keeps (2018)
Soul In Stereo rating: 3.5 stars out of 5
Edd said: Keith's most recent release is one of his oddest. Half the album is classic Keith – great midtempo tracks, fun upbeat soul, his usual wheelhouse. But it's the other half – filled with awkward trap tracks and goofy lyrics – that does not work at all. The result is pretty schizophrenic that tries to modernize itself but makes Keith just feel out of place. Thankfully the good stuff is really good, some of his best work from the past decade, in fact.
Forgotten favorites: "Red Negligee," "Bae Bae," "How Many Ways"
13. The Legendary Keith Sweat (2003-ish)
Soul in Stereo rating: 3.5 stars out of 5
Edd said: If you haven't heard of this one there's a good reason why. The Legendary Keith Sweat is an unreleased LP that allegedly was planned to drop sometime around summer 2003. Since it's an unofficial release it's unfair to be too hard on it – it's obviously a bit unpolished and the upbeat tracks are kinda generic. However, there are some real winners here, most of them winding up on his 2006 album. I still can't believe "Abracadabra" never saw the light of day, though. That's a BET Midnight Love hit if I've ever heard one.
Forgotten favorites: "Think," "Abracadabra," "Daydreaming"
12. Til the Morning (2011)
Soul In Stereo rating: 3.5 stars out of 5
Edd said: Of all the albums is Keith's extensive catalog, this one feels the most forgettable. Seriously, I literally forgot all about it until revisiting this list. It's certainly not bad though, it's just a consistently solid listen with few standouts. It really needed a signature song to put it over the top. "Lady DeJour" came close.
Forgotten favorites: "Candy Store," "Lady DeJour," "Knew It All Along"
11. A Christmas of Love (2007)
Soul in Stereo rating: 3.5 stars out of 5
Edd said: I typically skip Christmas albums when doing these rankings but you know I'm willing to bend the rules for King Keef. Christmas releases are hard to rank because they're typically a bunch of nostalgia-fueled remakes. It's hard to be unbiased when it comes to those holiday memories. But most of the songs here are original cuts and you can tell Keith had a blast making them. And, of course, there's always room for a Sweat bedroom burner or two – only Keith can get away with begging for booty under the Christmas tree.
Forgotten favorites: "Be Your Santa Claus," "All I Want for Christmas is You," "Nothing Like Christmas"
10. Didn't See Me Coming (2000)
Soul In Stereo rating: 3.5 stars out of 5
Edd said: In 2000 every R&B singer was singing about scrubs and cash, so quickly Keith hopped on that gravy train. Back then it seemed a little weird for an established veteran to sing on overly hip-hop tracks but, um, look at today's mainstream R&B – Keith just beat them to the punch. I wasn't too mad at all the alimony ballads that filled this set, the album is just much too long. The result is quite a bit of filler, which is rare for a Keith album. It's a fun change of pace though and proved how well he could adapt to the changing landscape. Honestly, I almost gave this one an extra half star just for Keith's Kodiak bear fur and massive pinkie ring but I'll behave.
Forgotten favorites: "I Put U On," "Real Man," "I'll Trade (A Million Bucks)"
9. Ridin' Solo (2010)
Soul In Stereo rating: 3.5 stars out of 5
Edd said: In 2010, Keith was still showing y'all how to do it, down to the metallic Men's Day suit and massive timepiece. He's even got the hankie for you haters. WIPE HIM DOWN. Ridin' Solo proved that the formula Keith created decades ago still worked – soulful ballads mixed with a few uptempo numbers. The first half of this album is pretty stellar, crammed with forgotten gems, but slows down a bit on the second half. This one deserves a bit more credit than it gets.
Forgotten favorites: "Test Drive," "Full Time Lover," "Ridin' Solo"
8. Still in the Game (1998)
Soul In Stereo rating: 3.5 stars out of 5
Edd said: Following up on the success of arguably the biggest album of his career is no small feat (more on that one later) but you don't stay the king if you're afraid to come off the throne. "Come And Get With Me," Keith's stellar collabo with Uncle Snoop Dogg, was a surprise hit and the album had lots of other gems as well. I just wish the upbeat tracks were as strong as the slower numbers. Still, like Ridin' Solo, this is another effort that was a bit overlooked in its day but has aged very well.
Forgotten favorites: "Too Hot," "I'm Ready," "Rumors"
7. Dress to Impress (2016)
Soul In Stereo rating: 4 stars out of 5
Edd said: Dress to Impress often feels like the summation of Keith's entire career, from the danceable cuts and trademark crooning to the ample duets and put-your-woman-first mentality. The album works because he so effortlessly recaptures the magic that made him one of R&B's biggest stars. Yeah, Dress to Impress is the same suit Keith's been wearing for years but it's tailor-made for him and never goes out of style. A very strong late-career release.
Forgotten favorites: "Good Love," "Let's Go to Bed," "Say"
6. Keep It Comin' (1991)
Soul In Stereo rating: 4 stars out of 5
Edd said: Man I REALLY sandbagged this one in my original ranking, which had this one way down the totem pole. It's much, much better than I originally gave it credit for. Keep It Comin' is Keith's last hurrah in the New Jack Swing sound that launched his career – you can see the transition into his mid 90s sound happening right before your eyes (or ears). The singles get the most attention here but the album cuts carry their weight as well and the short runtime keeps everything moving briskly.
Forgotten favorites: "I Want to Love You Down," "Ten Commandments of Love," "Give Me What I Want"
5. I'll Give All My Love to You (1990)
Soul In Stereo rating: 4 stars out of 5
Edd said: Sophomore slump? I don't see one here. Keith's second foray might not be as iconic as his debut but it's still easily one of the strongest releases of his career. Branching away from Teddy Riley a bit, Keith proved that he was a hitmaker in his own right, laying the foundation as one of the games most prominent writers and producers. I'll Give All My Love to You showed he could stand on his own and his early success was far from a fluke.
Forgotten treasures: "I Knew That You Were Cheatin'," "Just One Of Them Thangs," "Your Love"
4. Just Me (2008)
Soul In Stereo rating: 4 stars out of 5
Edd said: After a six-year drought of new material, Keith came roaring back with Just Me, which still holds up as one of the best albums of his career. It's got the ballads, it's got the high-profile duets, it's even got a Teddy Riley reunion! The buzz for this one didn't seem to last long but it still stands as the best Keith album no one talks about.
Forgotten treasures: "Butterscotch," "Teach Me," "Somebody"
3. Get Up on It (1994)
Soul In Stereo rating: 4 stars out of 5
Edd said: If Keep It Comin began Keith's transition away from New Jack Swing, Get Up On It solidified that change of direction. And man, did it work. This set contains some of the best ballads of his career and showed that Keith knew how to use guests better than anyone else. Artists like Roger Troutman, Left Eye and Kut Klose supplemented his sound, they didn't steal the show. This was the next step in Keith's constant R&B evolution.
Forgotten favorites: "For You (You Got Everything)," "Come Into My Bedroom," "My Whole World"
2. Make It Last Forever (1987)
Soul In Stereo rating: 5 stars out of 5
Edd said: I know the BIGGEST Keith Sweat haters on Earth (because they bombard my inbox daily) but even they can't deny this album. In a day where any album that has three decent songs and a Tik Tok challenge is considered a classic, let me clarify the term. Keith Sweat's debut album is an R&B classic. Though there's only eight tracks here, almost all of them are instantly memorable, helped lay the foundation for the emerging New Jack Swing sound, helped launch the now 30-year careers of Keith and producer Teddy Riley and pushed this set to triple platinum sales when that was a HUGE deal (no fuzzy math from streaming numbers needed). It's easily one of the biggest albums of the era and the one most synonymous with Keith's career. But I still think one album is slightly better…
Forgotten treasures: "In The Rain," "Tell Me It's Me You Want," "Something Just Ain't Right"
1. Keith Sweat (1996)
Soul In Stereo rating: 5 stars out of 5
Edd said: Playa. This is the end-all-be-all of 90s R&B. This is the album Zeus listens to on Mount Olympus when he's trying to get Hera in the mood. I bet King T'Challa had all 12 tracks saved on his phone. From front to back, this release is as undeniable today as it was way back in 1996. It's home to not one but two of the biggest songs of the 90s, filled with album cuts that are still cherished today and even the infamous "Show Me the Way" interlude still gets more love than many of the songs in Keith's seemingly eternal career. An interlude! There is a reason why Keith is sitting on a throne – the king is here.
Forgotten treasures: "Yumi," "Whatever You Want," "Show Me The Way"
I know y'all have something to say. Speak out in the comments.