Album Review: Kanye West, Jesus Is King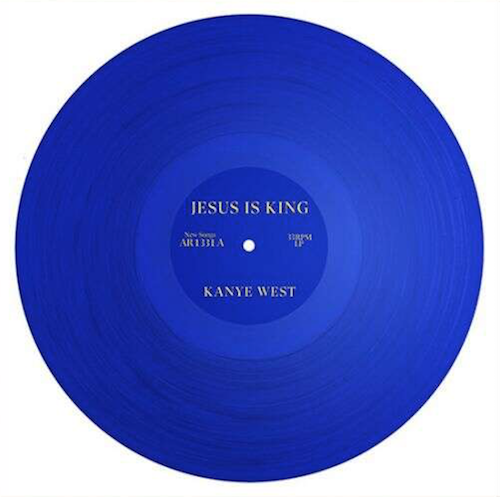 Kanye West
Jesus is King (released October 25, 2019)
We're finally at the end of the decade and I've spent the past few weeks reviewing some of the best music of the 2010s. AND YOU CAN READ THAT RIGHT HERE.
And in that time, it's been amazing watching the rise and fall of Kanye West. At the beginning of the decade, he was arguably THE biggest star in rap, reaching what some called his creative peak with My Beautiful Dark Twisted Fantasy, an album that introduced a whole new generation of fans to hip-hop.
That ain't an exaggeration – there's a good chance that if you're under 30 and reading this post, the first rap album you fell in love with was Dark Fantasy.
But time is a funny thing.
From the highs of Watch the Throne and the middling success of The Life of Pablo, Kanye's decline seemed to accelerate as the decade wrapped up.
Y'all know the story. The MAGA hats. The "slavery was a choice" rants. The pointless rap feuds. The mental meltdowns. The rushed, subpar albums.
So like every artist who has fallen on hard times and faces a infuriated fan base, Kanye seemed to have just one option left:
Now, I know what the Ye defenders will say
bUt He MaDe JeSuS wAlKs!
Yeah, we know that. We had the bootleg in like 2003, have a seat and drink some water.
But the pattern is there – from R. Kelly to Mase, if you're looking for redemption during a career crossroads, start singing about Jesus and pray for forgiveness – from the savior and your fanbase.
Now I'm not questioning  Kanye's walk with Christ – I ain't got a heaven to put that man in. I'm only here to judge the music. But Jesus Is King, Kanye's LONGGGGG DELAYED ninth album, certainly sets his sights on glory.
The day before Jesus Is King hit streaming services, an accompanying documentary also hit select screens. I haven't seen it myself but I'm told from friends that Kanye's choir completely stole the show.
And judging from the opening track, "Every Hour," I believe it. The Sunday Service Choir sounds immaculate, every note is pitch-perfect.
That's why it's a shame that Ye decides to make the rest of Jesus Is King about him. But that's Kanye for you.
"Everybody wanted Yandi till Jesus Christ did the laundry," Ye proclaims on "Selah," a decent but minimalistic narrative about his change in philosophy. Kanye made his name flowing over soul samples, which is why he sounds so comfortable on "Follow God," a track that feels as familiar as revisiting your childhood church. "On God" is another sonic success story – Ye sounds like he's throwing a praise party inside an '80s arcade cabinet. It SHOULDN'T work but it does.
Unfortunately, Jesus Is King quickly falls off a creative cliff soon after.
"Closed on Sunday" is clearly supposed to be tongue-in-cheek ("Closed on Sunday, you my Chick-fil-a"; "you my No. 1 with the lemonade") but it feels empty and unfinished.
And juvenile.
"Water," the track that Twitter has anointed a modern-day gospel classic for some reason, would be much better if Ye's vocals weren't as dry and crusty as a week-old communion wafer. His voice is even WORSE on "God Is," which wastes the goodwill the choir brings to the proceedings.
Another big issue here is the content. I know hip-hop has spent the past decade dumbing down lyricism to the  point of absurdity, but gospel lives and dies on its heartfelt lyrics. It FEELS like Kanye has a lot to say but struggles to properly express it.
"Hands On" for example, should have been a great commentary on Christian hypocrisy, maybe tying in a call for unity or God's redeeming love. SOMETHING. Instead we get:
What have you been hearin' from the Christians?

They'll be the first one to judge me

Make it feel like nobody love me
Over and over. No context, no layers. No deeper meaning. Just fragmented, frustrated rants.
Even the long-awaited "Use the Gospel," featuring a Clipse reunion, is pretty anticlimactic. No Malice's bars hit hard: "They give you Wraith talk, I give you faith talk/Blindfolded on this road, watch me faith walk/Just hold on to your brother when his faith lost" but abruptly end just as they get going. It also doesn't help that the beat sounds like a throwaway from Yeezus.
Here's why Jesus Is King is destined to be incredibly divisive – if you've NEVER listened to a gospel album in your life, the impressive choir (when Kanye isn't moaning over them), the soulful backdrops and attempts to dissect Christianity will make Jesus Is King sound like a groundbreaking release. HOWEVER, anyone who has attended a black church service in the past 20 years with a halfway decent youth choir will not be moved, especially with such shallow lyrics.
Instead of hogging up the mic time with his suspect vocals, Ye should have stepped aside and invited more established gospel artists to step in and do the heavy lifting. It worked for Snoop Dogg's album last year (which was far superior to this one) and Kirk Franklin's been following that strategy since most of y'all were single-celled organisms.
Celebrated as it might be, I criticized Dark Fantasy back in 2010 for being too overproduced and bloated. On the other hand, Jesus Is King feels underproduced and rushed with paper-thin theology.
I hope Kanye finds the spiritual direction he needs. But Jesus is on the mainline and this ain't what he wants.
Best tracks: "Follow God," "On God"
2 stars out of 5