Ranking the Best Kirk Franklin Albums
For my generation, no name has been more synonymous with gospel music than Kirk Franklin's.
While the ill-informed may write him off as "the churchy DJ Khaled," he's MUCH more than some hyperactive loudmouth with an offering basket full of ad-libs. As a musician, songwriter and director, Kirk moved gospel into a more contemporary direction in the mid-90s, widening the horizons of his ministry.
Your grandma n' dem may have been annoyed by Kirk's hyperactive performances and R&B-tinged production, but his songs remained rooted in faith while connecting to audiences whose ears were once closed.
I mean, Jesus' whole mission was to take His message outside of church walls. That's exactly what Kirk did, to widespread acclaim and success.
Today, we're looking back at that success, revisiting Kirk's entire career and ranking his albums from bottom to top. As usual, this list will skip his compilation albums but everything else is up for grabs. Rankings are determined by song quality, album consistency, and impact on the genre.
12. Kirk Franklin Presents 1NC (2000)
Soul in Stereo rating: 3.5 stars out of 5
Edd said: Of all of Kirk's myriad releases, his 2000 collabo with 1NC seems to be the most forgotten. You can't even find it on most streaming services. Overall, it's solid – the Latin-influenced tracks help liven up his usual formula – but there are very few standouts, making this one pretty forgettable.
Forgotten favorites: "When You Fall," "Donna," "Free"
11. The Rebirth of Kirk Franklin (2002)
Soul in Stereo rating: 3.5 stars out of 5
Edd said: Ministry is most effective when it directly speaks to the times. World events – specifically, the Sept. 11 terror attacks – caused this released to be delayed so the album could be retooled to speak to that tragedy. I'm not sure if those delays are to blame but Rebirth feels a little disjointed when compared to other releases. There's quality to be found for sure but there is a lack of cohesion that pushes this one down the list.
Forgotten favorites: "911," "My Life, My Love, My All," "Lookin' Out For Me"
10. Hello Fear (2011)
Soul in Stereo rating: 3.5 stars out of 5
Edd said: Hello Fear is Kirk's attempt at a concept album, tackling those deep-rooted insecurities that plague us all. Although it's a bit frontloaded and drags a bit in the second half it's still a pretty good outing.
Forgotten favorites: "Hello Fear," "Before I Die," "Everyone Hurts"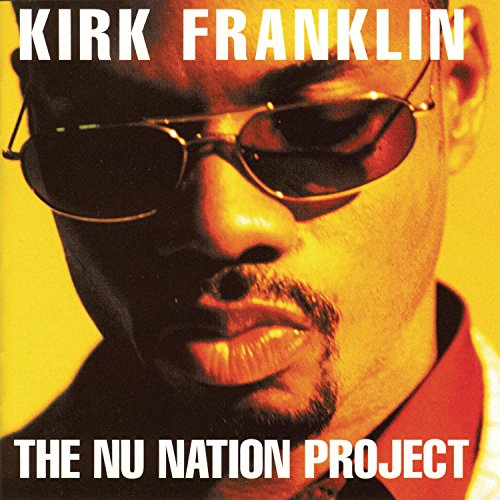 9. The Nu Nation Project (1998)
Soul in Stereo rating: 4 stars out of 5
Edd said: By 1998, Kirk's contemporary take on gospel gave him worldwide acclaim, and more than a few dirty looks from old-school ministers who thought he was flirting too closely with the secular world. Kirk waves off those criticisms and embraces contemporary sounds with the Nu Nation Project, but in many ways, it feels a little more traditional than its predecessor. It's a great bridge between tried-and-true gospel and the current sounds of the time. And on a personal note, I think this album stayed in my mom's CD player till like 2004.
Forgotten favorites: "Something About the Name Jesus," "Gonna Be A Lovely Day," "Hold Me Now"
8. The Fight of My Life (2007)
Soul in Stereo rating: 4 stars out of 5
Edd said: Give Kirk credit, he's been very open and honest about his personal struggles. That's a great thing – it brings authenticity to his music. The Fight of My Life brings many of those challenges to the forefront, giving listeners the tools to power through their own struggles. Like a lot of his projects, this one is a little too lengthy but it doesn't take away from its positive impact.
Forgotten favorites: "Help Me Believe," "Hide Me," "How I Used to Be"
7. Long Live Love (2019)
Soul in Stereo rating: 4 stars out of 5
Edd said: Kirk's most recent release keeps his legacy SKRONG, already standing out as one of the year's best releases. Some might think it's blasphemy to rank such a new release so high on the list but it's worthy. Specifically, this LP is a lot more streamlined than most of Kirk's releases and the lack of filler makes for a lean yet powerful presentation.
Forgotten favorites: "F.A.V.O.R.," "Forever/Beautiful Grace," "Spiritual"
6. Losing My Religion (2015)
Soul in Stereo rating: 4 stars out of 5
Edd said: Of all the releases I revisited during this ranking, Losing My Religion took me most by surprise. I hadn't heard it in years and it's much better than I remembered. Kirk steps away from "religion" on this one for the sake of building stronger spiritual relationships, using his platform to speak on social issues that resonate today. A really great selection singles are supported by strong album cuts on this one. It might be his most underrated work.
Forgotten favorites: "Miracles," "Over," "My World Needs You"
5. Whatcha Lookin' 4 (1996)
Soul in Stereo rating: 4 stars out of 5
Edd said: Live gospel albums work so well because they convey the feeling and emotion from the congregation. That energy permeates through this LP, a blend of traditional hymns and uptempo cuts powered by absolutely incredible vocal performances. And don't sleep on those remixes – they're worth the price of admission alone.
Forgotten favorites: "Savior More Than Life," "Whatcha Lookin' 4 (Remix)," "Anything 4 U"
4. God's Property from Kirk Franklin's Nu Nation (1997)
Soul in Stereo rating: 4 stars out of 5
Edd said: GP ARE YA WIT ME! Kirk caught a LOT of heat for taking the gospel from the churchhouse to the club with this holy ghost party, specifically the "Stomp Remix" and Kirk's insane adlibs. But despite its infamous reputation, every song is still rooted in faith, standing as one of the most noteworthy releases in modern gospel history. HA HA YOU CAN'T TAKE MY JOY DEVIL! MAKES ME CLAP!
Forgotten favorites: "My Life Is In Your Hands," "It's Rainin'," "Sweet Spirit"
3. Hero (2005)
Soul in Stereo rating: 4 stars out of 5
Edd said: After a couple of inconsistent albums, Kirk came back hard in 2005 with an album that speaks directly  toward the listener's insecurities. Like your favorite preacher, it's a liiiiiittle long winded but you still hang on every word – there's just too much entertainment and healing to be had. Filler aside, it's one of Kirk's most complete works and one of my personal favorite gospel albums.
Forgotten favorites: "Hero," "The Appeal," "Keep Your Head"
2. Kirk Franklin & The Family (1993)
Soul in Stereo rating: 4 stars out of 5
Edd said: The live album that started it all. Every choir director got fresh material for the youth choir and gospel was forever changed with lively, heartfelt performances that transcended generations. Kirk expertly blended contemporary elements into tried-and-true gospel essentials to make an album as accessible as it was authentic. This one set the template for modern gospel for years to come.
Forgotten favorites: "Silver & Gold," "Real Love," "Till We Meet Again"
1. Kirk Franklin & The Family Christmas (2017)
Soul in Stereo rating: 4.5 stars out of 5
Edd said: Now  y'all know I don't usually include holiday albums when doing these rankings (and I get yelled at on Twitter almost weekly for those exclusions). But there was NO WAY I was leaving this off. Kirk and the Family's interpretations of classics hymn have stood the test of time. It's one of the best Christmas albums ever recorded and the pinnacle of Kirk's career.
Forgotten favorites: "Silent Night," "There's No Christmas Without You," "O Come All Ye Faithful"
What are your favorites from Kirk Franklin? Do you prefer The Family or God's Property/Nu Nation? Let us know below