Ranking the Best Busta Rhymes Albums
If we're discussing rap's greatest innovators, that list begins with Busta Rhymes.
While most of his peers spent the mid-90s in oversized jeans and Tims, Busta constantly reinvented the image of a rap superstar. Whether it was his garish costumes, larger-than-life live performances and, of course, music videos that would put most of today's viral content to shame, Busta lays claim to being one of the greatest visual artists in music history.
But all that comes second to his rhyme scheme – a pulse-pounding mix of internal rhyme and half rhyme that's instantly identifiable and the highlight of countless tracks.
Simply put, Busta Rhymes is the forefather of every rapper that embraces individuality.
In honor of a true rap titan, let's look back at his entire discography from worst to first. This list will highlight only his solo work and exclude any of his group projects.
He's still got you all in check.
9. Back on My B.S. (2009)
Soul In Stereo rating: 3 stars out of 5
Edd said: I'm willing to bet most of you don't even remember this one and there's probably a good reason for that. This album suffered seemingly endless delays due to Busta transitioning between record labels. The final product gave us a couple of memorable singles, but not much else.
Forgotten favorites: "Arab Money," "Respect My Conglomerate," "Decision"
8. It Ain't Safe No More (2002)
Soul In Stereo rating: 3 stars out of 5
Edd said: It Ain't Safe No More is often fondly remembered due to the success of its massive single "I Know What You Want" but besides that cut, there's not much else here. Overall, it's pretty uneven but is salvaged by a few underrated gems from the incomparable J. Dilla.
Forgotten favorites: "Make It Clap," "Call the Ambulance," "Turn Me Up Some"
7. Year of the Dragon (2012)
Soul In Stereo rating: 3.5 stars out of 5
Edd said: Released as a freebie on Google Play, Year of the Dragon kinda slid under the rap radar in 2012. And while it doesn't compare to Busta's top-tier releases, it has a fair share of enjoyable cuts and Busta's trademark wordplay is on full display. Also, that album cover is freakin amazing.
Forgotten favorites: "King Tut," "Doin' It Again," "Pressure"
6. Anarchy (2000)
Soul In Stereo rating: 3.5 stars out of 5
Edd said: Busta had an incredible run of success during the early stages of his career – he nailed three home runs with his first three albums. Anarchy would be his first slight misstep. While it was hindered by a bloated runtime and a lack of standout tracks, Anarchy still boasted the untamable energy and tongue-twisting lyricism of its predecessors. Anarchy was good, just not the greatness Busta fans were accustomed to.
Forgotten favorites: "Fire," "Why We Die," "A Trip Out of Town"
5. Genesis (2001)
Soul In Stereo rating: 3.5 stars out of 5
Edd said: Admittedly I wasn't a very big fan of Genesis back in 2001 but it's an album that really grew on me over time. Busta was slowly transitioning from motor-mouthed maniac to the (slightly) scaled back style he'd employ for the next few years. That change in tone was a bit jarring but that doesn't mean his art suffered. Genesis is a strong mix of frantic party-starters and more subdued bangers. It was the first Busta album that felt markedly different from others but it still works.
Forgotten favorites: "Betta Stay Up In Your House," "What It Is," "Genesis"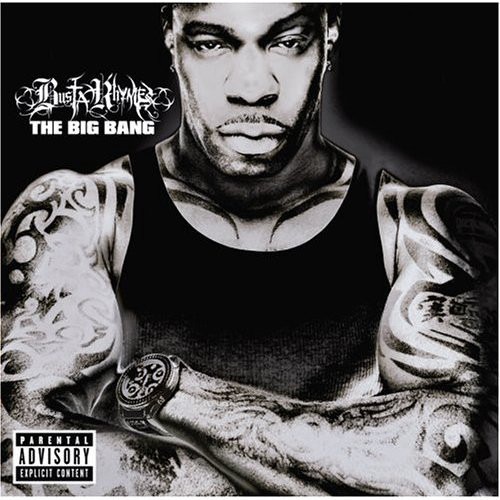 4. The Big Bang (2006)
Soul In Stereo rating: 4 stars out of 5
Edd said: After a couple of mediocre releases, most fans – including myself – assumed Busta's best days were behind him by 2006. How wrong we were. The Dungeon Dragon roared back on the scene with his seventh release. While it lacked the frantic energy that had long been his trademark, it was replaced with mature introspection. And those bars? Whew, they were has hard as ever. Easily Busta's most underrated work.
Forgotten favorites: "Touch It," "You Can't Hold the Torch," "New York S***"
3. When Disaster Strikes… (1997)
Soul In Stereo rating: 4 stars out of 5
Edd said: Ranking Busta's top-tier albums is a tough task, so even though his beloved sophomore album lands at No. 3 on our list, that doesn't mean it lacks in quality. Keeping the momentum rolling from him landmark debut, Busta kicked in the door with the frantic intensity and classic visuals ("Put Your Hands Where My Eyes Could See" is hands down one of the best rap videos ever) that would become his hallmark. It's no surprise that this is his most commercially successful album to date.
Forgotten favorites: "Rhymes Galore," "Dangerous," "There's Not a Problem My Squad Can't Fix"
2. The Coming (1996)
Soul In Stereo rating: 4 stars out of 5
Edd said: You know what they say about first impressions, and Busta made SURE you remembered his name with his solo debut. The addictive insanity of "Woo-Hah" may be the album's crown jewel – and one of the most recognized tracks in hip-hop history – but the album is so much more than a hot single. Busta's lyrical dexterity, airtight production and energy levels that would put a Super Saiyan to shame made The Coming one of the most memorable debuts of the '90s.
Forgotten favorites: "Everything Remains Raw," "Flipmode Squad Meets Def Squad," "Abandon Ship"
1. ELE (Extinction Level Event): The Final World Front
Soul In Stereo rating: 5 stars out of 5
Edd said: ELE doesn't often get the glowing press that Busta's debut and sophomore albums receive, but make no mistake – this is the quintessential Busta Rhymes album. Sure, it's crammed with memorable tracks ("Gimmie Some More" and "What's It Gonna Be" among them), but the album's diversity is what sets it apart from others on the list. East Coast and West Coast sounds abound, along with a touch of horrorcore to accentuate the album's apocalyptic theme.  And, of course, it wouldn't be a Busta album without his light-speed raps and inexhaustible energy. ELE is bizarre, intelligent, downright exhausting but impossibly addictive. This album IS Busta Rhymes.
Forgotten favorites: "Party Is Goin' On Over Here," "Tear da Roof Off," "Against All Odds"
What are your favorite Busta albums? Let us know in the comments below.