Album Review: The LOX, Filthy America … It's Beautiful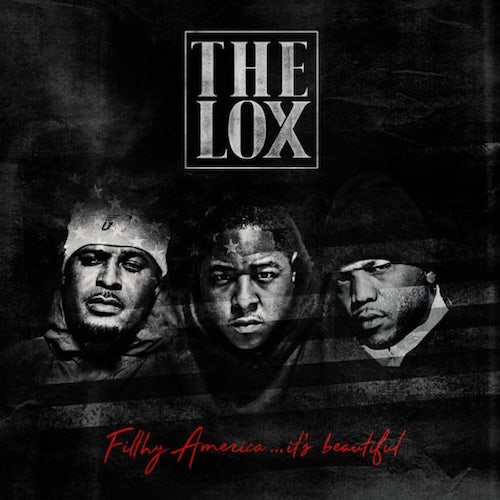 The LOX
Filthy America … It's Beautiful (released December 16, 2016)
I've called 2016 the year of the comeback – the year where everyone from Maxwell and Tweet to A Tribe Called Quest and Frank Ocean jumped off the back of milk cartons and back into the studio.
But personally speaking, all those returns pale in comparison to the reunion of one of my all-time favorite groups, the LOX. Despite being one of the defining groups of the late 90s, the LOX only gave us two proper LPs – the most recent one being an improbable 16 years ago.
It feels improbable because, in many ways, the LOX never really left us.
Since 2000's We Are the Streets, Jadakiss, Styles P and Sheek Louch have dropped well over a dozen solo projects, a couple of group EPs, and countless memorable guest verses. Unlike many of the 90s' greatest collectives, the LOX never really broke up – even when preoccupied by solo ventures, it was a given that at least one or two tracks would feature D-Block brethren. They're like those friends from high school you're often too busy to see but when you find time to reunite, it's like time never passed.
Sixteen years is a long time in real time – and nearly an eternity in rap years – but with age comes wisdom. The LOX are no longer defiant 90s kids, they're rap's elder statesmen. Their personal growth is what makes Filthy America … It's Beautiful such an anticipated record, and in some ways, slightly disappointing too.
After the haunting intro "Omen," The D-Block boys give us an update on their whereabouts for the past decade and a half on "What Else You Need to Know." Sheek explains why he turned down all those high-profile guest spots over the years:
I was cool with that LOX s***, no solo plans
That's why every song you heard was just my mans
Styles reminds us why he's still the realest rapper alive:
We had beef with the ROC, I was riding with the strap
Hov, Sigel, and Free could have all got clapped
But they was doing the same cause s*** was like that
But these new n****s soft they don't even fight back
While Jada recaps the group's journey from Bad Boys to Ruff Ryders:
We did the 'Let the LOX go' campaign
That could've went the wrong way that would've made that bad
Ruff Ryders, Jimmy Iovine paid that tab
Freestyles, all the Clue tapes, we had that locked
Still hard for us to shine, X had that slot
Yeah, n**** the streets love us, we still getting dough
Five kids, three baby mommas what else you need to know?
It's no surprise that the LOX are at their best when the beats are hard and the atmosphere is chilly. The trio discuss the meaning of unity "The Family," with Sheek keeping it realer than most on the supernatural-sounding score: "Blood thicker than water, I heard that before/till you put the car in your name and f*** up the credit score."  "Hard Life" teams the crew with fellow street legends Mobb Deep while "Don't You Cry" gives Jada a chance to rattle off his renowned punchlines:
Black tape on a old shotty
My rap resume will wrap around your whole body
Legend is a understatement
Till they find your whole crew individually under basements
The album's biggest draw is "Move Forward," a DJ Premier-produced cut that puts LOX squarely in their element – going to battle like the Avengers over Primo's classic cuts and scratches. It's an early Christmas present for boom-bap fans.
The LOX made their name by decimating tracks like "Move Forward," but admittedly, that was 15 years ago. There's a point where you have to, well, move forward. That's why I fully understand why they'd branch out and incorporate a few more contemporary sounding tracks on Filthy America … It's Beautiful. And unfortunately that's where things being to go wrong.
To their credit, the trio don't sound too out of place on tracks like "The Agreement' and "Secure the Bag" which feature more modern trap production. But the songs themselves are crippled by horrible hooks on the former (the aggravating auto-tune sounds like a dying Decepticon) and repetitive production on the latter.  They really drag down the project's momentum.
Longtime LOX stans will find a lot to love about Filthy America … It's Beautiful – Jada's punchlines still can crack ribs, Holiday Styles is as threatening as ever, and Louch's frank honesty will have you nodding in agreement. However, the set is still a long way away from the classic album we KNOW they can deliver. Hopefully it won't take them another 15 years to offer us more gems.
Best tracks: "Move Forward," "The Family," "Hard Life"
3.5 stars out of 5