Album Review: Joe, #MyNameIsJoeThomas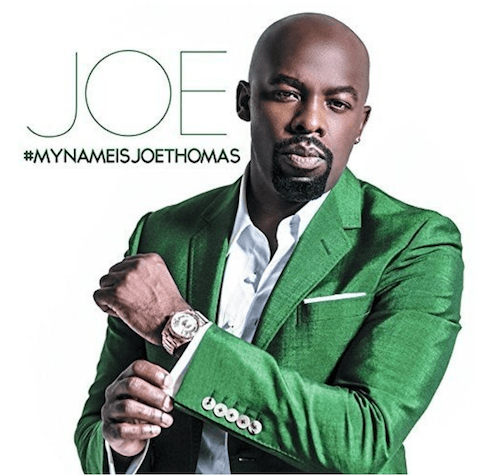 Joe
#MyNameIsJoeThomas (released November 11, 2016)
First it was My Name Is Joe
Then Joe Thomas, New Man
And now: #MyNameIsJoeThomas
Joe REALLY doesn't want y'all to forget his name, huh?
But considering recent events, I guess I can't blame him.
Joe recently announced to fans that #MyNameIsJoeThomas, his 12th studio album, will likely be his final release. It's pretty bittersweet news – Joe has spent over two decades as one of R&B's most recognizable, yet unsung, voices and is the maestro behind more than a few hits. In recent years, he's been exalted as one of the genre's last great flagbearers. When R&B's greatest voices abandoned the genre for greener pastures, Joe stayed right here, never wavering from his craft.
Yet, when you think about it, he's given us so many great songs and wonderful memories that if he decides to hang up his microphone, you can't be upset. He's done his part to keep R&B alive – he's earned the rest.
But let's be real – most musical "retirements" wind up shorter than Webster's ankle socks, so I wouldn't write Joe's epitaph just yet.
Whether or not this really is Joe's swan song, #MyNameIsJoeThomas simply gives him a chance to do what he's done his entire career – make great music.
The real story of #MyNameIsJoeThomas is its production. Stylistically speaking, this is probably Joe's most diverse album. The album opens with the weepy strings of "Lean Into It" before barreling into the addictive march of "Don't Lock Me Out."
Joe's voice is a perfect match for the Latin-tinged "Wear the Night," where he cuts loose with his signature crooning. "Love Centric" is a throwback to Motown soul, "Celebrate You" is infused with 80s funk, "Hurricane" is plucked from American Idol's pop playlists and "Hollow" is a straight-up no-frills country track. Oh and remember Joe's cover of Adele's "Hello?" That's here too.
Joe's wearing many, many hats here, and as impressive as that sounds, it's also to his detriment at times.
Take a look at "Happy Hour" and "I Swear," for example. Both tracks are built around current, minimalistic hip-hop production. The former works much better because Joe doesn't sacrifice his trademark sound to fit in with the times. It's clearly an urban-friendly track but it still SOUNDS like a Joe song. But the latter is so crammed with annoying ad-libs that they overpower Joe himself.
Another flaw in the constant experimentation is that we don't hear enough of what Joe does best – the seductive bedroom jams. "Lay You Down" is solid, as is "No Chance," where Joe slides in to score with a woman on the rebound: "He started the war, now he's a casualty/I'm the result of what used to be."
#MyNameIsJoeThomas is quite the mixed bag. On one hand, Joe sounds great, and hearing him branch out into other genres is cool – in theory. But on the other hand, there is so much experimentation that the album loses a lot of cohesion. Sure, it's a great sampling of Joe's talents, but it fails to leave fans with a one last signature song before he rides off into the sunset. "Our Anthem," which smartly blends the national anthem with Otis Redding's "Try a Little Tenderness" to promote a message of unity, comes closest.
#MyNameIsJoeThomas feels more like an abbreviated encore than the grand finale R&B fans may have expected. Regardless, if this IS the end, it'll still be pretty hard to forget his name.
Best tracks: "No Chance," "Wear the Night," "Lay You Down"
3 stars out of 5