Album Review: Rick Ross, Black Market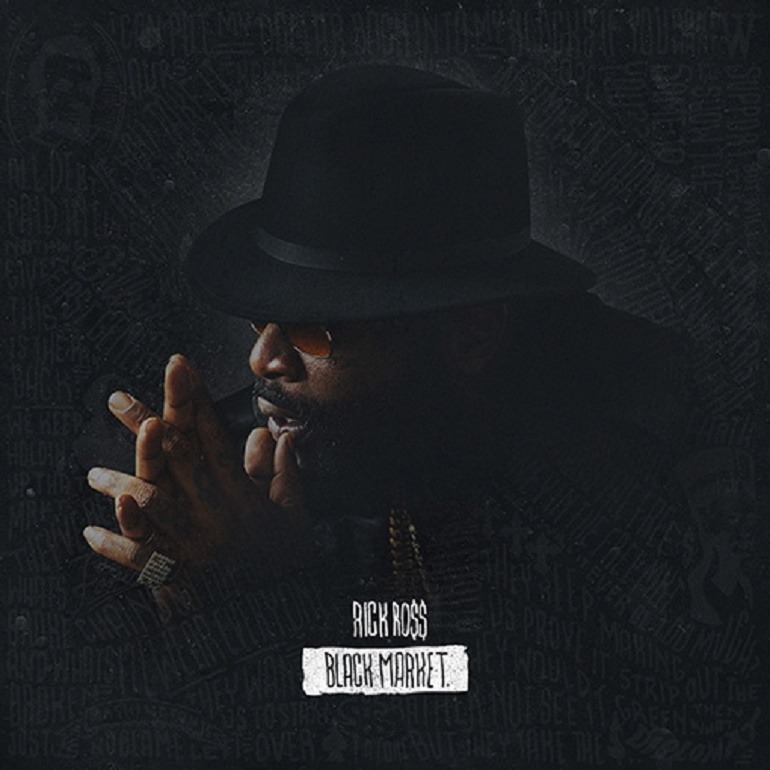 Rick Ross
Black Market (released December 4, 2015)
Rick Ross really has this rap thing figured out.
I came to that realization last weekend while talking hip-hop with one of my bros. After 10 years in the game, Rawse has shrugged off every ounce of criticism thrown his way and become more beloved by his fan base each time.
Call him out for that past gig as a corrections officer? He just embraces the Officer Ricky nickname. Laugh at his weight? He'll quietly drop a few pounds, yet still drop references to lemon pepper wings every other line. Criticize his repetitive lyrics? Rawse will just immerse his bars in more elaborate production to make up the difference.
He really is the Teflon Don.
Rozay's most recent releases — 2012's God Forgives, I Don't and last year's Hood Billionaire and Mastermind  — were all plagued with various shortcoming. But, as usual, you couldn't tell that from Rawse's swagger, who treats every release like the second coming of Illmatic.
This time, though, Ross truly has something to brag about.
Riding off the moment of his well-received Black Dollar mixtape, Black Market, Ross' eight solo effort, takes all of his trademarks — the mafioso raps, the high-profile collaborations, and those impossibly lush beats — and raises them to the next level. It's the best the Boss has sounded in a very long time.
The album opener, "Free Enterprise" sounds like the score to a summer blockbuster. John Legend provides his usual soaring vocals after Rawse lives out his gangsta fantasies, including assassinating Donald Trump, George Zimmerman style, and voting Andre 3000 for president. It's those kind of random absurdities that make Ross' lines so quotable.
Most of the album's press has circled around Rawse's potshots at Drake ("I got more money than that p**** that you're signed to," on "Color Money") but the real conversation should be about this album's production. Ross always has had a keen knack for beat selection; note for note, Black Market is one of the best produced albums of the year in any genre. The sultry "Silk Road" lives up to its name while the marriage of keys and horns of "One of Us" with Nas is spine-tingling. "Black Opium" blares with the energy of a '70s heist flick, with DJ Premier's scratches being the perfect garnish for the audio banquet.
Rawse rolls out the black carpet for a dream team of guest stars too. Both Mariah Carey and Mary J. Blige turn back to the clock to the mid-'90s on "Can't Say No" and "Very Best," respectively. Although MJB sounds oddly flat on her contribution, it's the production that keeps things afloat. Even Future, who has spent all of 2015 ruining EVERY SINGLE TRACK he's been featured on, compliments the tinkering production of "D.O.P.E." instead of trampling all over it.
You've probably noticed that I haven't remarked much on Rozay's lyrics — that's because if you've heard one Rick Ross song in your life, there's very little to add. Rawse's stream-of-consciousness flow is good for the occasional one-liner,  but they tend to make his songs unfocused. Put it this way: the typical Ross 16 bars are packed with musings about how rich he is, how sexy his women are, how many guns he has, how rich he is, how much he loves lemon pepper wings and how rich he is. Spread that across three verses on 15 different songs and things get old fast. It's always been his biggest weakness. It's why tracks like "Ghostwriter" and "Crocodile Python" sound good but don't really go anywhere.
No matter how witty Rawse can be at times, the random assortment of #humblebrags really gets repetitive. That's why I wish he'd give us more songs like "Smile Mama, Smile," a surprisingly tender ode to motherhood.
Who really gonna be your shoulder when your kid is gone
Who really gonna be your rider when the Bentley's gone?
Or when they singin' like a choir in a Christmas song?
Mama! Always depend on my mama
Cee-Lo Green's hook and Jake One's production make this one of the best songs Ross has recorded, proving that he can be so much more than empty brags and threats when he focuses on a singular theme.
Black Market may have very pronounced shortcomings (both "Dope D***" and "Peace Sign" sound like they were written by a horny 14 year old) but the lavish production alone make it Ricky's best album since 2010's Teflon Don — and maybe even his best album EVER.
Maybach Music fans just received the perfect Christmas gift. And Rawse is still winning.
Best tracks: "Smile Mama, Smile," "Black Opium," "Free Enterprise"
3.5 stars out of 5