The Best Keith Sweat Albums
I'm warning y'all right now. This isn't gonna be one of my unbiased approaches to hip hop journalism. I'm gonna be a straight-up Stan.
It's because today, I'm saluting the King of R&B.
Not Arruh Kelly. Not Usher. And definitely not Bobbay Brown.
Keith Sweat slays 'em all.
Unless this is your first day on this site, you probably know my history with Keef. His picture sits on my mantel with black Jesus and MLK and Malcolm X. And I already told y'all about the night I met the big homie.
But I don't have to convince you of Keith's greatness. Look at my man's track record. He reinvented the R&B game in the '80s by pioneering New Jack Swing; had a career resurgence in the late '90s, bringing ballads back to the forefront; joined R&B titans Gerald Levert and Johnny Gill to create LSG, one of the best supergroups of any genre; and still remains relevant in the 21st century.
If that's not enough Stanning for you, stick around. Let's go back and look at Keith's entire game-changing discography, ranking his albums from weakest to strongest. This list only includes his solo studio albums, excluding his LSG LPs, compilations and unreleased sets. I also skipped his Christmas album, but your holidays aren't complete without "I Wanna Be Yo' Sannna Claus."
Who's better than Keith Sweat?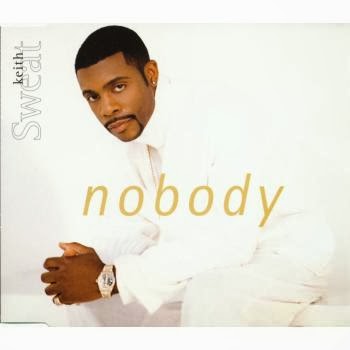 Real talk.
11. Keep It Comin' (1991)
Soul In Stereo rating: 3 stars out of 5
Edd said: "Well, even Keith can't work miracles. This isn't a bad album per se, but outside of the singles (including "There You Go (Tellin' Me No)" from the New Jack City soundtrack) there ain't much here. The album cuts wind up being pretty unmemorable, dropping this set down Keith's totem pole. Pause."
Forgotten treasures: "I Want to Love You Down," "Ten Commandments of Love," "Give Me What I Want"
10. Rebirth (2002)
Soul In Stereo rating: 3 stars out of 5
Edd said: "Eh, copy and paste my thoughts from Keep It Comin' here. Outside of the criminally underrated "One on One," one of the best Keith tracks no one seems to remember, the album kinda languishes. It's much more cohesive listen than Keep It Comin', though."
Forgotten treasures: "Trust Me," "One on One," "Show Me"
9. Til the Morning (2011)
Soul In Stereo rating: 3.5 stars out of 5 (read our review here)
Edd said: "I'd almost rather talk about Keith's suit on the album cover than the album itself. Tell your favorite R&B singer to step his game up, Keith's in these streets getting his Scrooge McDuck on while young'ns are rocking Huey, Dewey and Louie fitted caps. Anyway, Keith's most recent album is pretty solid, though slightly unmemorable. Nothing's really weak but it lacked a signature song to put it over the top. "Lady DeJour" came close."
Forgotten treasures: "Candy Store," "Lady DeJour," "Knew It All Along"
8. Still in the Game (1998)
Soul In Stereo rating: 3.5 stars out of 5
Edd said: "Following up on the success of an extremely successful album is no small feat (more on that later) but this KEEF SWEAT we're talking about, people. "Come And Get With Me," Keith's stellar collabo with Snoop Lion-O, was a surprise hit and the album had lots of other gems as well. I just wish the upbeat tracks were as good as the slow numbers."
Forgotten treasures: "Too Hot," "I'm Ready," "Rumors"
7. Ridin' Solo (2010)
Soul In Stereo rating: 3.5 stars out of 5 (read our review here)
Edd said: "In 2010, Keith was still showing y'all how to do it, down to the metallic Men's Day suit with pinkie ring shining. He's even got the hankie for you haters. WIPE HIM DOWN. Ridin' Solo proved that the formula Keith created decades ago still worked – soulful ballads mixed with a few uptempo numbers. My only beef is that the set was a bit too safe at times. I wouldn't have minded a bit of experimentation. And speaking of experimentation…"
Forgotten treasures: "Test Drive," "Full Time Lover," "Ridin' Solo"
6. Didn't See Me Coming (2000)
Soul In Stereo rating:
3.5 stars out of 5
Edd said: "In 2000 every R&B singer was singing about scrubs and cash, so Keith hopped on that gravy train. Now, one might think it would be a bad idea for an established veteran to sing over hip-hop beats about women stealing his money like cats half his age, but it worked. In fact, it's actually a bit more authentic for a proven star to worry about gold diggers than broke rookies, so I wasn't too mad at all the alimony ballads that filled this set. My main complaint is that the album was just too long. And just to emphasize that Keith was the illest out, he rocked authentic Kodiak bear fur on the album cover. Big pimpin'."
Forgotten treasures: "I Put U On," "Real Man," "I'll Trade (A Million Bucks)"
5. I'll Give All My Love to You (1990)
Soul In Stereo rating:
4 stars out of 5
Edd said: "Back in the day, an artist could drop an album with 10 tracks and fans would eat it up. These days, y'all want 15 songs and five bonus tracks from Target. Keith was about quality, not quantity, and his sophomore album delivered. Short, sweet, but very strong."
Forgotten treasures: "I Knew That You Were Cheatin'," "Just One Of Them Thangs," "Your Love"
4. Just Me (2008)
Soul In Stereo rating:
4 stars out of 5
Edd said: "After a six-year drought of new material, I was about to give up on my dude. But who am I to doubt Keith Sweat? He came roaring back after a lengthy absence with one of the best albums of his career, bridging the gap between early '90s ballads and that trashy autotune garbage that was cluttering up the airwaves at the time. It was current but still a throwback. Keith's a master."
Forgotten treasures: "Butterscotch," "Teach Me," "Somebody"
3. Get Up on It (1994)
Soul In Stereo rating: 4.5 stars out of 5
Edd said: "Look, playas, this is the album that transformed me from "oh, yeah, I like Keith Sweat" to "Keith Sweat is THAT DUDE." This set contains some of the best ballads of the '90s, bar none. It was also the album that showed that Keith knew how to use guest artists better than anyone else. Roger Troutman and Kut Klose supplemented his sound, they didn't steal the show. Stop playing around on the Internet and go listen to this album in its entirety.
Oh but wait, read the other two entries first."
Forgotten treasures: "For You (You Got Everything)," "Come Into My Bedroom," "My Whole World"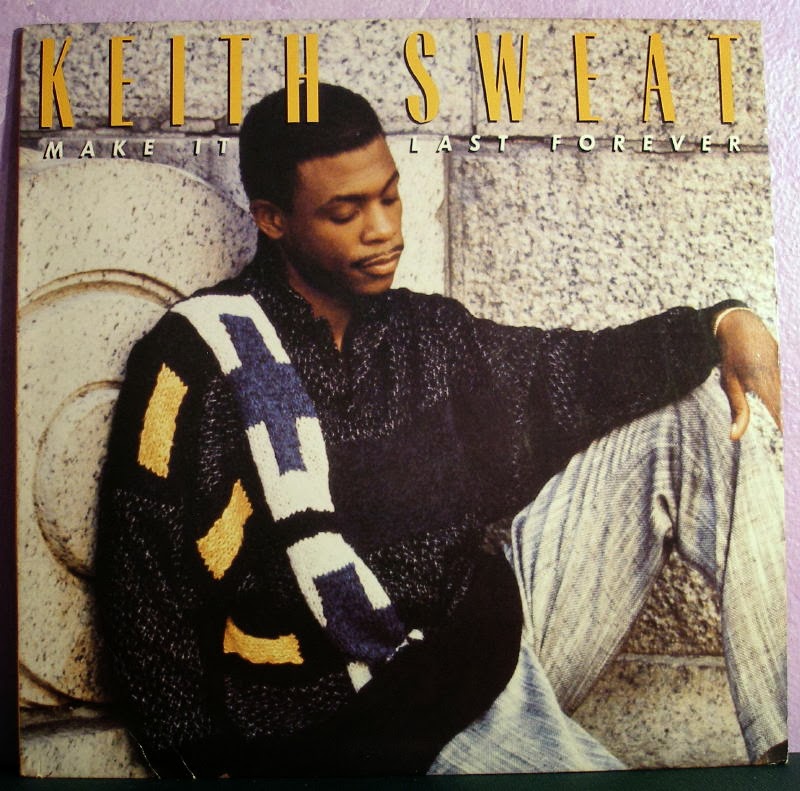 2. Make It Last Forever (1987)
Soul In Stereo rating: 5 stars out of 5
Edd said: "I know the BIGGEST Keith Sweat haters on Earth (because they bombard my inbox daily) but even they can't deny this album. These days, anytime someone releases an album with 6 decent songs on it, fans run to their Twitter feeds screaming "THIS IS A CLASSIC." No, playa, THIS album is a classic. This album has only eight tracks but all eight received significant radio play and are instantly recognizable to casual fans. That's Michael Jackson Thriller-level material there.
And yes, I just compared Make It Last Forever to Thriller. Until your favorite singer can put out an album this good wearing a Theo Huxtable sweater and stone-washed church pants, you can't argue with me. This is a certified classic, yet Keith STILL has an album that beats it."
Forgotten treasures: "In The Rain," "Tell Me It's Me You Want," "Something Just Ain't Right"
1. Keith Sweat (1996)
Soul In Stereo rating: 5 stars out of 5
Edd said: "Playa. This is the end-all-be-all of '90s R&B. This is the album Zeus listens to on Mount Olympus when he's trying to get Hera in the mood. I bet you President Obama has all 12 tracks on his iPod. There is not one bad track on this entire set, one of only a handful in my collection of thousands of albums that I can play all the way through. Truth: the "Show Me The Way" interlude is better than any R&B song I've heard this decade.
There is a reason why Keith is sitting on a throne – the king is here. Stop hatin'."
Forgotten treasures: "Yumi," "Whatever You Want," "Show Me The Way"
I know y'all have something to say. Speak out in the comments.