2013 BET Hip Hop Awards Cypher Review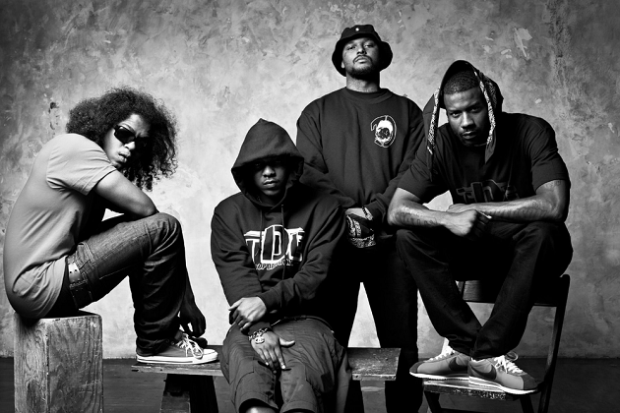 Once a year, BET takes a break from shoveling dirt on hip hop's grave to get back to the essence of rap.
The Hip Hop Award Cyphers are supposed to be what's great about our favorite form of music – rugged, creative and awe-inspiring.
This year's cyphers had that, and a whole lot less, sadly. But don't let my eternal pessimism run you off. There were some great highlights in the most unexpected places.
Check out the Cypher Report Card.
Cypher No. 1: The Up-And-Coming Cypher
Wax: Jean-Luc Picard can spit! You might not be familiar with Wax but he's been around for years and he made the most of this high-profile opportunity. His '90s throwback flow was perfectly suited for this arena. 4/5
Rapsody: Ol' girl had trouble staying on beat here. Plus I was distracted by her Bow Wow-sized bang. She wasn't horrible, though. 3.5/5
Emis Killa: I'm not familiar with dude but apparently he's from Italy. But judging by the subtitles, his punchlines are weak as sugarless Kool-Aid. "I treat you as a queen cuz I'm a king." OK, playa. 3/5
Rittz: No, it's not one of the Duck Dynasty dudes. I'm a pretty big Rittz fan and while he impressed most of my Twitter timeline, I've heard him go harder many times. Solid, but still kinda disappointing considering his talent. 3.5/5
Jon Conner: I haven't bought into the hype machine behind this guy and his contribution didn't change my mind. His thirsting over Rita Ora won't be the new "Hi Rihanna." 3.5/5
Cypher Champ: Wax
Cypher No. 2: The A$AP Mob Cypher
A$AP Ferg: When you have to name drop your lame "hit" song in your "freestyle" you sound like a guaranteed one-hit-wonder. Typical Ferg nonsense here. 3/5
A$AP Twelvy: Honestly, this is the best I've ever heard Twelvy. Still he didn't say anything that will have the kids going OOOH TWELVY SNAPPED LAST NIGHT tomorrow morning. 3.5/5
A$AP Nast: At least I think it was Nast – BET's stupid logo was covering up his name and I can't tell these A$AP mongrels apart. Anyway, this guy was all over the place. The beat was running laps around him. 3/5
A$AP Ant: Who let this guy and his Mother Goose rhymes in the cypher? Rhyming pain, chain, shots rang – nah, you lame, mayne. 2/5
A$AP Rocky: Rocky and his "my momma was sick so my dad braided my hair today" hairdo easily shined brightest here, to the surprise of no one. 4/5
Cypher Champ: A$AP Ant Rocky
Cypher No. 3: The Random Cypher
Action Bronson: I was so excited for Bam Bam but by far he disappointed the most. I'm pretty sure he recycled a couple of those punchlines, which is bad for business playa. That'll get you an I for Incomplete. But just in case he didn't I'll give him the benefit of the doubt and go 3.5/5
Starlife Breezy: No relation to my Cousin Chris Breezy, I don't think. I've never seen this guy at my grandma's house. His punchlines were OK but his flow was painfully dully. 3/5
Travi$ Scott: I'm begging you new rappers to grasp the concept of showmanship. Like Star Trek Breezy, dude was rapping like he was suffering from a migraine. Plus, he spent the whole time looking at his shoes! Playa, all that energy you're exerting is going down to the floor. Your audience can't feel that.
Actually, he probably reading his lines from cue cards on the floor. Hip hop needs to do better. 2.5/5
Tiffany Foxx: Lil Kim's protege. If Charli Baltimore and a houndstooth hat had a baby, that's what you'd get. Her set was super short too. 3/5
Some person wearing a Lil Kim Halloween costume: Look, y'all know I love Kim. But between her mini-van-sized hips and the fact that it sounded like she ate helium balloons for brunch, there were just too many distractions going on. Her flow was OK but there were way too many awkward pauses. Poor Kim. 3.5/5
Cypher Champ: Kimmie, but that's not saying much.
Cypher No. 4: The Slaughterhouse Cypher
Joell Ortiz: STOP SLEEPING ON JOELL. Listening to him rap is like fighting Mike Tyson on the last level of Punch-Out!!! He just beats the track to death. Last year he was great in the cypher. This year, he was a beast. 4.5/5
Crooked I: Copy and paste what I said about Joell and drop it here. "So street look both ways before you cross me." Children, THIS is what a cypher is about. 4.5/5
Royce da 5'9: Royce rarely disappoints but he sounded slightly less hungry than his partners here. I mean, that's like comparing a saber toothed tiger to a T-Rex – either way you're a goner. Great, but slightly behind Ortiz and Crooked I. 4/5
Joe Budden: Last year's head-turner wound up being the weakest of the four. Again, he was still leaps and bounds better than most of the other cypher contenders but he was among tough company. Great flow, great punchlines but sorta anticlimactic. 4/5
Cypher Champ: Crooked I
Cypher No. 5: The TDE Cypher
Schoolboy Q: It's no secret that I think Schoolboy is kinda overrated but he's slowly winning me over. This set continues that trend. He actually sounds focused and hungry, not bored and hazy. Good showing. 4/5
Jay Rock: I may consider Q one of the most overrated rappers in the game, but Jay is one of the most underrated. His angry, gritty flow is such a throwback and that aggression was fully displayed here. We need a new album, Jay. 4/5
Ab Soul: Soul proclaimed that his grandma was watching tonight so he wouldn't curse. Maybe that's why he sounded so restrained. Actually, he sounded just as I expected Q to sound – bored and distracted. 3.5/5
Isaiah Rashad: I can't front, I have no idea who this guy is. He wasn't half bad but he was clearly the bench-warmer on the dream team. He would have been more impressive in Kim's pitiful cypher – he was way overshadowed here. 3.5/5
Kendrick Lamar: We've heard for weeks that K Dot went absolutely ballistic in this cypher. Those reports were incorrect. He didn't go ballistic, he went full on King Kong, suplexing skyscrapers and elbow-dropping Sherman tanks. I had to deduct a couple of points because BET's editing got a bit annoying when silencing his foul-mouthed tirade about halfway through. It took away from the experience. But no matter, Kendrick is UNSTOPPABLE right now. 4.5/5
Cypher Champ: Kendrick, duh.
Cypher No. 6: The Real Husbands of Hollywood Cypher
Yes, you read that right.
J.B. Smoove: J.B. was pretty hilarious, sounding like a member of The Sugarhill Gang. He basically just shouted out every TV show he's appeared on. I won't bother rating it.
Duane Martin: Mr. "Breakaway Suit" now has "Breakaway Boots." Yeah, it makes no sense unless you watched last season's show. Yeah, I know it was supposed to be corny but it got a little too silly for my tastes. No rating.
Boris Kodjoe: Boris got the subtitle treatment while rapping in German with Kevin Hart yelling "look it up!" in the background. Hart usually annoys me but this was hysterical. Boris' Roy Jones Jr. flow had me weak too. Really fun, no rating.
Nick Cannon: Playa, those first three "freestyles" made Nick Cannon sound like Rakim here. "They brought a knife to a cannon fight!" His Kevin Hart disses were tremendous too. This was so good my wife basically said she's dumping me for Nick. I almost can't blame her. 4/5
Nelly: Nelly spent more time playing with his Versace scarf than actually doing anything of note. Plus, it's Nelly, you should expect nothing and get less. 3/5
Kevin Hart: Kevin was spitting like Kanye on Yeezus here – all over the map in the most hilarious of ways. "I'M MAD at the same time sad…I miss my dad." I'm not a big Kevin Hart fan but he won me over tonight. 4/5
Cypher Champ: Nick Cannon. Yes I just typed that.
2013 BET CYPHER GRAND CHAMPION
Kendrick Lamar
No surprise there. But what was a surprise was how entertaining the Husbands cypher was. Sure, French Fries Montana has more lyrical skill than most of them, but those actors had what most of tonight's rappers lacked – PRESENCE. You can spit verbs like Merriam-Webster all day but if you have the charisma of a burnt hot dog no one is gonna feel you. Everyone in Kim's cypher and most of the A$AP Mob needs to study Kevin Hart and learn how to rap.
In the meantime, at least we have Kendrick.
By the way, go read my review of the main BET Hip Hop Awards Show.