Whatever Happened to: Jade
A couple of days ago, I chatted with a friend about the success of everyone's favorite rapper, Drake. My friend wondered if it was too early to list him among the top 10 rappers of all time.
Y'all know me – the pessimism runs thick and heavy through my veins.
While I'll admit that he's talented, not only is it way too early to rank Drake (he hasn't even put out a real album), who can say if he'll even be around in two years?
Remember Jade? For a brief time in 1992, these girls were the future of R&B. Three years later their future was at A&W hot dogs. But let's relive the good old days.
I'm sure we all recall Kid n' Play's 1992 movie "Class Act." Yes, it's pretty terrible by 2009 standards – and it's no prize by '92 standards – but this middle-schooler thought it was hilarious. The film was Jade's big break. "I Wanna Love You," their contribution to the soundtrack, paved the way for their debut album.
The ladies of Jade – Joi, Di and Tonya – enjoyed lots of success later that year with Jade To The Max, thanks to the huge hit "Don't Walk Away." Go ahead and click the link, you know you want to.
If you were not a fan of R&B in 1992, there is no way I can describe that song's popularity. Picture today's Snuggie and iPhone crazes, then roll them into a giant ball of braids and hot pants.
That single alone sold 1.5 million copies! And with follow-ups like "Looking for Mr. Do Right," it seemed like Jade was about to conquer the world.
Except they didn't.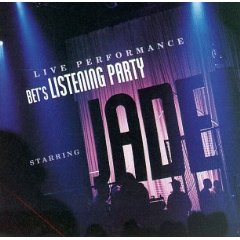 In 1993 Jade apparently released a live album but I don't remember a thing about it. It was certified gold so I guess someone purchased it.
The girls dropped Mind, Body and Song, their second studio album, in '94. The ultra-annoying "5-4-3-2 Yo Time Is Up" and lackluster "Every Day of the Week" failed to set the world on fire. By the end of the year Jade vanished as quickly as they arrived. Sadly, after "Don't Walk Away," seems like all of their fans DID walk away.
Besides the usual rumors (infighting, they were broke, etc.) I never heard a definitive reason for their breakup.
According to Wikipedia, Joi released a gospel CD a few years ago and Di is singing backup for Rod Stewart. But Wikipedia once said Keith Sweat was planning to release a "new" single called "A Right And a Wrong Way" (which is more than 20 years old) so take that news with the finest grain of salt.
Should they come back?: Nope. 1992 was a LONG time ago. If it's true that the ladies are finding work in today's economic climate they should count their blessings.